CLICK TO SUPPORT OUR SPONSORS

---

---
Wednesday, July 25, 2001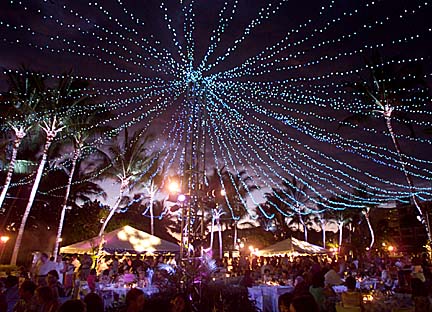 DENNIS ODA / DODA@STARBULLETIN.COM
Strings of blue lights emulate the stars at Cuisines
of the Sun at the Mauna Lani Bay Hotel and
Bungalows.
---



Cookin' couples show their
stuff at Cuisines of the Sun

Make Al Forno's pizza specialty

---

By Betty Shimabukuro
bshimabukuro@starbulletin.com

First, we dispense with the bad cliches: Recipe for romance. Cooking up love. Hot stove/warm hearts.

Today's topic is couples who cook -- extremely successfully -- together, which is not something to be taken lightly, although they do seem to be having a pretty good time.

They spend all their days and nights together, joined at the hip and pocketbook in the relentless pressure cooker of restaurant life. Most of that time is spent in kitchens that don't offer a whole lot of personal space, a prospect many modern couples would find daunting, but these chefs say they can't imagine married life taking any other form.

"I wanted to be with her and I wanted to work with her," says George Germon of his wife and partner, Johanne Killeen. "I saw that when we got together we could move mountains."

Score one for romance.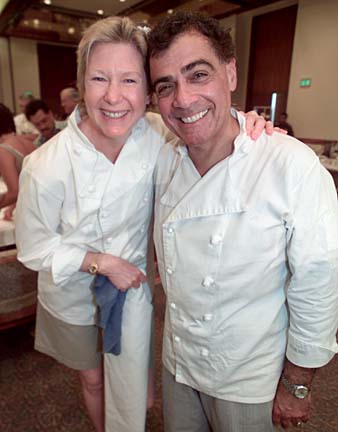 DENNIS ODA / DODA@STARBULLETIN.COM
"We depend on another so much that I can never
see us working in a single vein," George Germon
said of his wife and partner, Johanne Killeen.
They own Al Forno in Providence, R.I.
---
And to score one for fortuitous connections, Germon, Killeen and two more of these very special couples are together on the Big Island this week, having just wrapped up four days and nights of cooking at the annual foodie extravaganza, Cuisines of the Sun.

These partners give new meaning to the concept of "mom and pop." They own restaurants of national renown, collectively claiming so many best-of awards it's mind-numbing. Germon and Killeen share three James Beard Foundation awards -- the ultimate prize in their trade. In 1994, the International Herald Tribune named their restaurant, Al Forno in Providence, R.I., flat out the best restaurant for casual dining on all of planet Earth.

So we may as well begin with them.

---

Al Forno -- the name means "from the oven" -- opened 21 years ago with a Northern Italian menu defined by wood-burning ovens and open-flame grills.

Germon and Killeen met in art school, where she was studying photography and he was studying sculpture and architecture. After graduation they both lived and worked in Italy, but did not reconnect until several years later, back in Rhode Island, where by chance they ended up working in the same restaurant between art projects, Killeen says.

They discovered a shared love for Italian food, she recalls. "Cooking was always our passion, individually. It was good way to be together -- to work together."

They consider themselves opposites in personality, with qualities that together form a whole. "We're together basically 24 hours a day; it works for us," Germon says, although he does admit, "It's almost kind of sicky-sicky sweet."

Al Forno's claim to fame is the grilled pizza, invented by Germon 20 years ago. "I was totally skeptical," Killeen says. "George said, 'Why wouldn't it work?' I said, 'How could it work?' ... In a day it was on the menu."

It was a rare disagreement. They say they never fight in the kitchen, having made that agreement at the start. Germon says they have had just five arguments in all their time in business together. "It used to be four, but we just had one recently."

Resolution is reached without rancor each time. "One of us gives in and that ends it immediately," Germon says, and then in what could be a mantra for a marriage counselor, he adds: "Anything that happened yesterday is out of my mind."

---

In case this is getting too happy-happy-joy-joy for you, we'll move on now to Hiro Sone and Lissa Doumani of Terra in Napa Valley, Calif., who have the kind of relationship that could fuel a good sitcom.

To speak with them is like watching a brightly colored beach ball bounce back and forth, with her spiking and him lobbing. For example, the story of their meeting, at Spago in Los Angeles, where she was working pastries when he arrived to train for the opening of Tokyo Spago:

Doumani says Sone spoke no English and she spoke no Japanese, and yet they managed to communicate, largely through laughter.

"I spoke English," Sone says.

"Don't you try to say you spoke any English," Doumani counters. He had six years of English classes, but it didn't make him conversational, she insists.

He: "When I went to Disneyland I didn't have any problem."

She: "That's because the signs were in Japanese!" (Besides, it was Tokyo Disneyland).

He leans forward conspiratorially. "I spoke English."

They laugh and agree, at least, that she was a mess when he first saw her. "She was covered with chocolate," he says. "I thought she was the cleaning lady."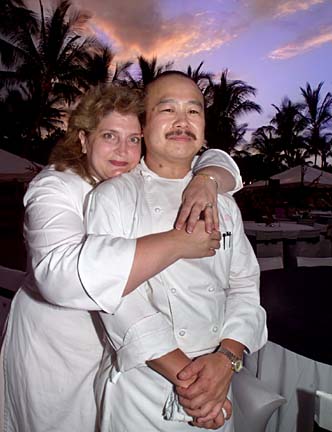 DENNIS ODA / DODA@STARBULLETIN.COM
Hiro Sone had been expected to take over his family's
business, rice farming, but left Japan to marry Lissa
Doumani, who is now his partner at Terra in
Napa Valley.
---
They also agree that it was more than a year before they could carry on a real conversation. By then he was back in Japan. But in 1984, she went to work at Spago Tokyo. They grew closer, and when the time came for her to leave, he opted to go, too.

Within a couple of years they took over a rustic old building in Napa for their own restaurant, where Sone turns out acclaimed meals that reflect his Japanese heritage, his classic French/Italian training, the California-cuisine-Spago influence, and much in between. Doumani runs the dining room and supervises desserts, believing it's better if she's not on his turf too much.

Still, they manage a good fight almost daily. "I'll go into the kitchen and just give it to him," she says. Over what? He offers an example: "The garnish mint is too big."

She sends the beach ball spiking back: "Because how many times have I told you this? He's got a miniature tree in my dessert!"

In a case like this she'll usually get her way, Doumani says, "because it's not for me, it's for a customer. But then we don't talk for awhile."

Because these eruptions happen in the kitchen, they can spook new staff, she says. "They think, 'The owners are fighting, is the restaurant going to explode?'" But they learn it's a passing thing and are often able to help, just by translating things he can't understand when she says them "in the wife voice."

The relationship works because they are committed to the same goals. They put their marriage and their personal fortune through the daily strain of restaurant life because they must have a place where no one can dictate to them, Doumani says. "The passion for wanting your own restaurant comes from wanting to make all your decisions yourself."

---

Ben and Karen Barker, chef and pastry chef of Magnolia Grill in Durham, N.C., agree about that issue of shared personal drive. "To really succeed in this business, it has to be part of your soul," Ben Barker says.

The two of them shared a vision of opening a small restaurant and running it together in a true mom-and-pop manner, with their staff almost part of their family.

They've build a reputation for contemporary Southern regional cooking, with bold flavors highlighting fresh, local ingredients. "Southern cooking, Ben says, is not all hamhocks and beans." Between them they share 10 James Beard nominations.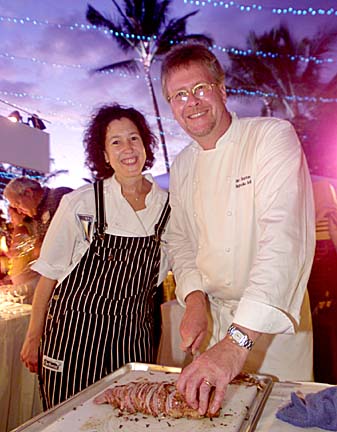 DENNIS ODA / DODA@STARBULLETIN.COM
Bob and Karen Barker of Magnolia Grill in Durham,
N.C., said the key to their working relationship is to
be sure their staff knows how much they respect
each other.
---
The Barkers met on the first day of class at the Culinary Institute of America, in sanitation class. "Very romantic," Karen says.

"We were learning about foodborne illness and falling in love at the same time," Ben says.

At work, he says, "We try to be discreet about kisses and hugs, occasional trips to the walk-in."

Of the three couples, only the Barkers have a child, son Gabriel, 13.

Karen says she took on an assistant for the first time when Gabriel was born -- "I pulled back a little bit" -- and now tries to work "mom hours" that get her home early in the evenings. Ben stays on at the restaurant until 10 p.m., but they are able to preserve a family life by opening only for dinner, five days a week. They also close completely for two weeks in the summer and at least 10 days in the winter -- plus New Year's Eve, unusual in the profession -- so they and all their staff can take an unencumbered vacation.

Both Germon and Killeen, Sone and Doumani, have chosen not to have children. Germon says it allows them to stay 100 percent focused on each other. The few arguments they have tend to be about their employees, Killeen says, "because they're like our kids."

Doumani says any children of theirs would end up neglected. "We would never see them. We would never feed them." Life is just too frantic, she says.

"We can't even figure out how to get our dogs to the kennel."

---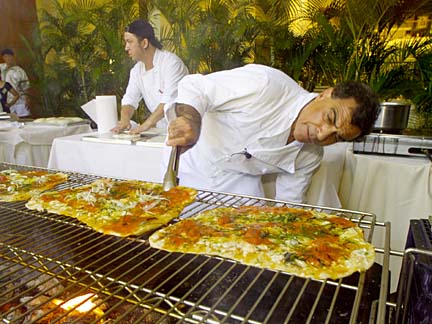 DENNIS ODA / DODA@STARBULLETIN.COM
Gohanne Germon of Al Forno of Providence, R.I.,
made sure the crust wasn't getting burnt at his
pizza grilling demonstration and workshop.
---
Make Al Forno's
pizza specialty on
your own home grill

---

By Betty Shimabukuro
bshimabukuro@starbulletin.com

A pizza cooked on the grill comes to the table with a smoky flavor, a little crispy, a little chewy. It is the house specialty at Al Forno in Providence, R.I.

To pull this off on your home barbecue, chef Johanne Killeen suggests using hardwood chips, not charcoal or gas, and no lighter fluid -- you don't want those chemicals in your pizza, plus the wood burns hotter.

Be sure to brush the dough with oil before adding cheese and sauce, to keep the dough from getting soggy. Use all-purpose flour or bread flour, not cake flour. You need the gluten. And make extra dough, to allow for mistakes in shaping (you might make a hole the first time).

And you don't need a huge grill, Killeen says. If all you have is a hibachi, just make smaller pizzas.

By the way, don't expect to find tequila in the Margarita Pizza.

It's named for Queen Margherita of Italy, for home pizza bakers created a pie in the colors of the Italian flag. And so it is white from the cheese, red from the tomatoes and green from the herbs.

Grilled Pizza Margarita

7 ounces Pizza Dough (recipe follows)
14 cup virgin olive oil
12 teaspoon minced garlic
12 cup loosely packed shredded Fontina cheese
2 tablespoons grated Pecorino Romano
6 tablespoons chopped canned tomatoes in heavy puree
8 basil leaves

Prepare charcoal fire, setting rack 3 to 4 inches above coals. On a large, oiled, inverted baking sheet, spread and flatten dough into a 10- to 12-inch circle,18-inch thick.

Do not make a lip. (The shape is unimportant; make a rectangle if it's easier, keeping an even thickness).

When fire is hot (when you can hold your hand 5 inches above coals for 3 to 4 seconds), gently lift dough and drape onto grill.

Dough will puff slightly, underside will stiffen and grill marks will appear.

Use tongs to flip crust over, onto coolest part of grill. Brush dough with oil. Scatter garlic and cheeses over dough, and spoon tomatoes over cheese. Do not cover the entire surface with tomatoes. Drizzle pizza with 1 to 2 tablespoons olive oil.

Slide pizza back toward hot coals, but not directly over them. Using tongs, rotate pizza frequently; check underside often to prevent burning.

Pizza is done when the top is bubbly and the cheese melted, 6 to 8 minutes. Top with basil leaves and additional olive oil, if desired.

Serves 1 as main course or 2 to 4 as an appetizer.

Approximate nutritional analysis, per appetizer-size serving: 255 calories, 13 g total fat, 4 g saturated fat, 20 mg cholesterol, 390 mg sodium, 8 g protein, 26 g carbohydrate.

Pizza Dough

1 tablespoon active dry yeast
6 cups high-gluten flour
2-12 teaspoons kosher salt
Extra virgin olive oil

Sprinkle yeast over 12 cup warm (105 to 110 degrees) water and allow to dissolve and activate, about 5 minutes. Combine flour and salt and mound onto a cool work surface, creating a well in the center.

Combine yeast mixture with 112 cups cool water and pour into the well. Slowly mix water and flour, a little at a time, moving fingers in short, counter clockwise circles around the border of the water.

When dough is firm enough to hold its shape, scrape remaining flour over it and knead until smooth and shiny, approximately 7 minutes.

Transfer dough to a bowl brushed with olive oil. Brush the top of the dough with olive oil to prevent a skin from forming, cover with plastic wrap and let rise in a warm place away from drafts until doubled in bulk, about 2 hours.

Punch down and knead once more. Let dough rise again about 40 minutes, punch down again and form into dough balls.

Makes about 2 12 pounds, or enough for 4 pizzas.





Click for online
calendars and events.
E-mail to Features Editor
---
---
© 2001 Honolulu Star-Bulletin
http://archives.starbulletin.com