CLICK TO SUPPORT OUR SPONSORS

---

---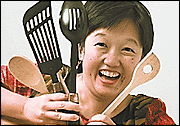 By Request

BETTY SHIMABUKURO
Wednesday, July 25, 2001
---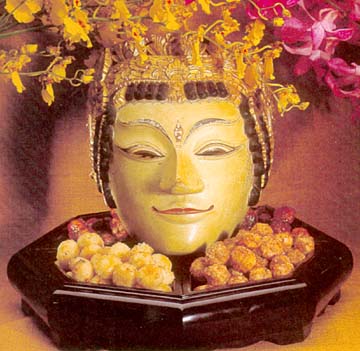 THE MAUNA LOA MACADAMIA COOKING TREASURY
Macadamia nuts make a terrific condiment to enhance
an Indian curry or a Thai buffet.
---
Make 'em sweet
or spicy

Recipe collectors are a determined and generous breed. Many have an uncanny ability to recall what recipes they've saved -- and where they put them -- and a consistent desire to share.

Count Leighton Akita of Pearl City among this lot. He read of a request in this column for a recipe for honey-roasted maca-damia nuts and hand delivered a pair of recipes. He left no phone number or address, but hopefully he'll see this. Thanks, Leighton.

Rounding out Akita's mac candy recipes are three suggestions for dressing up roasted macadamias from "The Mauna Loa Macadamia Cooking Treasury" (Celestial Arts, 1998). Author Leslie Mansfield suggests serving the sweet/spicy nuts with curries or Thai food, the onion/garlic nuts sprinkled over soups and salads, and the cinnamon-sugar nuts as a snack.

To Die for Glazed Macadamia Nuts

1 5-ounce can roasted macadamia nuts
1/2 cup sugar
2 tablespoons butter or margarine
1/2 teaspoon vanilla

Combine nuts, sugar and butter in a saucepan. Cook over medium heat 15 minutes, stirring constantly, until nuts are well-coated and sugar is caramelized. Quickly stir in vanilla. Spread on a sheet of heavy foil and, using two forks, quickly separate nuts. Cool and store in an airtight container. Makes about 1/2 pound.

Ono Honey Macadamia Nut Candy

1/2 cup honey
1/2 cup maple syrup
Pinch salt
4 tablespoons milk
1 teaspoon vanilla
1 cup roasted macadamia nuts

Combine ingredients, except nuts, in a large pot. Bring to a boil over medium heat and cook until mixture thickens. Remove from heat, then beat until soft and creamy. Add nuts; mix well to coat. Spread on wax paper and allow to harden.

Sweet and Spicy Pepper Nuts

1/4 cup butter
1/2 cup packed brown sugar
1 tablespoon water
2 teaspoons freshly ground black pepper
1-1/2 teaspoons salt
2 cups roasted macadamia nuts

Preheat oven to 350 degrees; lightly oil a baking sheet.

Melt butter over medium heat. Add brown sugar, water, pepper and salt; stir to dissolve sugar. Add nuts and cook, stirring often, until syrup thickens and turns deep brown. Spread onto a baking sheet and bake about 10 minutes. Place baking sheet on a rack to cool. Break into pieces when cool enough to handle. Cool completely and store in an airtight container up to 2 weeks. Makes about 2 cups.

Onion and Garlic Macadamia Nuts

2 tablespoons butter
2 teaspoons minced dried onions
2 teaspoons dry parsley
2 teaspoons salt
1 teaspoon lemon juice
1 teaspoon onion powder
1 teaspoon sugar
1/2 teaspoon garlic powder
2 cups roasted macadamia nuts

Melt butter over medium heat. Whisk in remaining ingredients, except nuts, until smooth. Stir in nuts. Sauté about 5 minutes. Makes about 2 cups.

Cinnamon-Sugar Spiced Macadamias

1/2 cup sugar
1-1/4 teaspoons cinnamon
1/4 teaspoon ground ginger
1/4 teaspoon salt
1 egg white
2 cups roasted macadamia nuts

Preheat oven to 300 degrees; lightly oil a baking sheet.

Stir sugar, cinnamon, ginger and salt with a fork until blended. Whisk in egg white until foamy. Stir in nuts. Spread on prepared baking sheet and bake 10 minutes. Stir and bake another 10 minutes. Cool and store in an airtight container. Makes about 2 cups.

Nutritional information unavailable.





Send queries along with name and phone number to:
"By Request," Honolulu Star-Bulletin,
500 Ala Moana, No. 7-210, Honolulu 96813.
Or send e-mail to bshimabukuro@starbulletin.com




Asterisk (*) after nutritional analyses in the
Body & Soul section indicates calculations by
Joannie Dobbs of Exploring New Concepts,
a nutritional consulting firm.







E-mail to Features Editor
---
---
© 2001 Honolulu Star-Bulletin
http://archives.starbulletin.com