CLICK TO SUPPORT OUR SPONSORS

---

---
Tuesday, July 24, 2001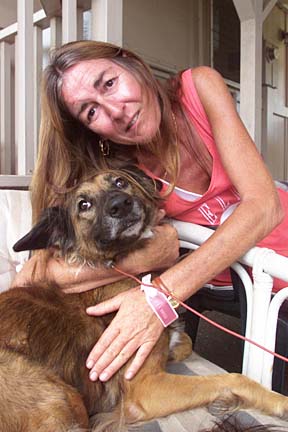 GEORGE F. LEE / GLEE@STARBULLETIN.COM
Pig-attack victim Patsy Caulfield was with her dog
Runner yesterday morning. She placed herself between
the attacking pig and her dog, resulting in her injuries.
---
Wild pig gouges
woman on beach
near Punaluu


She needed 30 staples and about
20 stitches to close the wound

---

By Rosemarie Bernardo
rbernardo@starbulletin.com

At 6:35 a.m. yesterday, Patsy Caulfield walked with her dog, Runner, along a beach north of Punaluu Beach Park. Suddenly, a wild, black pig charged them.

The pig stuck its two tusks into the left side of her body when she shielded Runner.

"I was terrified. It was unprovoked and unexpected," Caulfield said. "My first instinct was the pig was not going to get my dog."

A friend drove her to Kahuku Hospital, where she received 30 staples and about 20 internal stitches to close the wound in her left thigh and lower abdomen, and medical staff reported the attack to the Kahuku Police Station.

Sgt. Robert Mercado said an enforcement officer from the state Department of Land and Natural Resources was called to investigate the site where the woman was attacked. Nothing was found, Mercado said.

"It's really unusual," said Mercado, who has been with the Honolulu Police Department for 28 years.

"I've never heard anything like this of a wild boar attacking a person."

Gary Moniz, administrator of the Conservation and Resources Enforcement Division, said he was aware of the attack but did not have any details.

Generally, wild pigs avoid human beings and high-traffic areas, Moniz added.

"Never, to my knowledge, has a person ever been attacked by a pig on the beach, especially on Oahu," Moniz said.

Supervisory staff of the Department of Land and Natural Resources will further investigate the attack, he said.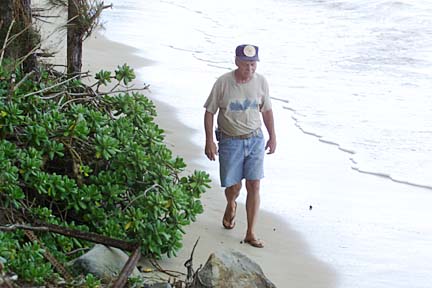 GEORGE F. LEE / GLEE@STARBULLETIN.COM
Bill Shelhart, Caulfield's neighbor and friend, started
to walk the same stretch of beach yesterday, but turned
back because of a "bad feeling" he had.
---
Caulfield, who has walked along the beach for the past 10 years, said the pig ran toward her dog. Runner was not injured.

Caulfield said the pig was twice as big as her 48-pound dog and had tusks about 8 inches long.

The pig released Caulfield when Runner started barking. Caulfield and Runner ran away from the pig toward the highway.

The attack happened in less than a minute, Caulfield said.

She went to her friends' house, nearby on Kamehameha Highway. Rose Shelhart cleaned her wounds with peroxide, and Shelhart's husband, Bill, drove Caulfield to Kahuku Hospital.

"All I saw was big blotches of blood from her waist down to her leg," said Bill Shelhart.

Kimo Toyama, an emergency room paramedic at Kahuku Hospital, said: "She had two large, pretty significant lacerations to her left thigh and lower abdomen.

"She was actually lucky that the tusk didn't penetrate to the abdominal activity," he added. "If it had been a child, the child would've been killed."

Despite the attack, Caulfield said she plans to continue to walk along the beach with her dog.

"Maybe I'll have my husband walk with me," she said.
E-mail to City Desk
---
---
© 2001 Honolulu Star-Bulletin
http://archives.starbulletin.com