CLICK TO SUPPORT OUR SPONSORS

---

---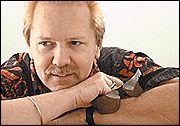 Island Mele



Friday, July 20, 2001
By John Berger
---
"The Uncle In Me Vol. II"

Willie K
The Mountain Apple Company (MACD 2086)

No one on the contemporary Hawaiian music scene manages a broader repertoire with more assurance than Willie K. This anthology displays that versatility quite well, though it provides no specific information on where these songs fit in his overall "evolutionary musical process."

Check out two of the brightest gems here and Willie's range is obvious. "Ho'onanea" is an exquisite celebration of Hawaiian falsetto. "U'ilani E" finds Willie rocking with an R&B attitude and soaring over a powerful horn section to deliver an expansive hapa-haole blues ode to a "Kmart shopping tita" with size-13 feet.

The rest of the songs reaffirm his vast musical horizons.

www.mountainapplecompany.com

---




"The Journey ... In My Life"

Colleen Cua Nagasako
No label (MCM2690)

Maui's Colleen Cua Nagasako introduces herself as a Christian recording artist with an album that features 11 original songs. Many are simple statements of faith but she has a knack for coining interesting phrases, such as a description of the Lord's power "truckin' like a locomotion."

"Answer to the Master's Call" is her best song. The music and lyrics mesh perfectly to create a musical beacon of faith and hope. Her rendition of "Amazing Grace," the only standard included, is beautiful as well.

Nagasako's lyrics reflect a deft touch. Is "Forever And A Day" a promise from an earthly lover or Christ? The song works either way. Guitarist Sam Ahia shares credit for light rock, gospel and country arrangements that go beyond the thin synth tracks often heard on local Christian albums.

CuaNakasako@aol.com

---




"The Dreaming Kind"

Justin
Neos Productions (VO49)

Justin's sixth album finds him sporting a scruffier look and aligned with two key allies. Having English reggae star Bitty McLean working with him on three songs gives the project a soulful sound it would otherwise lack. Having KCCN/FM100 power broker "Davey D" Daniels as a writing partner is shrewd, as well.

Put it together and this is Justin's best album yet. New ideas are evident though he remains rooted in the languid synth-based local pop and Jawaiian-lite ballads that have made him a hot commodity with local teen girls. "If You Pick the Flowers" and "Just Walk Away" are his best works in that genre.

Justin also does better this time with the pop remakes that are standard fodder at Neos Productions. "Islands in My Mind," an adaptation of James Taylor's classic "Carolina in My Mind," works well for him.

www.neosproductions.com





---




John Berger, who has covered the local
entertainment scene since 1972, writes reviews of recordings
produced by Hawaii artists. See the Star-Bulletin's Today
section on Fridays for the latest reviews.
E-mail to Features Editor
---
---
© 2001 Honolulu Star-Bulletin
http://archives.starbulletin.com