CLICK TO SUPPORT OUR SPONSORS

---

---
Sunday, July 15, 2001




[ BALLROOM DANCING ]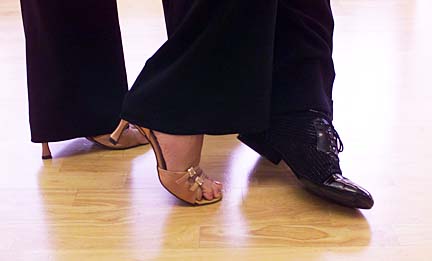 FL MORRIS / FMORRIS@STARBULLETIN.COM
Steppin' to the
ballroom beat


Dancing gets to the heart of
competition and human movement

---

By C.R. Dudley
cdudley@starbulletin.com

BALLROOM dance is the struggle unconsidered. Ballroom dance has an indefatigable complexity, a strength in its essence that begs for description but hides in its own quiescent illusion of simplicity.

It is like a sublime perfume, twisting and wending its way into the hearts and thoughts of even the most critical person. Ballroom dancing is a perfect meshing of precision and eloquence, of strength and grace.

Michael Jordan, with his felid agility, silky, deceptive speed and physical brilliance, would be an amazing ballroom dancer.

The world watched in awe when Oksana Baiul unified an almost ethereal gracefulness with a ballet dancer's power to win the gold medal in figure skating at the 1994 Olympics. Her beauty of movement won over a generation of otherwise disinterested fans to the sport of figure skating. Ballroom dancing awaits its Baiul as it awaits its possible inclusion into the Olympics by 2008.

Fred Astaire, coupled by the wand of digital necromancy with a vacuum cleaner, continues to show the world the power of dance in television commercials.

Mr. Bojangles' soft shoe, replayed on the History Channel late in the evening, captivates anyone still awake enough to watch.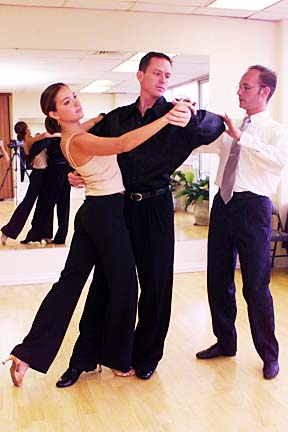 FL MORRIS / FMORRIS@STARBULLETIN.COM
C.R. Dudley, middle, and instructor Nicole Profetto,
left, danced, as director Trevor Dament, right, instructed.
---
But, all of that said, is ballroom dancing a sport? If the essence of a sport is one competitor pitting her heart, mind, body and desire to win against another athlete's heart, mind, body and desire to win, then ballroom dancing is as much a sport as football, perhaps an even purer one.

There are no pads, no giant stadiums overflowing with wild fans, no moments when forlorn countenances are expected and overwrought ballyhooing from angry, overpaid men passes as "just part of the game." Dance is purely human movement.

Nicole Profetto, a tall, lithe woman of 26 with the regal shoulders of a surfer and deep brown eyes, has been teaching at Arthur Murray's dance studio in Waikiki for two years.

She is beautiful. But then everyone that can dance like Nicole Profetto can dance is beautiful.

At the Arthur Murray Dance Studio, the first class is free. Whether you plan on entering one of the various competitions that are held throughout the year, or just want to prepare for a wedding, Profetto can get you trained quickly and proficiently.

"Laughter is the easiest way to get a nervous person past any initial fear. Once people start laughing they are more at ease," Profetto said. "The more relaxed you are, the more fun you have and the more likely you are to just go out and do it rather than stand in the corner with the other men holding a beer."




Ballroom dancing

Getting started
Where: Arthur Murray Dance Studio, Waikiki.
When: By appointment, Monday through Friday, 10 a.m. to 9 p.m.; Saturday, 10 a.m. to 3 p.m.
Equipment: Comfortable shoes with man-made or leather soles.
Cost: First lesson is free, $100 for three sessions.
Why: To dance if you want to.
Contact: 941-5007.




Profetto's words introduce the more illusive aspect of dancing -- the intimacy and personal association inherent in closeness. But ballroom dancers seem to take that intimacy and sanitize it. There are known boundaries that are not crossed. There is a distinct code of respect for the person you're dancing with and an even greater understanding that, yes, this is just a dance.

"A guy who dances usually has more fun at clubs, meets new people and is more social," Profetto said. "That is an attractive quality. But most of my guy students are learning as a way to release stress or as an artistic expression."

The desire for companionship, friendship and fun may be what brings a person to the studio in the first place, but it's the competition that really hooks him.

"My first competition was at a Dancerama in Las Vegas this past April," Profetto said. "Competing actually takes a lot of energy. You have to isolate different muscles to move certain ways. You're trying to connect with a partner creating sharp rhythmic moves together. It's very difficult to do all of that gracefully."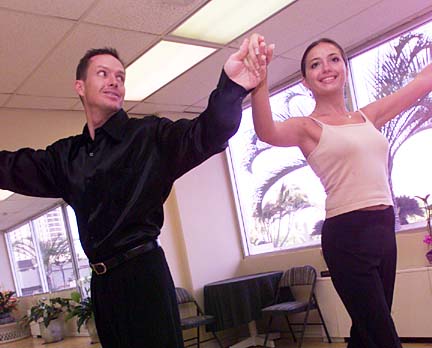 FL MORRIS / FMORRIS@STARBULLETIN.COM
C.R. Dudley and instructor Nicole Profetto.
---
The 26-year-old Profetto dances with fellow Arthur Murray dance instructor Ron Okubo, 27. They hope to compete in several of the different competitions that are held all over the world.

But dancing is one of those activities that don't require competition.

"I think everybody should learn to dance. First of all it's a lot more fun to go out on the dance floor and have hand-to-hand, touch dancing and not just bootie dancing," Profetto said. "It's something people can have together for the rest of their lives. I think that's nice for couples. There's a lot of other activities for single people but in ballroom dancing spouses can have something in common.

"Competing is more of a challenge than dancing for fun. It's like any other sport; You can run for recreation or you can run for a race. Competing adds that edge of suspense. Competing makes me a better dancer. The better dancer I become, the more I understand dancing, the better I can teach."

The judges at ballroom dancing competitions look at poise and confidence, footwork, overall technique and style.

"It's important to hit the phrasing with a pose or sharp line," Profetto said.

Competition is only part of the mix at Arthur Murray. The standard schooling concentrates on social dancing.

Fifty-four-year-old Richard Murphy owns the Arthur Murray franchise in Waikiki. He has competed professionally, having done nothing other than dance and teach dance since he was 18 years old.

"We have couples who take lessons because they want to learn to do something together," Murphy said. "We have couples that come because they're going to get married and they want to dance at their reception. And we have people that come because a doctor has told them to do something active."

Whatever your reason when the song starts and you're standing there, wishing you had the nerve to ask a partner to dance, Profetto, Murphy and everyone else who knows how, hope you dance.
E-mail to Sports Editor
---
---
© 2001 Honolulu Star-Bulletin
http://archives.starbulletin.com