CLICK TO SUPPORT OUR SPONSORS

---

---
Hawaii Beat
By Star-Bulletin Staff
Sunday, July 15, 2001
---
Wahine volleyball
ticket sales open

Season tickets for the 2001 University of Hawaii women's volleyball season go on sale tomorrow at the Stan Sheriff Center box office.

Tickets are $155 for the arena's lower level (single seats only), $115 for the upper level, $100 for senior citizens and $70 for students.

The box office is open from 8 a.m. to 4 p.m. Monday to Friday. Phone sales (944-BOWS) will run from noon to 4 p.m. tomorrow and from 9 a.m. to 4 p.m. thereafter.

Individual match tickets go on sale Aug. 27. The Wahine open the season Aug. 31.

Metzger-Wong team advances to FIVB semis

Fifth-seeded Stein Metzger and Kevin Wong won two matches in Lignano, Italy, yesterday to advance to the semifinals of the Association of Volleyball Professionals in the $180,000 FIVB Beach Volleyball Tour event.

Metzger of Honolulu and Wong of Pearl City advanced to today's first semifinal by upsetting fourth-seeded Mariano Baracetti and Martin Conde of Argentina (21-18, 21-14) and top-seeded Tande Ramos and Emanuel Rego of Brazil 21-17, 21-19 in 39 minutes.

Metzger and Wong will play Baracetti and Conde again in today's first semifinal.

Final crew finishes Transpacific Yacht Race

The 41st Transpacific Yacht Race ended yesterday when Michael Abraham and Phil Rowe of Newport Beach, Calif., sailed Abraham's Watercolors, a Sabre 402 sloop, past the Diamond Head finish line 3 minutes, 32 seconds shy of 14 days for the 2,225-nautical miles from their June 30 start off the Palos Verdes Peninsula.

They were assured of receiving the Tail End Charlie trophy when Jorge Morales' Mystere, from Laguna Niguel, Calif., finished less than an hour and a half earlier.

OIA football officials seek new members for season

The Oahu Interscholastic Association Football Officials Association is seeking persons interested in joining for the coming season.

Training sessions begin next week. The deadline to apply is Aug. 1. No experience is required. For more information, contact Matthew Sumstine at 927-8665.

Trapasso to headline QB Club meeting

UH baseball coach Mike Trapasso will make his first appearance in front of the Honolulu Quarterback Club tomorrow.

Trapasso will be joined by Castle High School baseball coach Joe Tom and 43-year-old swimmer and world-record holder Brett Phillips.

Lunch will be served at 11:30 a.m. at the Pagoda International Ballroom with the program at noon. For more information, call Al Minn at 261-5143.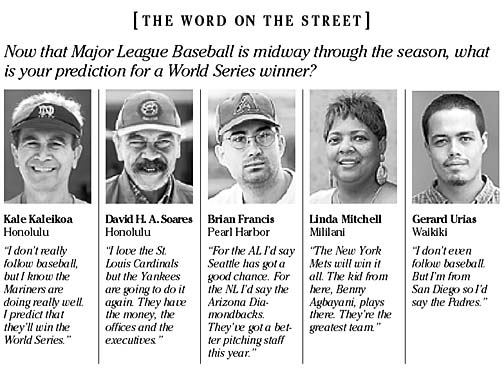 Hawaii's own

Benny Agbayani, Mets: Bobby Valentine held the St. Louis and Hawaii Pacific alumnus out of yesterday's 2-0 win over the Red Sox, saying Agbayani was suffering from jet lag after his flight from Hawaii to attend the birth of his daughter.

ESPN.com reported that the Colorado Rockies are interested in trading for Agbayani -- along with Jay Payton and Glendon Rusch -- for Pedro Astacio and Neifi Perez.

Mike Fetters, Dodgers: The Iolani School graduate retired the only batter he faced in a 5-3 win over Oakland.

[WINNERS & LOSERS]

[WINNERS]

<< Fred McGriff: Whenever a player makes any kind of move these days, the common refrain seems to be "It's all about keeping my family happy."

At least McGriff is believable, turning down a rare pennant race in Wrigley for a few more innings in the backyard with his wife and two children.

Samson Aina: The 12-year-old Waipio pitcher didn't need any help throwing a truly perfect game in a Little League tournament, striking out all 18 batters he faced. We hope his mom still made him clean his room.

Michael Campbell: New Zealand's best golfer plans to sit out his country's premier event in January. Golfers sit out events all the time, but at least Campbell came up with the best excuse yet. He cited a rise in cost of $224.50 over last year for a weekend pass to pay Tiger Woods' $2 million appearance fee, calling it a "gross insult" to local fans.

[LOSERS]

>> Bernard Hopkins: Apparently not getting his point across by stomping on the flag of Puerto Rico at a press conference in New York on Tuesday, the boxer warmed up for his Sept. 15 fight with Felix Trinidad Jr. by doing it again Wednesday -- this time in Roberto Clemente Arena in San Juan.

Miami Hurricanes: Just in case the BCS formula was not confusing enough last year, it has just changed -- and got even more complicated. Where does that leave the 'Canes? Under the new format, Miami would have played Oklahoma for the title last year instead of Florida State.

Seattle Mariners: M's brass banned ALL Japanese beat writers from the clubhouse, even those who had played by the Mariners' different rules throughout the entire first half, after a few Japanese "National Enquirer" sorts went overboard on Ichiro and Sasaki over the All-Star break.
---
See line scores and results in
the [Scoreboard] section.
E-mail to Sports Editor
---
---
© 2001 Honolulu Star-Bulletin
http://archives.starbulletin.com