CLICK TO SUPPORT OUR SPONSORS

---

---
Sunday, July 15, 2001


[ STUFFS ]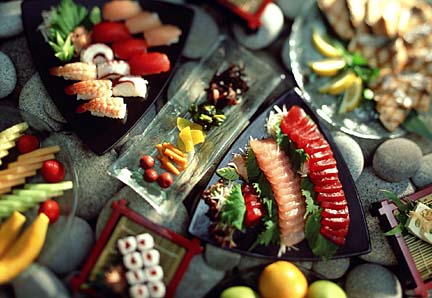 KAHALA MANDARIN ORIENTAL
Ahi Festival fare at Hoku's includes the Ahi Variation
for Two, an appetizer of sashimi, sushi and katsu.
---
Guest chefs share stellar
fare at Kapiolani college

CHEW ON THIS

Restaurant Report

---


The Kapiolani Community College Rising Stars program has always offered a fine opportunity to pair students' need for hands-on learning with your need to eat well for less cash.

Through Aug. 16, KCC's culinary arts program will bring in guest chefs with items from their restaurants to complement menus developed by students. This semester's chefs are David Tataki and Lydell Leong of 3660 on the Rise, both KCC graduates, and Eric Leterc of the Pacific Beach Hotel.

Dinner choices consist of two five-course student menus and a four-course prix fixe menu by the guest chef of the evening.

Consider these entrées from the student lineup: Osso Bucco, Shrimp Scampi, Porkloin Roulade, Catch of the Day and Roasted Chicken Breast.

Complete meals are $25.95 to $30; BYOB. Seatings are Tuesdays to Thursdays beginning at 5:30 p.m. and Fridays beginning at 5:15 p.m. (the early seating is especially for Diamond Head Theatre patrons). Call 734-9488.



Chef Russell Siu, left, and his alter ego, Chef Russ.
---
Just for kids

Chef Russell Siu becomes "Uncle Russ," hero of a new children's menu at Kakaako Kitchen.

Show Me Shoyu Chicken, Krunchy Kakaako Chickenettes, Tilt 'n' Twirl Spaghetti and PBJam-up Sandwiches -- all at $2.95 per plate and served with carrot and celery sticks -- join the adult-sized gourmet plate lunches on the menu today.

Color in Uncle Russ' Keiki Menu and receive 10 percent off baked goods. Call 596-7488.

Dinner affairs

Vintage 2001: Trefethen wines will be featured in a three-course dinner, Tuesday, Sam Choy's Diamond Head. Menu: Lavendar-Cured Salmon and Tomato-Lobster Soup, Prosciutto-Wrapped Sea Bass, Grilled Filet of Veal with Foie Gras. Cost is $39.95; $54.95 with wines. Call 732-8645.

Festival of Ahi: Entrée specials celebrate all that is ahi, Thursday through July 28, Hoku's, Kahala Mandarin Oriental. Menu includes Togarashi-Seared Ahi and Waimanalo Greens, Keawe-Grilled Ahi with Peanut Braised Oxtail, Sautéed Ahi Oscar. Call 739-8780.

A Taste of Japan: A five-course meal demonstrates the pairing of Japanese flavors with wines of the world, 5 to 9 p.m. Friday, Pineapple Room. Chef Steven Arial's menu: Aku Takaki with Asian Slaw (with Kris Pinot Grigio 1999), Scallop and Crab Yuba Roll (Paul Frust, Muller Thurgau 1999), Pan-Sauteed Mahimahi (Leeuwin Estate "Siblings" 1999) and Grilled Beef Tenderloin on Kinpira Risotto Cake (Linne Calodo "Willow Red" 1999). Cost is $49; $64 with wines. Call 945-8881.

New chef

Todd Wells, formerly of Ryan's Grill, has been named executive chef of Ruth's Chris Steakhouse in Restaurant Row. Wells has also served at the Lodge at Koele on Lanai and was executive chef for Sunset Grill.






Click for online
calendars and events.





---





Send WatDat? questions, stories
or any other story ideas or comments to:
Features, Honolulu Star-Bulletin, P.O. Box 3080,
Honolulu, HI 96802 or send a fax to 523-8509
or E-mail to features@starbulletin.com.
Please include your phone number.
E-mail to Features Editor
---
---
© 2001 Honolulu Star-Bulletin
http://archives.starbulletin.com