CLICK TO SUPPORT OUR SPONSORS

---

---
Sunday, July 15, 2001
[ MAUKA MAKAI ]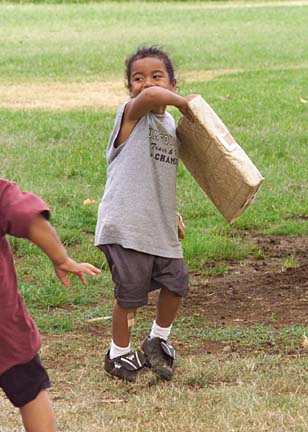 BY KEN IGE / KIGE@STARBULLETIN.COM
Trickster Dallas Foe, 5, helps his team by yanking the base
away as an opposing runner approaches.
---
A midsummer
classic—local style


PORTFOLIO

---


By Ken Ige
kige@starbulletin.com

The Kalihi Valley Junior Pintos baseball team of the Police Activity League, coached by Keone Kakalia, enjoyed a practice session at Kalihi Valley District Park. On a sunny day in May, the team added a couple of their own rules.

Rule No. 1 (pictured at bottom right): If the opposing team is ahead and the runner is making his rounds, grab on to him and SLOW him down.

Rule No. 2 (big picture): If you can't slow the runner down, remove the base so he can't touch it.

Well, maybe those rules will never make it to the real game but for that day, the most important rule was to HAVE FUN -- and everyone followed that rule.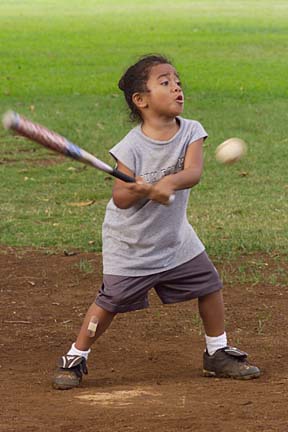 BY KEN IGE / KIGE@STARBULLETIN.COM
With supreme determination, Foe takes a mighty
swing, hoping for a home run.
---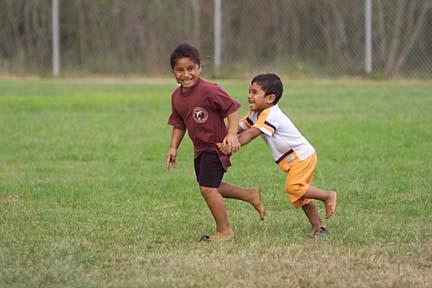 BY KEN IGE / KIGE@STARBULLETIN.COM
Kapono Kakalia, 4, tries to block his sister, Dovelyn, 6, after she
got a hit and was rounding the bases.
---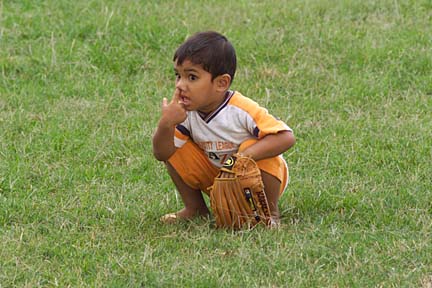 BY KEN IGE / KIGE@STARBULLETIN.COM
The outfield was a little slow so Kapono Kakalia, 4,
passed the time away going for the gold.
---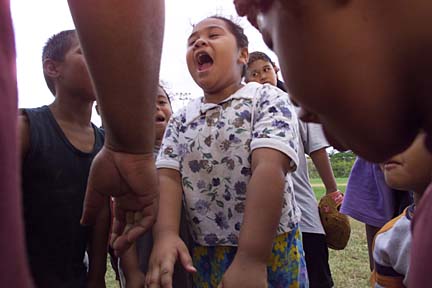 BY KEN IGE / KIGE@STARBULLETIN.COM
Kinnari Faatea, 6, lets out a yell with the team at the end of practice.
---
Artists and photographers are invited to submit portfolios of their work. Send photocopied samples to Portfolio, Honolulu Star-Bulletin, 7 Waterfront Plaza, Suite 210, Honolulu, Hawaii 96813; or e-mail jpeg images to features@starbulletin.com





Click for online
calendars and events.
E-mail to Features Editor
---
---
© 2001 Honolulu Star-Bulletin
http://archives.starbulletin.com