CLICK TO SUPPORT OUR SPONSORS

---

---
Sunday, July 15, 2001
[ MAUKA MAKAI ]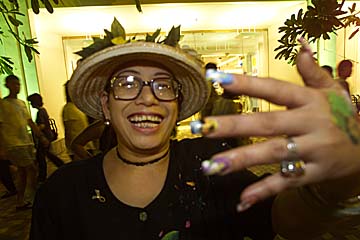 DENNIS ODA / DODA@STARBULLETIN.COM
Pat Cui's shows off nails painted on the street.
---
Peforming OK;
peddling is not

---

By C.R. Dudley
cdudley@starbulletin.com

PENDING THE RULING of a First Circuit Court judge, police are allowing Waikiki street performers to sing, strum, dance or stand perfectly still covered from head to toe in silver paint with impunity. Unlicensed salespeople, however, face handcuffs and jail time.

Street peddlers have taken advantage of the relaxed enforcement atmosphere in Waikiki over the last six months. They lay blankets on the brick sidewalk and set up shop under the neon of ABC stores and chic retailers, offering goods and services from hemp necklaces to massages.

"The police really don't hassle us," street performer Steve Williams said.
COVER STORY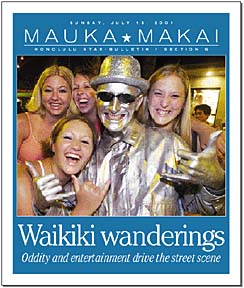 It was starkly different for artists recently arrested for peddling in Waikiki. Of four interviewed, none would give their names. All had been arrested in the same week, one for painting fingernails, another for selling handmade jewelry, another for giving massages, the last for affixing temporary tattoos.

"Performing and peddling are two different things," Major Thomas Nitta of the Waikiki Police Department said. "The street performers are going on their constitutional right to free expression. A peddler is selling something to people. A performer is playing to anyone who passes, he's not targeting one individual. Pending the judges' ruling, we're not enforcing the street-performing statutes."

Judge Virginia Crandal is expected to rule on a case brought by the American Civil Liberties Union against the City of Honolulu soon. The city passed the Performing in Public Spaces law (Hawaii Revised Statute 29-16) to curb the burgeoning numbers of street performers in Waikiki.

The ACLU contends that the city unconstitutionally hampered free speech by setting aside certain areas and times when street performing could take place, and by limiting what can and cannot be said on a public sidewalk.

"The city won't let you stand on a sidewalk in Waikiki and read the Bible," ACLU attorney Brent White said. "That's what we're concerned with. We don't represent people who sell products. We represent the people's right to free expression."

"Four of the six places the city wanted to set aside for street performing in Waikiki were in front of empty retail space. There wasn't a single spot on Kalakaua Avenue, and all of them were in remote and desolate places," White said.

White conceded that occasionally there is a fine line between performing and selling. But he isn't interested in representing peddlers.

Nitta made the police department's position clear, offer goods or services for sale illegally and you will be arrested. Sing or dance without creating a safety issue and you will be left alone, at least for now.





Click for online
calendars and events.
E-mail to Features Editor
---
---
© 2001 Honolulu Star-Bulletin
http://archives.starbulletin.com