CLICK TO SUPPORT OUR SPONSORS

---

---
Sunday, July 15, 2001
[ MAUKA MAKAI ]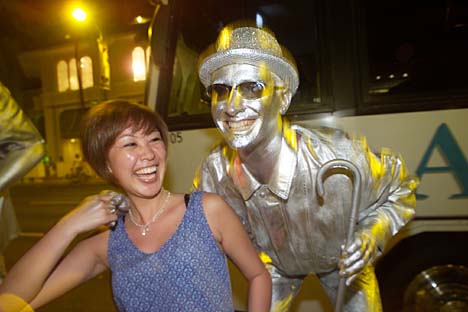 DENNIS ODA / DODA@STARBULLETIN.COM
Steve Willimans, aka "Silver Man," a Kalakaua Avenue regular,
flirts with Makiko Kurosawa. In a few moments he'll
give her a kiss on the cheek.
---
Sidewalk stagecraft


Performers enthrall
pedestrians with
perennial skills

---

By C.R. Dudley
cdudley@starbulletin.com

KRISTEN HURST has her hand in her best friend's pocket. It's stuck there with Super Glue. Or so she thinks.

For all her might, she can't pull free. A crowd of 25 people has gathered around Hurst, her best friend and Waikiki street performer Steve Williams. It's a balmy Friday night on Kalakaua Avenue in Waikiki.

Why is her hand stuck? Why are so many people watching her? Because Hurst has been hypnotized by Williams. He's made her believe that her hand is glued in place. Other than a few minutes introduction prior to the hypnosis, Williams does not know Hurst.
COVER STORY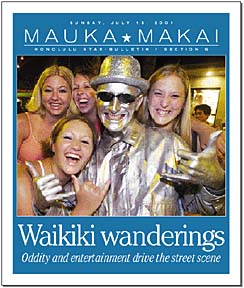 "I think the street performers are really cool. They make the street more fun and happening. When you're under the drinking age, there's not a lot to do in Waikiki except walk around and watch the street shows," Hurst said.

After the bit with her hand in the pocket, Hurst posed dramatically for photographs at Williams' instructions. She jutted her hip and played with her hair like a supermodel while onlookers and friends giggled and snapped photographs.

Following more of Williams' instructions, Hurst held one hand above her head when he said the word "hambone." Hurst kept the hand up, like a child patiently waiting to ask a teacher a question -- despite the laughter and guffaws -- until Williams said "funny bone," whereupon she immediately dropped it to her side.

Hurst is beautiful. She's tall and blonde with strong, Germanic features. The intensity of her blue eyes belies the innocence of the words she speaks.

Hurst and six of her friends are visiting Waikiki from Bakersfield, Calif., to celebrate their high school graduation. She agreed to be hypnotized after asking Williams questions about street performing. Williams persuaded Hurst to play along by offering to help with her fears of rejection. To his credit, Williams did give an impromptu, if awkward, counseling session while Hurst was hypnotized, telling her she was powerful and able to see past her fear and move forward in life.

As the hypnosis ended and the crowd gave Hurst and Williams a cheer, a man visiting from Portland handed Williams a $5 bill.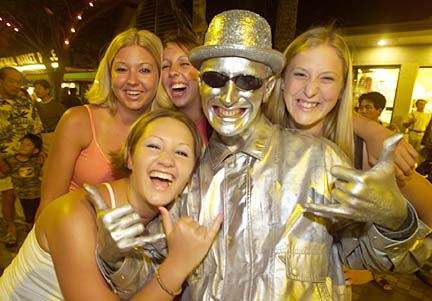 DENNIS ODA / DODA@STARBULLETIN.COM
Tourists, from left, Michelle Edmonds, Lisa Allendale, Abby Ebinger
and Corie Holihan, make friends with Silver Man Steve Williams.
---
That blend of oddity, entertainment and money is what drives the rebirth of street performance in Waikiki.

Starting at Kapahulu and walking west along Kalakaua on a Friday night, you might see dancers, magicians, balloon sculptors, caricature artists, five or six men painted completely in silver or gold, a church choir, a fortuneteller, several bearded guys with guitars, a hypnotized young woman posing dramatically and goods hawkers of all kinds before you get to the other end of Waikiki.

Debbie Uyetake and her daughter Malia Asing, 20, of Lahaina, Maui, visited eldest daughter Lokelani Asing, 23, over the weekend. They watched local legend Sunny Beethoven work his sax and the working girls work their acts.

"I bring the girls down here when I visit because it's cheap entertainment," Uyetake said. "There's really not much else going on in Honolulu that's free at night. The street performers really add to the feel of Waikiki, but I do think they should be required to get a permit."

Lokelani answered her mother's assertion by saying, "A permit would seem fair for tax purposes, but it's not a free country if they have to have a permit to express themselves. The street performers have a right to be here."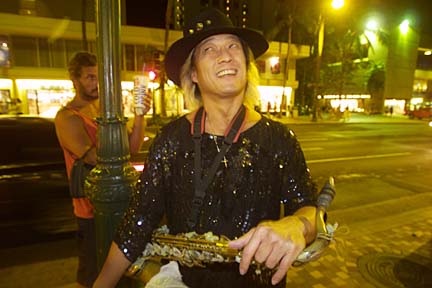 DENNIS ODA / DODA@STARBULLETIN.COM
Sunny Beethoven is probably the most famous of Waikiki's street
performers. The saxophone player went to court against the city
to win the right to perform on Kalakaua Avenue.
---
Williams usually appears as one of the performers covered completely in shiny silver paint and makeup. He performs a few nights a week with his partner Jozsef "C.J. the Super Silver Pops" Boviz. Williams and Boviz stand perfectly still until someone drops money in their tub, then they might dance with a passerby or steal a hat off a tourist's head.

They usually make at least $100 for each six- to 10-hour performance, but sometimes they make over $300 apiece.

"I tried doing magic on the street and hypnosis, but there's just a lot more money in being the Silver Man. The Japanese tourists love Silver Man. They gather around me and take photographs. If they're not paying attention, I like to make a sudden movement and scare them or grab a hat or something like that. That just freaks them out. They love it," Williams said.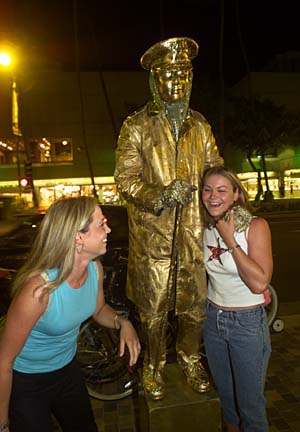 DENNIS ODA / DODA@STARBULLETIN.COM
"Akira, the Gold Guy" has a hold of Molly Stinson
while her friend, Kelly Cameron looks on.
---
In being the silver man, or performing magic and hypnosis on the street, Williams is continuing a long and storied tradition. Entertainers of all sorts have honed their crafts in urban centers for millennia.

Street performing originated in ancient Greece, where tragedians would practice their craft on the street before stage shows. They wore long boots called buskins and thus became known as buskers. Buskers became an integral part of the urban landscape during the Victorian and Edwardian era in Europe, and a strong tradition of street performing survived in American cities until the 1930s. The hand-held radio, the Great Depression, urban decay and, finally, television all but killed off street performing in most American towns.

The countrywide revitalization of urban centers has led to the resurgence of street performers. The people of Hawaii see some of the effects of Waikiki's renovation in the silver-painted men and women, dancing robots, prayerful singers, fortunetellers and other artists who perform on Kalakaua Avenue nightly.





Click for online
calendars and events.
E-mail to Features Editor
---
---
© 2001 Honolulu Star-Bulletin
http://archives.starbulletin.com