CLICK TO SUPPORT OUR SPONSORS

---

---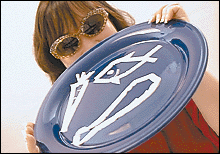 The Weekly Eater
BY NADINE KAM
Sunday, July 15, 2001
---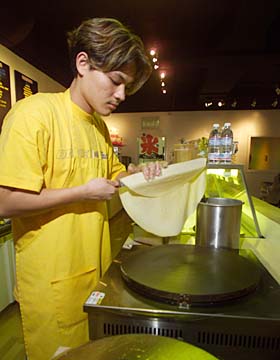 KEN IGE / KIGE@STARBULLETIN.COM
Thomas Tran of Rainbow Crepe.com removes a crepe
from the griddle.
---
Credit Japanese
with innovation for crepes
turned cones

FIRST it was the automobile. Then technology. Now fast food. America has lost its edge to the Japanese. All we have left is entertainment.

Where 50 years ago the label "Made in Japan" was a warning sign, Detroit stopped laughing decades ago when eco-friendly, sensible imports nearly ran American cars off the road. (They must be relieved now that a gas-guzzling mentality has taken hold.)

Then Sony came along, taking the idea of personal technology and making what was once geeky popular. And of course, Nippon Telephone and Telegraph's spinoff DoCoMo makes a joke of all our pagers, cell phones and PDAs.

The worst of it is that here, in the land that gave birth to such porta foods as McNuggets, corn dogs, mini pan pizzas, Spam musubi, we were not the ones to come up with the handheld crepe, the specialty at Rainbow Crepe.com.




RainbowCrepe.com

| | |
| --- | --- |
| Food | |
| Service | 1/2 |
| Ambience | 1/2 |
| Value | 1/2 |

Where: McCully Shopping Center, 1960 Kapiolani Boulevard, Suite 110
Phone: 949-1124
Hours: 11 a.m. to 11 p.m. daily
Cost: About $5 per person for one crepe




The crepe is not exactly the miniaturized, delicate thing of beauty we've come to expect from the land of the rising sun, but give 'em time. After all, what was the first Walkman but a clunky blue plastic box? It barely resembles the sleek listening device we have today.

Nevertheless, there are always early adapters who seek out the new and novel, and the Rainbow Crepe is it.

Forget about what you know about this sensual French confection so far. Remember, Rainbow Crepe.com offers only handheld models, and that means they've got to stand up and hold onto their fillings. The recipe's got to go easy on the eggs, resulting in a rather stiff wrap, more similar to a flour tortilla than a true crepe. There is sugar added, and as a substitute for an ice cream cone, the crepe is much less sweet than a waffle cone. But it works. The ice cream crepes didn't drip at all.

What this means for you is that if you've got a craving for dessert up to 11 p.m., you can get a quick sundae with a little entertainment on the side. Just as there are restaurants in New Mexico where you can watch tortillas being made, here you can watch the white batter being spread on the round griddle and see it bubbling up before it's ready, in about two minutes.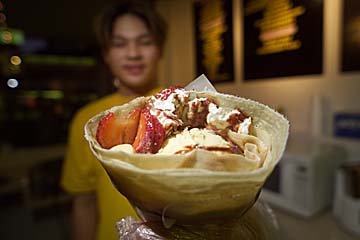 KEN IGE / KIGE@STARBULLETIN.COM
The finished crepe features fresh strawberries,
vanilla ice cream, chocolate syrup and whipped cream.
---
The texture right off the griddle tends to range from being dry, crisp or floppy. It's impossible to tell just what you'll get, even with the same batter. Of course, the crisp state -- with the snap and crunch of an ultra-thin tea cookie -- is best.

Then your server goes to work layering on strawberries, bananas, whipped cream and chocolate syrup, in combinations off the menu. I tried to order some offbeat combinations, but our server suggested that the best combinations were already on the menu. And believe me, their combinations are already out there. Remember what I've written before about new wave Japanese taste for mashed potatoes, cheese, tuna and corn? They're all on the menu. Along with chicken and chili (which turned out to be salsa, and not a hit with me) and kalbi (thin slices of teriyaki beef).

Naturally, I had to try the mashed potato and canned tuna in a crepe. The mashed potatoes had a slightly sour taste to them; the pairing could best be compared to cold hash. The best of the savory pairings was the hot dog in crepe, with ketchup, mustard, and lettuce for body.

Stick with the desserts for now. Try the banana with chocolate syrup and macadamia nut ice cream ($4.50), baked cinnamon apple with ice cream ($4.75), or green tea ice cream with azuki beans ($4.50). These are filling and, due to the individual nature of the crepe/cone, pretty much impossible to share.

Of course, you could just skip the crepe and have your dessert in a bowl. But that wouldn't be as much fun as trying to explain Rainbow Crepe.com to your friends.





See some past restaurant reviews in the


section online. Click the logo to go!





---

Nadine Kam's restaurant reviews run on Thursdays. Reviews are conducted anonymously and paid for by the Star-Bulletin. Star ratings are based on comparisons of similar restaurants:

| | |
| --- | --- |
| | excellent; |
| | very good, exceeds expectations; |
| | average; |
| | below average. |

To recommend a restaurant, write: The Weekly Eater, P.O. Box 3080, Honolulu, Hawaii 96802. Or send e-mail to nkam@starbulletin.com
E-mail to Features Editor
---
---
© 2001 Honolulu Star-Bulletin
http://archives.starbulletin.com