CLICK TO SUPPORT OUR SPONSORS

---

---
Wednesday, July 11, 2001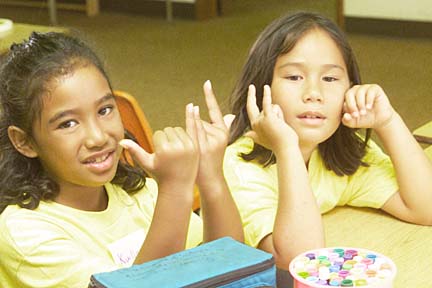 CRAIG T. KOJIMA / CKOJIMA@STARBULLETIN.COM
Peace camp participants at Pope Elementary School learned
to communicate in different ways in order to deal with conflict.
On Monday in Bobbie Spencer's class, Kuliana Phillips, left,
communicated "shaka," with Shay Kauwe.
---
Camp helps children
find inner peace


The program stresses harmony
regardless of a family's background

---

By Kelliann Shimote
kshimote@starbulletin.com

In three Waimanalo classrooms, 32 elementary school children gather for arts, crafts, lectures, discussion groups and games. But the lessons to be learned are not the usual summer school fare.

These children, many from nontraditional families, are participating in the fourth annual Children's Peace Camp, designed to teach children conflict resolution and mediation skills. This year's weeklong program, which started Monday, is being held in Blanche Pope Elementary School.

The camp aims to help children ages 6 to 12 develop fundamental life skills such as listening to and respecting each other so they can achieve peace with themselves, their peers and the environment.

"It's pretty fun getting to know each other, meeting new people, learning things," said Shawnnalei Rivera, 11, a camp participant.

Every day, camp educators use a morning yoga session to stress the importance of being at peace with oneself.

"To find peace outside the world, (you have) got to find peace within yourself," said co-coordinator Margarette Keegan.

The activities use different learning styles that include all five senses. The hands-on activities include tie-dying a peace bag, making a sock puppet and painting.

"Kids learn best through play," said Shirley Rivera, a camp co-coordinator and aunt of Shawnnalei.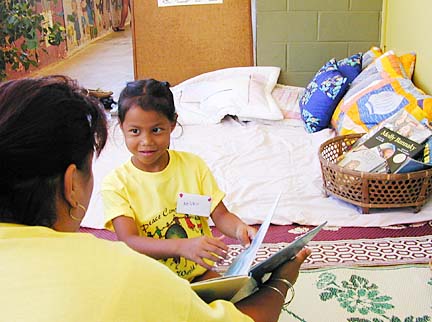 CRAIG T. KOJIMA / CKOJIMA@STARBULLETIN.COM
In the "meditation" room set outside a classroom at Pope
Elementary School, Keliko Libarious-Moses read a book
with Iona Kaai on Monday.
---
Healthy eating is also stressed. Keegan said the group will learn how to cook soybeans and make fruit smoothies.

The all-expenses-paid event is sponsored by Hawaii Association of Independent Schools and is funded by the Geist Foundation, a local group devoted to helping children from nontraditional families, such as those raised by grandparents or other relatives.

Because of the foundation's participation this year, a majority of the children are from foster or hanai families, according to Ruth Tschumy, project coordinator for HAIS.

Children are broken up into three classrooms depending on the grade the child is in. The three classes are made up of first and second graders, third and fourth graders, and fifth and sixth graders. Each

"Peace camp is very holistic," said Bobbie Spencer, a camp teacher. "Everyone is treated in the same respect."

Spencer said the camp differs from learning in the classroom because it focuses on the individual. Cooperation, trust and love are also emphasized at the camps. Advisers hope these basic skills will help the children develop self-esteem and inner peace.

The camp's focal point "is learning to live in a balanced harmony regardless of financial status, cultural and ethnic backgrounds," said Spencer. "We all have basic needs to be loved (and) respected."
E-mail to City Desk
---
---
© 2001 Honolulu Star-Bulletin
http://archives.starbulletin.com