CLICK TO SUPPORT OUR SPONSORS

---

---




Newswatch
Police, Fire, Courts
By Star-Bulletin Staff
Wednesday, July 11, 2001
---
State gets $1.9 million to help crime victims

Hawaii has received a $1.9 million federal grant to assist victims of crime.

The grant, from the U.S. Justice Department's Office for Victims of Crime, comes from a fund supported solely by fines paid by federal criminal offenders.

States can use the funds to support counseling, advocacy, emergency transportation or programs in law enforcement agencies, prosecutors offices and social service agencies.

Kauai residents support fluoridation test, poll says

About 71 percent of Kauai residents believe water fluoridation is safe and beneficial and 61 percent would support a pilot fluoridation test in their community, according to a study conducted by Market Trends Pacific Inc. for the Kauai Dental Health Task force.

Residents were surveyed in October and November to determine their knowledge of water fluoridation and what they think about it.

The state Health Department's Dental Health Division found Kauai children ages 5 to 9 average nearly five cavities compared to 1.2 cavities for children the same age in fluoridated communities.

Fluoridation has been used more than 50 years on the mainland and at all military installations in Hawaii for 45 years and has proven safe and beneficial, the Kauai task force pointed out.

Ewa Beach public library to close for electric work

The Ewa Beach Public & School Library will be closed tomorrow because of an electrical upgrade of the Campbell High School complex, at which the library is located.

The library is scheduled to reopen at 10 a.m. Friday. The book drop will remain open for returns.

Slom picks attorney for state group

Sen. Sam Slom (R, Kalama Valley-Aina Haina), state Senate minority leader, has appointed attorney Shelton G.W. Jim On as a member of the state Reapportionment Commission.

Jim On fills the vacancy created after attorney Rick Clifton resigned. President George Bush nominated Clifton as a federal appellate judge on the U.S. Ninth Circuit Court of Appeals.

Jim On was born in Paia, Maui and attended Leilehua High School. He earned a bachelor's degree in education at he earned a law degree from the University of San Francisco.

He spent two years as a trial attorney with the Office of the Public Defender.

Man serving 100 years gets a life term

A man already serving 100 years for murdering a man was sentenced today to a life term with parole for another slaying 13 years ago.

Wallace "Dido" Rodrigues, 36, was convicted in May of second-degree murder for firing three shots into the back of the head of Lorenzo Young, 31, a distant cousin on April 3, 1988.

Also today, Rodrigues pleaded guilty to manslaughter in the death of yet another man, William Lau in October 1990. Under a plea agreement, he was sentenced to 20 years imprisonment.

Rodrigues is currently serving a 100-year minimum for the February 1990 murder of Leo Tuaoa, who was shot in the head and chest and found in the trunk of his burning car.

Corrections and clarifications

>> Julia Estrella, an organizer for Island Tenants on the Rise, said the Marshall Islands' government should not have to pay medical expenses for islanders poisoned by the 66 U.S. nuclear detonations that took place in the islands from 1946 to 1962. An article in Friday's paper said Estrella was referring only to the nuclear bomb tests on Bikini Atoll in 1954.

>> The city's Torch Lighting and Hula Show at Kuhio Beach happens nightly. A photo caption Monday had incorrect information.

>> A proposal to build a hydroelectric dam at Wailua Falls on Kauai calls for two plants producing a total of 6.5 megawatts of electricity. A story Friday incorrectly used the term kilowatts.




Corrections and clarifications

The Honolulu Star-Bulletin strives to make its news report fair and accurate. If you have a question or comment about news coverage, call Publisher and Editor in Chief John Flanagan at 529-4748 or email him at jflanagan@starbulletin.com.








---




Police, Fire, Courts



By Star-Bulletin staff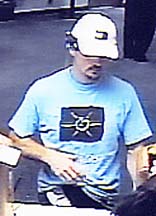 HONOLULU POLICE DEPARTMENT
Police are looking for this man they believed robbed the
City Bank in Kapahulu yesterday.
---
LEEWARD OAHU

Man arrested for stabbing of girlfriend's mother

A man wanted for allegedly stabbing his girlfriend's mother in Waianae Monday turned himself in to police early this morning.

The 21-year-old Makaha man was arrested for attempted murder and terroristic threatening.

Police said the man stabbed the 40 year-old woman during an argument ouside a Maiuu Road home. She was reported in guarded condition at the Tripler Army Medical center with stab wounds to her chest and abdomen.

Overnight brush fires called 'suspicious'

Arson is suspected in two brush fires overnight in Makaha and Wahiawa, fire department spokesman Capt. Richard Soo said.

The fire in Makaha burned about 2 acres of brush behind Makaha Elementary School and came within 400 feet of homes before firefighters were able to put it out. Six companies responded to the 8:03 p.m. fire. They extinguished it by 11:00 last night.

Another fire near Lake Wilson off of Wilikina Drive burned about an acre before it was brought under control.

Four engines and two tankers responded to the 2:52 a.m. alarm. Firefighters were to return to the scene this morning to mop up.

HONOLULU

Police seek robber of Kapahulu City Bank

Police are looking for a man who robbed the City Bank in Kapahulu yesterday.

Police said about 10:30 a.m. the suspect entered the bank and passed a note to a teller stating he was armed with a weapon. Police said he fled on foot and was last seen heading toward L&L Drive-Inn.

The suspect is described as between 30 and 40 years old, about 6 feet to 6-foot-2, 160 to 180 pounds. He has a slender build with wavy, dirty blonde hair.

Police further described him having a mustache and a goatee.

He was wearing a white baseball cap, light blue T-shirt, jeans and work shoes at the time of the robbery.

Anyone with information can call CrimeStoppers at 955-8300.

WINDWARD OAHU

Girl, 2, stable after fall from second-floor window

A 2-year-old girl was taken to Tripler Army Medical Center after she fell from a second-floor window in her home at Marine Corps Base Hawaii at Kaneohe yesterday afternoon.

Base media officer 1st Lt. Kent Robbins said the toddler was playing near the window when she fell.

Her injuries were described as minor. Robbins said she is in stable condition.




E-mail to City Desk
---
---
© 2001 Honolulu Star-Bulletin
http://archives.starbulletin.com