CLICK TO SUPPORT OUR SPONSORS

---

---
Tuesday, July 10, 2001
Honolulu still the
densest urban
area in U.S.


The rank holds despite a
decline since 1982 in the
number of folks per
urbanized acre

---

By B.J. Reyes
breyes@starbulletin.com

Feeling a bit overcrowded lately? Perhaps it feels like the island's population is closing in on you?

That's not just your imagination or a seasonal influx of tourists.

A new study shows that Honolulu has more people on its urbanized landscape than any major metropolitan area of the country.

"That's not surprising," said Bill Fulton, one of the authors of the study being released this week by the Brookings Institution. "You don't have a whole lot of land in Honolulu to begin with ... so you can't just sprawl out forever like most metropolitan areas can."

The study, commissioned by the institution's Center on Urban & Metropolitan Policy, looks at urban growth patterns nationwide.

Specifically, researchers studied population trends on "urbanized land," defined as land "devoted to housing, urban development, roads, shopping centers ... all of the things you would think of in a local community as developed land," said Fulton, president of the Ventura, Calif.-based Solimar Research Group.

The study of 281 metropolitan areas from 1982 to 1997 showed that the amount of urbanized land in the United States increased by 47 percent, to approximately 76 million acres from about 51 million acres. During that same time period, the population in these areas grew by only 17 percent.

In other words, the population is spreading out faster than it is growing.

Honolulu followed that trend.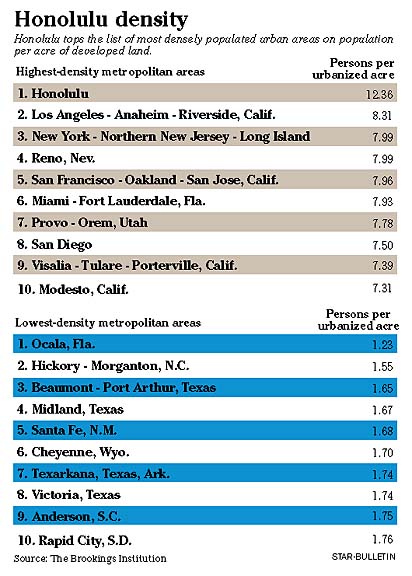 During the study's time period, the city's population increased to approximately 864,000 from 776,000, or 11.4 percent, while the amount of urbanized land in the metropolitan area grew to about 70,000 acres from 58,000 acres, or 19.1 percent, Fulton said.

The Honolulu metro area's concentration of 12.36 people per urbanized land acre was highest in the country. However, other metropolitan areas were defined by larger boundaries.

The Los Angeles-Anaheim-Riverside metropolitan area of California had the second-highest concentration with 8.31 people per acre, or 15.8 million people using 1.90 million acres of urbanized land. The New York-New Jersey-Connecticut metro area ranked third with 7.99 people per acre, 18.6 million people on 2.33 million acres.

Honolulu also ranked first in 1982, with 13.2 people per urbanized acre, Fulton said.

"Density actually went down a little bit," Fulton said. "But Honolulu was so much more dense than any other metropolitan area that it continued to rank No. 1."

Kem Lowry, a University of Hawaii professor and chairman of the school's Department of Urban and Regional Planning, said the distinction should be expected.

"Generally, high land costs here result in smaller lot sizes, so you would expect densities to be higher than lots of mainland places," Lowry said in an e-mail message.

Fulton said the numbers also are a reflection of the city's land management.

"You're using your land more efficiently than any other metropolitan population," Fulton said.

Part of the reason for that is concern over the planning of projects such as subdivisions. For example, in Honolulu, planning takes into consideration the use of land contiguous to existing subdivisions, Lowry said.

"That would result in greater efficiencies regarding sewers, roads, water lines, etc.," he said. "When you have to extend services out into the country, it is obviously less efficient."

The Brookings Institution, a Washington, D.C.-based think tank, commissioned the study to examine how different regions of the country are growing, said Robert Puentes, a senior research manager.

"Really, it's more of a wake-up call for people who may think that their region is not sprawling just because the population is not increasing," Puentes said. "We want people to understand that metropolitan regions across the country grow in different ways."
E-mail to City Desk
---
---
© 2001 Honolulu Star-Bulletin
http://archives.starbulletin.com