CLICK TO SUPPORT OUR SPONSORS

---

---
Tuesday, July 10, 2001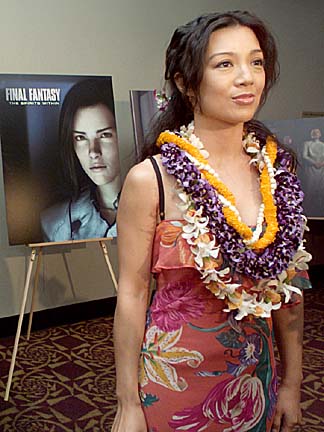 GEORGE F. LEE / GLEE@STARBULLETIN.COM
Ming-Na was in town for the premiere and
posed for pictures in front of a poster featuring
her character, Dr. Aki Ross.
---



Ming-Na waxes exuberant
over her voice-over role as
Aki Ross in 'Final Fantasy'

---

By Tim Ryan
tryan@starbulletin.com

The voice is strong and confident yet sweet and feminine. "I am sooo sweet," says Ming-Na, who gives voice to Dr. Aki Ross in "Final Fantasy: The Spirit Within," opening nationwide tomorrow. "If you don't believe I'm sweet, I may have to kill you," Ming-Na follows with a long giggle.

The actor, who lives in Los Angeles with her husband, Eric Michael Zee, was in Hawaii for last night's private premiere of "Final Fantasy" in Waikiki. Her mom, Linchan Yee, accompanied her to the debut at the Waikiki Twins.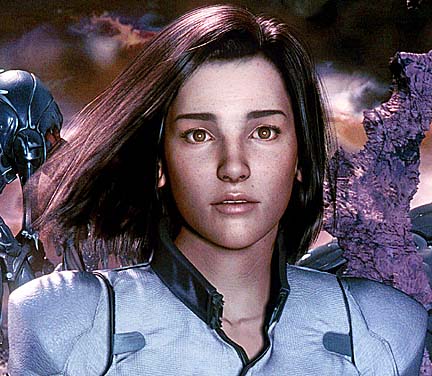 COURTESY COLUMBIA PICTURES
Ming-Na's computer-generated character, Dr. Aki Ross.
---
Ming-Na's career took a leap in 1993 when she co-starred with Kieu Chinh and Tsai Chin in "The Joy Luck Club." Since then she's been working constantly, including roles in another voice-over animated hit, "Mulan," with Eddie Murphy, and another action film, "Street Fighter," with Jean-Claude Van Damme and Raul Julia. Ming-Na also has appeared in the films "Spawn" and "Star Quest," and for three seasons appeared on "As the World Turns" as Lien Hughes, in the first long-running role for an Asian on daytime television.

"Not bad for a shy Asian girl and a high school geek," she chirps in.

Shy and geeky?

"In high school I was the president of the Science Fiction Club because I've always loved it sooo much," she said. "I know I was a total geek. I mean, what really cool person admits they liked science fiction during adolescence?"

OK, but shy?

"All right, that may be a stretch," she says, "and that's all my mother's fault. My mom is very tough. She's a survivor of many things: the Cultural Revolution, the famine. Her strength is present but not omnipotent. Do you understand what I mean?

"China has always had a matriarchal society, and the family in total is at the top of the priority list. I was taught to handle difficulties and disagreements with grace."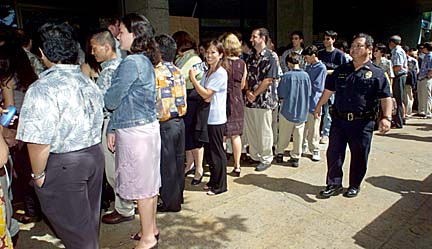 GEORGE F. LEE / GLEE@STARBULLETIN.COM
The line for private premiere of "Final Fantasy"
stretched from Seaside to Kalakaua Avenue
yesterday.
---
Ming-Na, 37, was born in Macao, China. The family moved to the United States when she was 4, and she, along with brothers Johnathan and Leong, grew up speaking English, Mandarin and Cantonese in Mt. Lebanon, Pa., a suburb of Pittsburgh. Her mother worked as a nurse, and her father, Soo Lim Yee, who died in 1995, owned and ran the Chinatown Inn in Pittsburgh.

It would be easy to miss the connection between Ming-Na and her character June, the conservative Chinese daughter she played in "The Joy Luck Club." You won't find her wearing those shapeless, neutral-colored sweaters, sporting a perfectly combed drape of hair and the reticent countenance she wore in the movie. Ming-Na these days has been described more often as a poster girl for Melrose Avenue than a reserved "good Chinese daughter."

"I am a good Chinese daughter," Ming-Na says, laughing, "but that shy, demure thing is sooo old for Asian women. There's a time and place, I suppose, for all of that, but as a consistent diet it would be a detriment and sooo boring for everyone."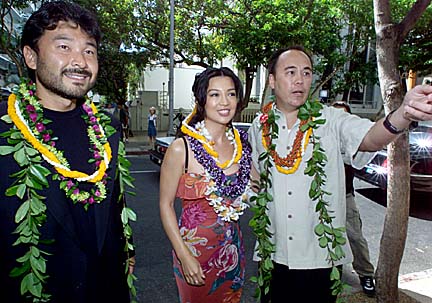 GEORGE F. LEE / GLEE@STARBULLETIN.COM
The film's producer Jun Aida, left, Ming-Na
and co-producer Chris Lee pose for pictures
yesterday afternoon before the movie premiere.
---
Hollywood, being a place where stereotypes provide comfort for many studio execs, has often tried "to pigeonhole me as a type," she said. "But when people finally get to know me, it's like, 'God! She's the I-could-jump-into-a-Jacuzzi-in-just-my-underwear type, and I like that!"

Ming-Na jumped at the chance to star as Aki in "Final Fantasy: The Spirit Within."

"I told you I'm a huge science-fiction fan, and this was an incredible opportunity on several levels: a wonderful science-fiction story with endurable characters with depth, and the first-ever 100 percent (CGI -- computer generated imaging) animated film with completely realistic actors."

"It's groundbreaking, and I really hope this film becomes my 'Star Wars,'" she said.

Square USA, which produced the $130 million film, has dismissed ideas about a sequel but is thinking about using the character Aki in other films. And would Ming-Na interested in continuing in the role?

"Duh!" she says.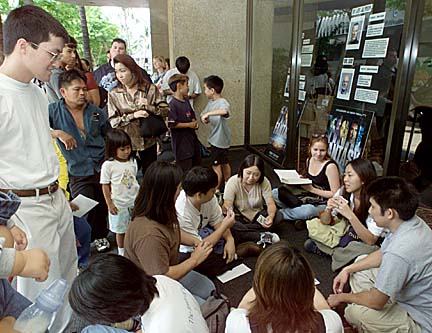 GEORGE F. LEE / GLEE@STARBULLETIN.COM
Fans camped out in front of the Waikiki Theaters
on Seaside hours prior to the private premiere
of "Final Fantasy" yesterday afternoon.
---
Filming "Final Fantasy" was easy for the actress after creating the voice of "Mulan" for Disney.

"It doesn't take a lot of time like a television series or a film using actors," she says. "I would go into the studio once or twice a month for about four months, and that was it. I didn't have to worry about long days with lots of makeup or costuming."

Not only was she able to keep her day job with "ER," but she also assembled and is producing a "boy band," called "At Last," of all Asian-American singers.

"Asian-American men in this country are almost nonexistent (in media), and I really wanted to do something to show these talents, increase visibility, get the word out there that there's lots of hidden talent in this group," Ming-Na said. At Last is expected to release its first compact disc late this year.

But there also were disadvantages to working solo on "Final Fantasy."

"It's hard not working off another actor's emotions and spontaneity," Ming-Na said. "At first it was very lonely sitting in that booth and eerie to see (Aki's) lips move and my words coming out, but slowly I began to enjoy my time with Aki, and I became attuned to her."

As the animation developed to near perfection, Ming-Na also worried that the technology would overshadow the characters.

"It didn't happen," she said. "The characters have substance, the emotions are real, the conflicts are honest."

Ming-Na decided early that she wanted to act. After playing "Thumpy the Rabbit" in her third-grade Easter play, she said, "I was hooked."

"My role was to come out and run into things," she said. "When I got my first laugh, I thought, 'Wow, how cool. What power, to affect people that way.' Ever since, I wanted to act."

And that oddball child continues to lurk. "Inside this ball-of-fire exterior is a very geeky woman," she said.





Click for online
calendars and events.
E-mail to Features Editor
---
---
© 2001 Honolulu Star-Bulletin
http://archives.starbulletin.com