CLICK TO SUPPORT OUR SPONSORS

---

---
Saturday, July 7, 2001
[ HIGH SCHOOL ATHLETICS ]




St. Louis' coach will lead
football team for 1 more season

---

By Dave Reardon
dreardon@starbulletin.com

Cal Lee, the most successful high school football coach in Hawaii history, says he will resign as St. Louis School's varsity head coach after this coming season. Lee, who was on the mainland most of the past week, returned Thursday and told his assistant coaches, St. Louis Principal Burton Tomita and alumni association President James Burns of his decision yesterday.

Lee, 54, said he will retain the post of Crusaders athletic director after this year. He has worked for St. Louis the past 30 years, including 20 years as head varsity football coach.

No successor has been named.

Lee's name has come up often in the past 15 years for other coaching jobs, both high school and college. But he said that is not the reason for his decision.

"Everybody comes to the point that he feels like it's time. After 21 years I feel like it's the right time," Lee told the Star-Bulletin.

St. Louis officials were unavailable for comment last night.

Lee said his complete focus now -- beginning with today's pass-league game against Nanakuli -- is the upcoming season.

"I don't really look on it as retiring because we have a task at hand. I'll be coaching this year and doing the best job I possibly can. I'm excited about this season," Lee said. "I'm sure when it's all said and done (at the end of the season), there will be a different kind of feeling."

Lee's St. Louis teams have won 15 Prep Bowl or state championships (14 of them in a row) and 17 Interscholastic League of Honolulu titles. The Crusaders have been ranked as high as No. 2 in the nation. Lee's career record as a head coach is 231-31-4, including a state record 55-game winning streak from 1985 to 1990.

"Obviously, his record is the story. No one in the history of Hawaii high school football has that kind of record," said Don Botelho, longtime coach at ILH rival Pac-Five. "You can't go to the top without (players with) talent. But he does a great job and has a great staff. Defense is his forte, but the guy is just a master of all phases. He's wired into all aspects of coaching."

In 2000, Lee was named football coach of the year by the National Federation of State High School Associations. He received a similar honor from the Sporting News in 1995.

"Cal is to be credited for bringing Hawaii high school football to national prominence," said Keith Amemiya, executive director of the Hawaii High School Athletic Association. "He is respected by his peers because his teams are always well prepared."

St. Louis' streak of 14 Prep Bowl or state championship victories ended last December when Kahuku beat St. Louis 26-20 in the state final.

Lee has helped develop dozens of athletes who have gone on to play college and professional football. Three current NFL players -- Olin Kreutz (Chicago Bears starting center), Chris Fuamatu-Ma'afala (Pittsburgh Steelers running back) and Dominic Raiola (Detroit Lions rookie center) -- were all-staters at St. Louis. Also, New York Mets outfielder Benny Agbayani was an all-state wide receiver for the Crusaders.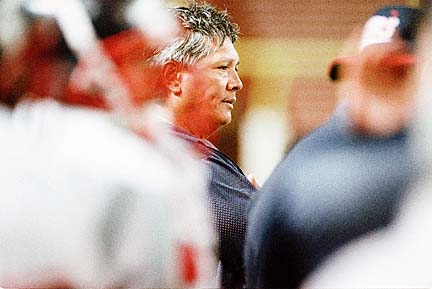 STAR-BULLETIN / 1998
St. Louis head coach Cal Lee is all business in the heat of a
game, and his incredible win-loss record shows it. Lee has
helped develop dozens of athletes who have gone on to play
college and professional football.
---
"He's a great person in addition to being a legendary coach," Fuamatu-Ma'afala said. "He doesn't yell or scream. But he does have a little swagger that gave us confidence, that little edge. He doesn't have to say much to have a big impact."

In recent years, Lee has taken criticism regarding what some consider an overemphasis on football at St. Louis. He said this has nothing to do with his decision to step down.

Three years ago, St. Louis players and coaches were suspended and a game was forfeited after some players drank alcohol, damaged hotel rooms and hired exotic dancers after a game in Las Vegas.

"I take full responsibility for what happened," Lee said at the time. "I should have supervised better."

Despite intense public criticism, Lee weathered that storm.

But St. Louis' continued dominance of ILH football has created other problems. Last year, the ILH commissioned a panel to restore competitive balance in the league. One new rule limits teams to 65 players suited up for each game. St. Louis and Kamehameha each had more than 100 varsity players last season.

Also, St. Louis' 84-0 victory over Damien last year was a flash point for Damien President Brother Greg O'Donnell's decision that Damien will forfeit its game against St. Louis this season. The fallout has caused a radical restructuring of the ILH schedule format.

Lee is a 1964 graduate of Kalani High School, where he was an all-ILH offensive lineman and linebacker. He went on to become an NAIA first-team All-American linebacker at Wil-lamette (Ore.) University, where he earned bachelor's and master's degrees.

In 1971 he joined St. Louis as a physical education teacher.

He was appointed head varsity football coach at St. Louis in 1972, but was fired as coach after a 2-7-1 record that year.

From 1973 to 1979, while continuing to teach at St. Louis, Lee was defensive coordinator at Kaiser High School. There, under head coach and brother Ron Lee, he helped develop the fledgling Cougars into an Oahu Interscholastic Association powerhouse, culminating with Kaiser's 1979 Prep Bowl victory. The Cougars used the same run-and-shoot offense that St. Louis -- and the University of Hawaii -- now employs.

Lee and his wife, Val, have a son, Jon, who played for Lee at St. Louis.

---



E-mail to City Desk
---
---
© 2001 Honolulu Star-Bulletin
http://archives.starbulletin.com