CLICK TO SUPPORT OUR SPONSORS

---

---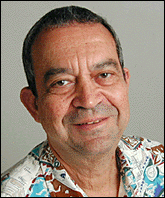 In The Wood

BY BEN WOOD
Sunday, July 1, 2001
---
Improvements planned
for 3 municipals

Improvements are scheduled for three municipal golf courses this year, according to Dave Mills, the man in charge of the city's heavily used links.

Concrete cart paths will be installed at Ala Wai and Pali, nine holes on each course this year. The projects will cost slightly under $1 million at each course. The paths for the second nines will be built next year.

Regulars at Makalena will be happy to know that $1 million-plus will be spent on a major renovation project that will include irrigation and landscaping.

Mills said the municipal courses are expected to take in $9.6 million this year. Ala Wai continues to draw the most play with 180,000 rounds a year, earning about 25 percent of the total income. Ala Wai is followed by West Loch and Ewa Villages, each with about 110,000 rounds a year earning about 20 percent of the total take each. Pali is at 17 percent, and Makalena at 15 percent. Kahuku is about 1.6 percent. Seniors and golfers who do not use carts pay lower fees.

For the first time, businesses will soon be able to advertise at municipal courses. Becker Communications is setting up ads for firms on golf carts, tee signs, ball washers, benches, pencils, scorecards, on the backs of photo ID cards and other areas.

Call Becker at 533-4165 for more information.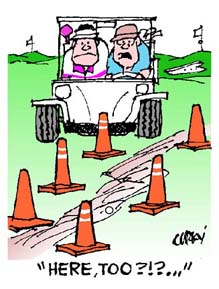 leading by example: Business leaders and golf pros will be donating their time next Sunday to mentor youngsters in the Professional Business Leader Junior Golf Tournament at Turtle Bay.

Thirty-six business leaders and 36 pros will play a round of golf with 36 top junior golfers. It is hoped that some of the business and golf expertise will rub off on the youngsters.

"The idea is to let the kids spend time with top business leaders and top pros," said tourney chairman Greg Nichols, head pro at Waialae. "We want them to be contributing members of the community."

The 36 firms the business people represent are contributing $500 each to Hawaii Junior Golf.

Among those entered are David Carey, president and CEO of Outrigger Hotels; Lily Yao, vice chair of First Hawaiian Bank; Allan Uyeda, president and CEO of First Insurance; Lydia Tsui, president of Panda Travel; Bank of Hawaii VP Gary Iki, and Mr. Aloha Danny Kaleikini. The pros include Kevin Hayashi, Larry Stubblefield, Chuck Davis and Turtle Bay's Dennis Rose.





---

Ben Wood, who played his first round of golf at Ala Wai
50 years ago, vows to learn how to play the game well even if
it takes another 50 years. E-mail him at bwood@starbulletin.com.

---



E-mail to Sports Editor
---
---
© 2001 Honolulu Star-Bulletin
http://archives.starbulletin.com