CLICK TO SUPPORT OUR SPONSORS

---

---
Sunday, July 1, 2001




[ NFL HAWAII ]

---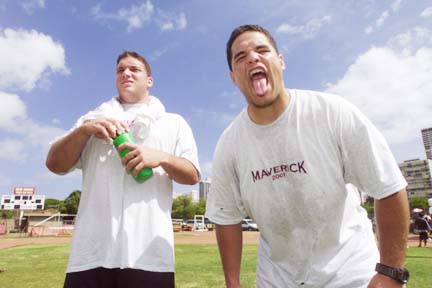 DENNIS ODA / DODA@STARBULLETIN.COM
Hawaii's Dominic Raiola, left, of the Detroit Lions and
Olin Kreutz of the Chicago Bears had some fun at the
Maverick Football Clinic at Iolani School yesterday.
---
NFLers fire up
Hawaii kids


With the summer sun blazing,
the pros come to the Maverick
clinic to unofficially
open football season

---

By Kalani Simpson
ksimpson@starbulletin.com

Donnie Edwards talked about falling in love with the game.

Tee Martin gathered the guys in to talk about footwork.

Chris Fuamatu-Ma'afala counseled about college.

Skip Hicks spoke about the daily schedule of pro players.

Chuck Osborne's eye spotted something from 15 yards away, and he stepped over to ask a youngster if his shoulder hurt.

Maybe none of the high school participants in the second annual Aloha Airlines Maverick Football Clinic will make it to the NFL. But yesterday, and again today, the NFL comes to them.

Edwards is with the Chiefs. Hicks with the Bears. Osborne with the Patriots. Martin and local product Fuamatu-Ma'afala with the Steelers.

"I'm just trying to come back and give back," Fuamatu-Ma'afala said.

The clinic was free for the high school players. Proceeds from spectator admissions are going to Parents and Children Together, an organization in the Kuhio Park Terrace and Kuhio Homes public housing district.

Other NFL players coaching the kids included Danny Farmer of the Bengals and Larry Atkins of the Chiefs, and local pros Sale Isaia, who is a free agent, Chris Naeole of the Saints, Olin Kreutz of the Bears and Dominic Raiola of the Lions, as well as former Rainbow Jeff Ulbrich, now with the 49ers.

For two days, local high school football players get personal advice and hands-on coaching from the pros.

Edwards, who told his group his career choices had come down to school principal or professional football player, attacked his assignment with good-natured precision. This included leading linebacker laps around Eddie Hamada Track at Iolani School. Ulbrich, as the fellow pro, was obliged to jog along.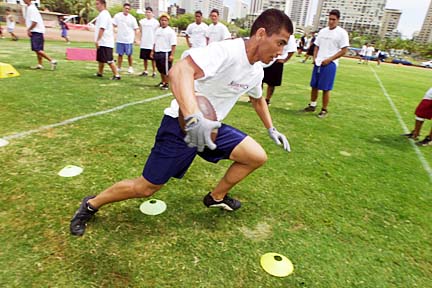 DENNIS ODA / DODA@STARBULLETIN.COM
Raynold Stowers of Iolani School ran through running
back drills conducted by Skip Hicks of the Chicago
Bears at yesterday's clinic.
---
"Lot of fun, a lot of fun," he said later with a smile.

Farmer, who also played volleyball at UCLA, oversaw drills on a steamy day while sipping from a cool drink. He's already coaching material.

Fuamatu-Ma'afala sported a big grin while urging his players to slam into him and the pad he held during a blocking drill.

"(I'm) trying to get them a little bit fired up because we were kind of taking it easy. We were talking story a little bit. Gotta pick up the pace," he said. "Good fun, though."

It was hot. Shirts were soaked. Water breaks and pep talks were frequent. But then it was back to more action.

The pro players were serious about working with the kids.

The kids were serious about impressing the pro players.

An offensive lineman does not want to lose a 1-on-1 drill to a defensive player with Raiola and Kreutz looming over him.

Today, the second day of the clinic, promises more of the same. More work. More reinforcement. More personal connection with the pros. But a few changes.

"Probably more 1-on-1 drills," Fuamatu-Ma'afala said. Some flag football and a 7-on-7 passing game would be the highlights.

"I know the kids like play already."

A group of younger kids showed similar enthusiasm. They didn't take part in the football lessons, but instead took part in a "Fan Combine Challenge." They ran obstacle courses and tackled dummies. They dashed off 40-yard times and threw footballs through tires. Afterward, as kids do, they tackled and tussled and took flying leaps onto unused dummies. And at the end of the clinic, the highest scorers got trophies and congratulations and high fives from NFL players.

Ulbrich, who admired Edwards' rapport with the kids, was energized by the day.

"It's awesome," he said. "You know, this is definitely something I want to do -- work with kids, coaching. Something involved with football."

At this, a small boy runs over. "Good linebacking," the boy said.

Ulbrich started talking about his future with the 49ers, and then there's another small boy. "Jeff Ulbrich, can you sign my shirt?"

Ulbrich smiled through his bushy mustache.

And then he did.
E-mail to Sports Editor
---
---
© 2001 Honolulu Star-Bulletin
http://archives.starbulletin.com