CLICK TO SUPPORT OUR SPONSORS

---

---
Sunday, July 1, 2001
[ MAUKA MAKAI ]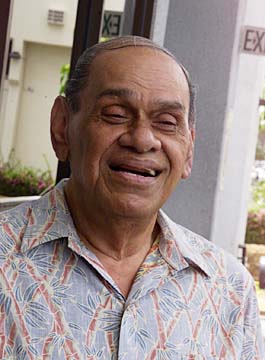 CRAIG T. KOJIMA / CKOJIMA@STARBULLETIN.COM
Kahauanu Lake was named by his grandmother on
a day snow was falling on Haleakala.
Kahauanu means "cold snow."
---
From the mystical
to the quite mundane


There's more to Hawaiian
names than may meet
the eye or ear

---

By John Berger
jberger@starbulletin.com

HAWAII BABY BOOMERS probably can remember a time when relatively few of their peers -- other than Keola and Kapono Beamer -- were known by their Hawaiian names.

It was once customary among Hawaiians to give a child a "haole" first name and Hawaiian middle name. But as Hawaiian names have grown in popularity, many former "Chuckies" or "Phoebes" began using shortened versions of their Hawaiian names instead.

The list includes Ho'okena founder Manu'aikohana, or Manu Boyd, who once went by the first name Charles; Maui's Keali'inaniamokuokalani, or Keali'i Reichel, a former Carlton; and one Miss Aloha Hula, Hilo's Ka'ula Kamahele, who was given the name Terry Lee.

Then there are those whose names you always thought you knew, only to find that these, too, were abbreviated, such as Keola (Keolamaikalani) and Kapono (Kaponomalamalani) Beamer.

A local rock singer reinvented herself with great success when she dropped her haole first name, Rochelle, and became Nohelani Cypriano. Jump foreword a quarter century to falsetto singer Brittney Anelaikalani Jennings -- who now performs as Anelaikalani.
COVER STORY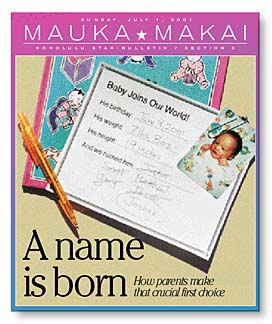 Although Hawaiian names are now popular, there's much more to the tradition than simply picking a name that sounds good. Most Americans probably consider name-giving the sole prerogative of the baby's parents, but Kahauanu Lake says that the Hawaiian tradition is to ask and follow the advice of kupuna. The child's grandparents, or sometimes other elders close to the family, would consider the child's genealogy and then consider various other factors.

"A name was a recording of events surrounding the family, the parents or the child. They would look at the genealogical charts and then (at) events, what happened to the family, the parents and grandparents," Lake explains.

A name could commemorate the death of a famous person or something as mundane as someone throwing stones (Paki) or the extinguishing of a fire (Pauahi).

Lake received his name from his grandmother. She noticed that snow was falling on Haleakala the day he was born and decided that his name would be Kahauanu, meaning "the cold snow." Lake's grandmother used "anu" to emphasize the extra chill on Haleakala that particular day.

And, although Lake is often referred to as "K-Lake" or "Mr. K" these days, he says his kupuna would correct younger members of the 'ohana if the kids shortened his name to "Kahau" or "Anu" -- "What's his name? Kahauanu? Then call him that."

"Most of my family have genealogical names and so it's easy to just pick one, but the grandfolks will say, "I don't think that's too good to take because that person died early" or "something happened."

Names could also have kaona (hidden meanings), so it was always important to know which meaning of the word was intended. Lake suggests people who want to go it alone in picking a child's name keep it simple -- "If you take any of the foliage, flowers, or the wind, you're usually OK."

A name might also reflect prophesy or a hope that the child will develop certain characteristics. A person might be given a different name if their circumstances changed as they went through life.

"It was prophesied that Kamehameha would stand alone (as a leader), but before that he was given the name Pai'ea because he would cling to his guardian like a crab, but it was a hard-shell crab so he was going to be a warrior. They prophesied that this child would do this and do that, so then they called him Kamehameha, but he had other names (in addition to Pai'ea and Kamehameha) that carried along with him."





Click for online
calendars and events.
E-mail to Features Editor
---
---
© 2001 Honolulu Star-Bulletin
http://archives.starbulletin.com