CLICK TO SUPPORT OUR SPONSORS

---

---
Island Images



Tuesday, June 26, 2001
---
SPREADING THE MUSICAL SPLENDOR OF TONGA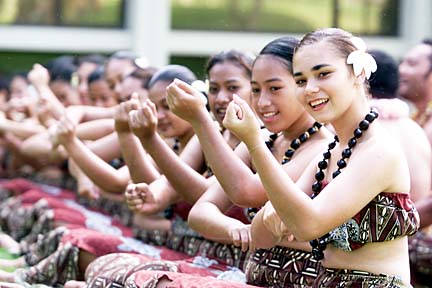 GEORGE F. LEE / GLEE@STARBULLETIN.COM
College women from the Atunisi Institute in Nuku'alofa,
Tonga, perform a lively dance -- while seated -- yesterday
at the East-West Center. The UH music and dance
performance was presented in cooperation with
First United Methodist Church.
---
PRACTICING POLITICS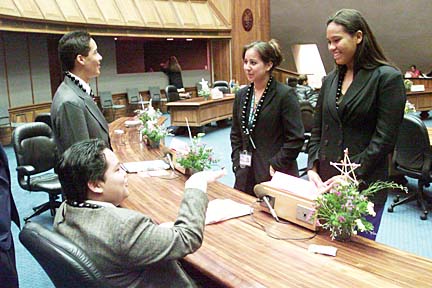 CRAIG T. KOJIMA / CKOJIMA@STARBULLETIN.COM
Nathan Okinaka, sitting, talked to potential allies in his race
to become Senate president during the Mock Legislature
yesterday at the state Capitol. At right were Lehua Wilson
of Kamehameha Schools and Pomaikai Williams of
Waiakea High School. Standing beside Okinaka was another
Senate presidential hopeful, Marvin Manuel of Waiakea High.
---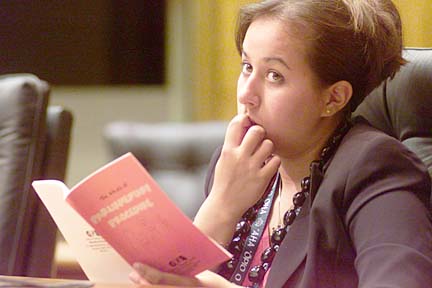 CRAIG T. KOJIMA / CKOJIMA@STARBULLETIN.COM
Lehua Wilson looked a bit nervous as she read up
on parliamentary procedure at the start of the session.
---
IF YOU BUILD IT, THEY WILL LEARN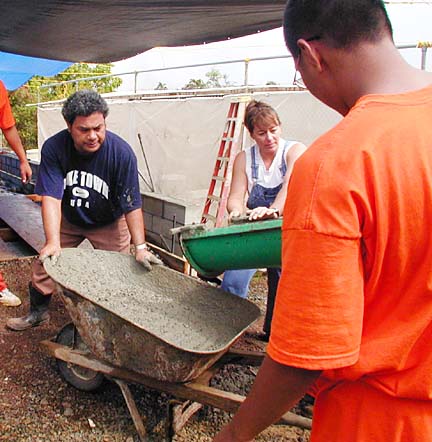 CRAIG T. KOJIMA / CKOJIMA@STARBULLETIN.COM
Masons and carpenters came together yesterday for the
pouring of a concrete floor slab at Olomana lSchool in
Kailua. Both unions have been active in the classroom
expansion project. Teachers Sione Mafoaaeta and
Christe Wong lent a hand.
---
NOW YOU SEE IT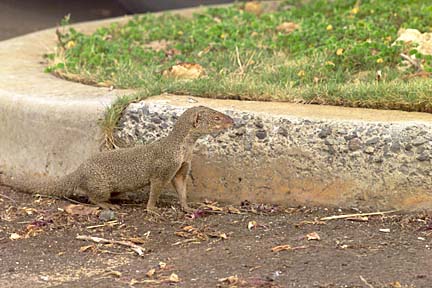 DENNIS ODA / DODA@STARBULLETIN.COM
This mongoose looked around a parking lot Wednesday
in Waipahu, then quickly disappeared. Mongooses were
brought to Hawaii to take care of the rat population but
often prey on rare native Hawaiian birds.
---
E-mail to City Desk
---
---
© 2001 Honolulu Star-Bulletin
http://archives.starbulletin.com