CLICK TO SUPPORT OUR SPONSORS

---

---
Tuesday, June 26, 2001
Residents oppose
landfill expansion


The city has plans to enlarge
a landfill near Kahe Point

---

By Rosemarie Bernardo
rbernardo@starbulletin.com

Residents have renewed opposition against expansion of a municipal landfill near Kahe Point.

Maeda Timson, chairwoman of the Makakilo/Kapolei/Honokai Hale Neighborhood Board, said: "The landfill has been there long enough. ... It shouldn't be in the middle of the city."

The city Department of Environmental Services is seeking permits to expand the Waimanalo Gulch Landfill to 60.5 acres to provide more space for garbage until 2017.

A revised draft supplemental environmental impact statement on the landfill was created and compiled in May for public review. Public comments will be accepted until July 23.

Timson said Ko Olina Fairways and Ko Olina residents can "smell the odor" from the landfill.

Fishermen have complained that trash blows from the landfill, goes into the ocean and gets caught into their boats' propellers, Timson added.

Community leaders support technological alternatives to get rid of the waste.

Ken Williams, general manager of the Ko Olina Community Association, said: "The landfill is an archaic form of waste management. We're concerned that Ko Olina resort is in the middle of the revitalization problem."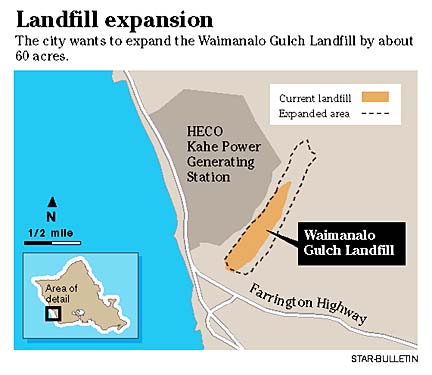 Having a landfill and a resort is not compatible, he added. Williams said he plans to continue to voice his opposition to city officials.

Council member John DeSoto supports alternative technologies to get rid of waste. DeSoto plans to hold a meeting with state representatives and officials from the Department of Environmental Services to help find a resolution of the landfill.

"It's an eyesore," DeSoto said of the landfill. He said it is also embarrassing for hotel workers to explain to visitors what is near their resort.

The landfill is owned by the city under the Department of Environmental Services. Currently, 86.5 acres within its 200-acre site is nearing capacity since its start in 1989. Officials stated in the revised draft environmental impact statement that "an expansion or a replacement is needed to meet Oahu's future refuse disposal needs."

The original plan for the 86.5-acre landfill was to process waste until the year 2004 or until its capacity was exhausted. The landfill receives 1,400 tons of solid waste daily. City officials anticipated the landfill to be filled to capacity by next year.

Alternative sites such as Makaiwa and Maili were considered as possible sites for a landfill. But Waimanalo Gulch was primarily considered because of its existing landfill. Steve Cassulo, district manager for Waste Management Inc., which operates the municipal landfill, said, "It makes the most sense."

But, Cassulo said: "It's not the best site on the island. With a resort across the street, it makes it very difficult."

Cassulo said residents' concerns about odor control, litter control and aesthetics of the landfill have been addressed within the last six to eight months.

Officials of the city Department of Environmental Services could not be reached for comment.
E-mail to City Desk
---
---
© 2001 Honolulu Star-Bulletin
http://archives.starbulletin.com