CLICK TO SUPPORT OUR SPONSORS

---

---
Tuesday, June 26, 2001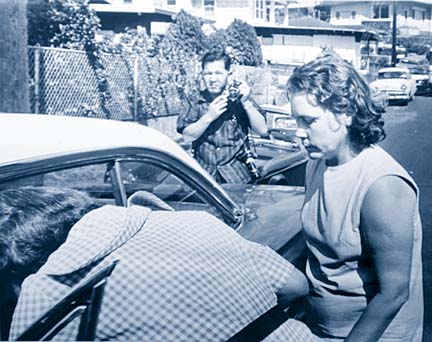 STAR-BULLETIN / 1965
A policewoman escorted Aiea resident Maggie
Young to a patrol car shortly after her arrest for
drowning her five children.
---
Father whose
wife killed their
5 kids in Aiea
in 1965 urges
compassion


He is compelled to help
a Houston woman who is
charged with the murder
of her children

---

By Treena Shapiro
tshapiro@starbulletin.com

A father whose children were drowned by their mother in Aiea 35 years ago is hoping that her situation could help provide insight to a similar case last week in Houston.

Andrea Yates, 26, of Houston, was charged with capital murder last Wednesday after telling police she drowned her five children, ages 6 months to 7 years.

On Nov. 22, 1965, Maggie Young, a 38-year-old mother of seven, drowned her five youngest children in a bathtub at her Nalopaka Place home. Her two daughters from another marriage were married and living in separate households.

Today, the Young case remains one of the worst multiple slayings in state history and the largest by a member of the same family.

Her husband, James Young, an Air Force captain, had been away on a flying mission at the time. Young e-mailed the Star-Bulletin yesterday saying that he had to do what he could to help Yates.

"Since I am the father of those Aiea children, I feel compelled to do what I can to help this woman who is a victim of postpartum depression and the terrible feeling of inadequacy she must have felt -- the same feelings my late wife must have felt. Behavior signs we all recognized in hindsight," wrote Young, now 72.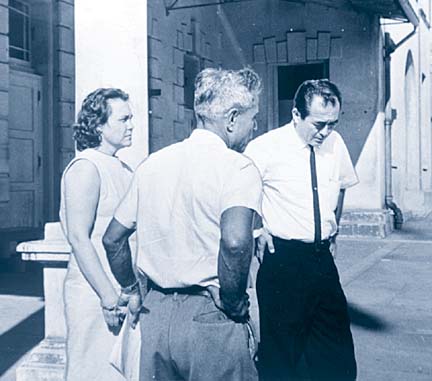 STAR-BULLETIN / 1965
Police officer Robert Davis stood with a handcuffed
Maggie Young in front of District Court on Nov. 23, 1965.
---
"Medical science needs to recognize this condition earlier and help the mother before it develops into paranoid schizophrenia, as it did in the case of Maggie," he wrote.

According to media reports from the time, Maggie Young told police she was despondent over a perceived inability to care for her children: an 8-year-old son and four daughters who ranged in age from 8 months to 5 years.

Shortly after her son left for school at about 8 a.m., Young drowned her daughters one by one in the bathtub, oldest to youngest.

At 9:30 a.m. she pulled her son out of school and drowned him as well.

When police arrived at the home, they found the children's bodies -- still nude and wet -- arranged on twin beds in the same room, the daughters on one bed and the son alone on another.

Young, who had spent two months being treated at Tripler Army Medical Center for a mental breakdown earlier that year, was charged only with the drowning of her son, even though she had admitted to killing all five. Psychiatrists appointed to determine Young's sanity found that she had been acting under "a diseased and deranged condition" and was not fit to stand trial.

On July 25, 1966, roughly six months after she was committed to the State Hospital in Kaneohe, Young escaped while on a pass to walk the grounds alone. She was found after she had hanged herself from the rafters of a chicken slaughtering shed in the hospital's farm area.

Then-hospital administrator Audrey Mertz said at the time that Young had just started responding to her treatment and was beginning to grasp the enormity of what she had done.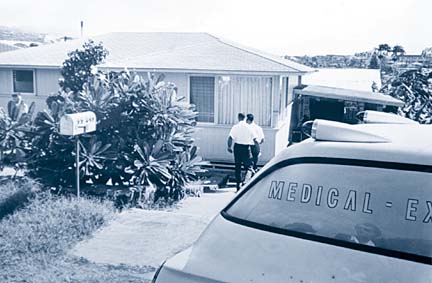 STAR-BULLETIN / 1965
A house on a quiet street in Aiea was where five children lost their lives.
---
In his e-mail, James Young said he felt he had to do something to help Yates.

"This ill woman does not need to be sentenced to prison; certainly not charged with first-degree murder," he wrote. "My wife was charged with first-degree murder. But Hawaii justice recognized her illness and gave her the medical help she needed. Unfortunately she did not survive the cure."

Young moved to the mainland after his wife's suicide.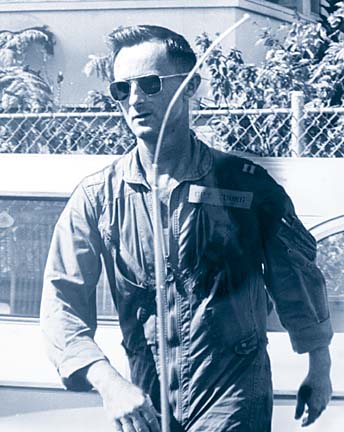 STAR-BULLETIN / 1965
Capt. James Young hurried home upon hearing the tragic news.
---
Yates has been under suicide watch at the Harris County Jail in Texas since Wednesday's slayings. Her husband has said that his wife suffered from postpartum depression since the birth of her last two children.

If convicted, Yates could face the death penalty.

Young, said he survived the loss of his wife and children with the support of family, friends and co-workers.

He said he sent a message to Yates' husband: "All I can say to him is there is no 'closure' but there is life after tragedy."
E-mail to City Desk
---
---
© 2001 Honolulu Star-Bulletin
http://archives.starbulletin.com