CLICK TO SUPPORT OUR SPONSORS

---

---
Tuesday, June 26, 2001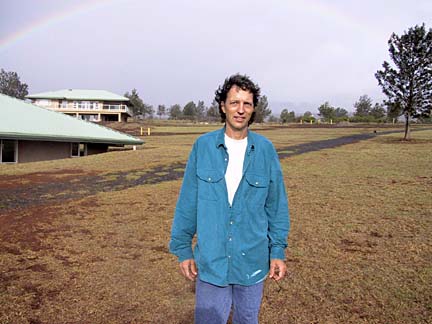 GARY T. KUBOTA / GKUBOTA@STARBULLETIN.COM
David Jenkins says his Hale O Kaula church members
want to build a chapel on top of the agricultural building
to the left. But several neighbors oppose such
development in an agricultural area.
---
Maui church firm
on farmland chapel

---

By Gary T. Kubota
gkubota@starbulletin.com

PUKALANI, Maui >> An elder in a Maui church says his members are willing to go to the nation's highest court if the county does not grant them a permit to build a chapel on farmland in Kula.

David Jenkins says his members want to build the chapel on farmland because of their religious beliefs in restoring the earth.

Neighbors oppose the project, which would convert the second floor of an existing agricultural building into a chapel.

"We take caring for the land seriously," said Jenkins, of Hale O Kaula church. "It's part of what we believe. We're prepared to go to the Supreme Court if necessary."

The Maui Planning Commission will hold a special hearing on the request at 1:30 p.m. tomorrow in the Maui County Council chambers. Lawyers on behalf of the congregation plan to use as leverage a federal law passed last year.

The Religious Land Use and Institutionalized Persons Act of 2000 calls for more equitable treatment of certain groups in zoning laws, including churches.

At issue are the rights of property owners to maintain farmland vs. the rights of religious groups to worship according to their beliefs.

In Maui County, churches may be built in business and country-town business areas, but they require a special use permit for establishing themselves on lands designated agricultural, rural, conservation or residential.

The Hale O Kaula congregation, part of the Living Word Fellowship with churches mainly in the West and Midwest, has worshipped in a 1,200-square-foot chapel in Haiku for the past 30 years.

The 60-member church bought nearly six acres of agricultural land in Kula about 10 years ago to expand its place for religious services.

Jenkins said the land was purchased because it was cheaper than purchasing urban land and more suitable for fostering their beliefs.

Planning Commissioners turned down a special use permit for the church development in 1995.

This time around, commissioners are reviewing a scaled-down request to build a chapel.

Under the proposal, the church would build a 1,768-square-foot chapel as a second floor on top of its agricultural building.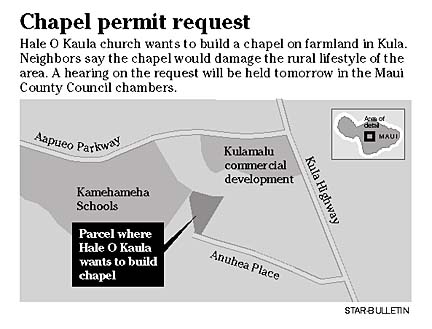 The church is receiving legal support from the Becket Fund, a Washington, D.C., nonprofit group headed by Kevin Hasson, a former Reagan adviser and a backer of school voucher programs.

Becket Fund attorney Roman Storzer said under the Religious Land Use Act, local government officials may regulate land use but must have compelling reasons to deny the request when such regulations substantially burden the church's exercise of religious freedom.

Storzer said Kaula members engage in agricultural activities, and the ministry involves developing a relationship to the land.

"The property in Haiku is not sufficient," he said.

Jenkins said in the past several years, the land adjacent to the congregation's property in Kula has become more urban -- one reason the church decided to reapply for a permit.

In the last few years, Kamehameha Schools has been developed on the makai side of the church's property. Across a gulch a commercial center is under construction.

"People here once said they lived in an isolated agricultural neighborhood," Jenkins said. "Now, it's not."

County officials point out that the commercial center and Kamehameha Schools are located on a separate road.

Several property owners living along the private access road leading to the church land say building a chapel would damage the quiet and rural lifestyle of the neighborhood established in the 1970s.

Many of those who own the 15 lots along Anuhea Place have houses and use a large portion of this agricultural subdivision as horse pasture.

Like most agricultural subdivisions, there are no sidewalks, curbs or gutters along the road.

Several homes rely upon roof catchment to provide water for flush toilets and irrigating plants.

County water officials say the congregation would have to pay for extensive improvements if it wanted water service.

County hearings officer Judith Neustadter Fuqua has recommended the commission deny the permit because of "unacceptable levels of traffic and noise" and the burden placed on public agencies for such needs as water and fire protection.

Residents opposing the church's request note the Kaula members have held some activities in which more than 100 people were on the property and have used a "substandard" road that could subject property owners to lawsuits.

Property owner Warren S. Molina said he bought his land for its country environment and safety.

"The beautiful, open, quiet land is what attracted me to the purchase of this property," Molina said in a letter.

The attorney representing the neighbors declined to comment and instructed his clients to refrain from being interviewed by the news media.
E-mail to City Desk
---
---
© 2001 Honolulu Star-Bulletin
http://archives.starbulletin.com