CLICK TO SUPPORT OUR SPONSORS

---

---
Hawaii Beat
By Star-Bulletin Staff
Sunday, June 24, 2001
---
U.S. shuts out Australia

---

Star-Bulletin staff

Amanda Freed scattered three hits to lead the U.S. women's national softball team to a 3-0 win over Australia in yesterday's final round-robin game of the U.S. Cup at the University of Hawaii.

The U.S. will take on China, a 1-0 winner over Japan yesterday, in today's 3 p.m. gold medal game at Rainbow Wahine Softball Stadium. Japan and Australia meet for the bronze medal at 1 p.m.

QB Club dais includes Moniz-Kaho'ohanohano

UH assistant athletic director Marilyn Moniz-Kaho'ohanohano tops the list of speakers at tomorrow's Honolulu Quarterback Club meeting at the Pagoda Hotel.

Also on the program are new UH swim coach Mike Anderson and Chaminade athletic director Aaron Griess.

Lunch begins at 11:30 a.m., For information, call 261-5143.

Metzer, Wong secure FIVB doubles finals spot

Seventh-seeded Stein Metzger and Kevin Wong of Hawaii earned a berth in today's final four of the $180,000 FIVB Men's Swiss Open volleyball tournament at Gstaad, Switzerland.

Metzger and Wong won two of their three matches yesterday to advance to today's semifinal.

KEEPING BUSY THIS SUMMER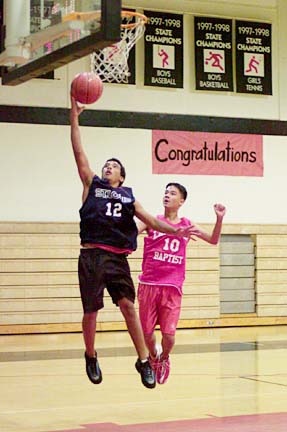 DEAN SENSUI / DSENSUI@STARBULLETIN.COM
St. Louis School's Jonah Lakatani, left, went in for a layup as
Lanakila Baptist's Ray Fletcher, right, tried to guard him during
an Interscholastic League of Honolulu summer league game at
the Iolani School gym Thursday night.
---
s

Hawaii's own

Benny Agbayani, Mets: The St. Louis and Hawaii Pacific alumnus was perfect against Atlanta's Tom Glavine and finished 3-for-5 in New York's 9-3 loss.

Agbayani, who entered the game 4-for-18 lifetime against Glavine, singled to start the first, but was stranded at third. The left fielder singled to lead off the third, but was forced out at second base. With one out in the fifth, he rapped his third single off of Glavine, and was once again stranded.

Agbayani struck out against Jose Cabrera in the seventh and grounded out in the ninth against Mike Remlinger.

Mike Fetters, Dodgers: The Iolani graduate did not pitch in Los Angeles' 6-2 loss to San Diego.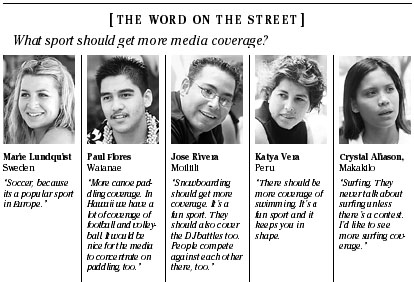 [WINNERS & LOSERS]

[WINNERS]

Michelle Wie: Look out Tiger, your stiffest competition is only a few years away. At 11, the Punahou seventh-grader made it to the third round of the national Public Links tournament but left every competitor wondering how they were able to compete with the long-hitting prodigy.

Br. Gregory O'Donnell: Whether he intended to or not, the Damien president single-handedly shook up the ILH. Sure, he has taken his lumps along the way, but he has also allowed football fans to dream of what previously was almost unthinkable.

Cal Ripken Jr.: The iron man announced his retirement last week, but MLB's loss could turn into Hawaii's gain. As if he had not already done enough over a 20-year career, Ripken may spend his time (and money?) reviving Hawaii Winter Baseball.

[LOSERS]

Hasim Rahman: The first thing a new champion usually says after winning his title is: "I'm the people's champion, I'll take on all comers." But not Rahman, who did his talking in court and came away with a loss when a judge ruled that he cannot duck former champion Lennox Lewis.

Senior Monarchs: The senior leaders on the Damien team that may forfeit to St. Louis have been asked to make the biggest sacrifice in the matter, giving up their final chances at redemption against the Crusaders while people who have not strapped on shoulder pads in ages (if ever) wage their own fights.

Dubravko Rajcevic: He was sentenced to two years in jail for stalking Martina Hingis, and he recently learned the prosecutor who put him in the pokey, lawyer Christopher Calkin, is dating Hingis.
---
See line scores and results in
the [Scoreboard] section.
E-mail to Sports Editor
---
---
© 2001 Honolulu Star-Bulletin
http://archives.starbulletin.com