CLICK TO SUPPORT OUR SPONSORS

---

---
Sunday, June 24, 2001
[AT YOUR SERVICE]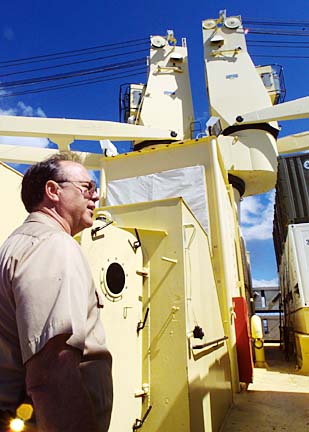 KEN SAKAMOTO / KSAKAMOTO@STARBULLETIN.COM
Capt. Joe Wildgen led a tour Wednesday of the deck the MV Sgt.
William Button, one of 16 Military Sealift Command roll-on/roll-off
combat cargo ships. The ship stopped over in Hawaii for two days
before returning to its homeport in Guam.
---
Marine cargo ship
visits Honolulu


Each vessel supports 14,500
Marines with military equipment

---

By Gregg K. Kakesako
gkakesako@starbulletin.com

Merchant Marine Capt. Joe Wildgen recalls briefing key Army airborne officers after the 1991 Gulf War on how the Marine Corps using its special fleet of containerized cargo ships could equip, supply and support a brigade of more than 18,000 Marines in little more than a day.

"At that time these officers of the 82nd Airborne and the 101st Airborne said it took days to supply and equip their soldiers," Wildgen told a group of Camp Smith Marines as they toured the 673-foot MV Sgt. William Button, one of 16 Military Sealift Command roll-on/roll-off combat cargo ships.

The Button was in Hawaii for the first time last week for two days on its way back to its homeport in Guam after undergoing a routine maintenance overhaul at Blount Island near Jacksonville, Fla.

The Button, which was part of the Navy's massive armada that supported Desert Storm in 1991, is "one of the most versatile" cargo ships in the Maritime Prepositioning Forces' fleet, Wildgen said.

"It was designed from the keel up," he added. "The ship was designed around the cargo it carries."

The concept behind the nation's Maritime Prepositioning Force grew out of a 1979 study following the drawdown of U.S. forces by the Carter administration that left the United States with no bases in Southeast Asia to confront the Islamic revolution in Iran or the Soviet invasion of Afghanistan.

Then Secretary of Defense Harold Brown hit upon positioning stocks of military equipment near possible trouble spots. Troops would be flown in first and join with tanks, trucks, Humvees, medical and other supplies. Although the Marines had storage areas in caves in Oslo and South Korea, there were no places to pre-position equipment and supplies in Southeast Asia.

The Marines incorporated containerized cargo handling procedures and roll-on/roll-off ships that allowed vehicles to be driven on and off ships without special equipment.

Seven-leased ships, enough to equip a modified 11,000-member Marine brigade, were stationed in Diego Garcia in the Indian Ocean in 1980. A year later, the Maritime Prepositioning Force was established, placing cargo vessels fully loaded with combat gear within striking distance of the world's "hot spots."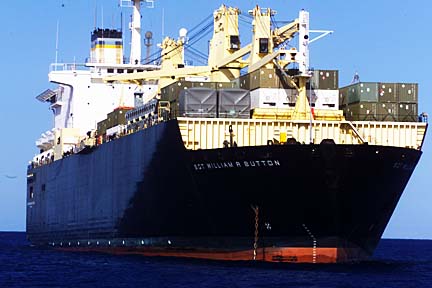 KEN SAKAMOTO / KSAKAMOTO@STARBULLETIN.COM
The MV Sgt. William R. Button, off the Oahu coast, carried
enough equipment to support a brigade of 14,500 Marines and
was part of the armada that supported Desert Storm.
---
Capt. Gina Poltz, Marine Forces Pacific Maritime Positioning Force officer, said the Button, named after a Medal of Honor recipient, is one of five vessels in the Pacific belonging to Maritime Prepositioning Squadron 3 and berthed in Guam. From Guam the Button or any of the other four ships in the squadron can reach the Persian Gulf in 15 days or the Korean peninsula in four days.

Each vessel carries enough equipment and supplies to support an expeditionary brigade made up of 14,500 Marines.

During its brief Honolulu layover, more than 100 Marines from Camp Smith and Kaneohe Bay toured its five cargo decks of tanks, trucks, Humvees, forklifts, and other vehicles.

"It's a great experience for any Marine to be aboard a ship like this and see what it all means," Poltz said.

Wildgen said the 46-ton Button, which was launched in 1986, has a civilian crew of 29 and is built to off-load its equipment and supplies using a wharf where they could be driven off the stern ramps.

If no port facility is available, Wildgen said the Button carries landing crafts, barges and floating causeways to move vehicles and cargo ashore. The stern ramp is lowered into the water, and the 40 amphibious tracked vehicles are off-loaded first since they can get to the beach under their own power. Then heavy equipment is lowered onto landing crafts and barges.

During one exercise in 1997 more than 300 pieces of equipment was off-loaded within 10 hours although it generally takes about 12 hours, Wildgen said.

The Button carries 1.6 million gallons of JP-5 fuel and 350 tons of drinking water. It also has equipment capable of producing 120 tons of portable water a day.

Besides Desert Storm in 1991, the three Maritime Preposition squadrons have made numerous deployments, in peacekeeping and relief operations in the Balkans and Somalia, and humanitarian relief efforts in the Philippines when Mount Pinatubo erupted and in Guam after Typhoon Omar.

---

Gregg K. Kakesako can be reached by phone at 294-4075
or by e-mail at gkakesako@starbulletin.com.
E-mail to City Desk
---
---
© 2001 Honolulu Star-Bulletin
http://archives.starbulletin.com