CLICK TO SUPPORT OUR SPONSORS

---

---
Sunday, June 24, 2001
[ MAUKA MAKAI ]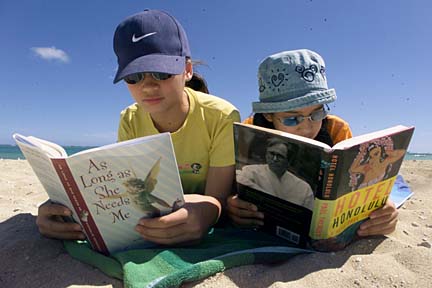 DEAN SENSUI / DSENSUI@STARBULLETIN.COM
Ricarda Roberto and Christine Perez find
books to be good beach buddies.
---
MacDonald's
Travis McGee makes a
colorful companion

BOOKS FOR THE BEACH

Star-Bulletin reviewers will make occasional recommendations
for great beach books, page-turners that travel well, that entertain
and make those hours spent in a hammock, at the ocean, even
on the sofa, relaxing and enjoyable.

---


IF YOU HAVE NOT discovered the late John D. MacDonald and his Travis McGee series, well, get ready. You have a treat in store, perfect for summer reading. Over the years, MacDonald wrote countless books, and some of the best have as the central character one Travis McGee, private investigator, salvage consultant and knight errant. Intelligent, adventurous, fearless and prone to tight situations with the scar tissue to prove it, McGee is always likable and loyal. He lives on a houseboat, the Busted Flush, in the Fort Lauderdale yacht basin and tries to work as little as possible. However, trouble seems to find him, and often when he is least prepared. John D. MacDonald is a gem of a writer and never disappoints.

Start with MacDonald's first Travis McGee story, "The Deep Blue Good-by," and keep right on going. Or skip ahead to "The Long Lavender Look" or "The Turquoise Lament," which opens at the Ala Wai Yacht Harbor and ends in Samoa. Each title -- marked by its own color -- stands on its own.

-- Finn Honoré

---
COVER STORY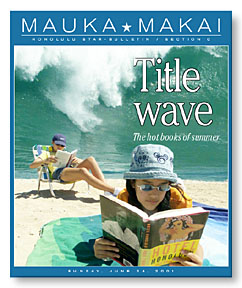 BEST-SELLING AUTHOR Jeffrey Deaver, "The Bone Collector" being one of his well-known books made into a movie with Denzel Washington, proves once again that he is a masterful storyteller and someone who will have you hooked from the first page.

"A Maiden's Grave" (Signet/Penguin Putnam, 419 pages), recently published in paperback, is just such a book. An aging FBI hostage negotiator, Arthur Potter, spends four days trying to free a group of young girls, deaf students, and their two teachers from an abandoned warehouse in rural Kansas where they have been taken hostage.

It is a compelling story, giving the reader an up-close and personal view of hostage negotiation techniques as well as a grim look at three hard-case convicts who are plotting and planning with the same intensity as the FBI. The novel twists and turns and delivers an unexpected and satisfying ending. Perfect summer reading.

-- Finn Honoré

---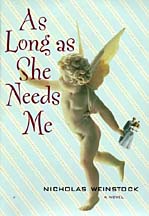 GIVEN THE NUMBER of weddings in the summer months, Nicholas Weinstock's "As Long as She Needs Me" is bound to find sympathetic readers. It's perfect stress relief for the certainly overwhelmed bride and groom counting down the days to their big event.

Oscar is our hero, assistant to Dawn, the overwrought, overbearing head of a publishing house. He must plan Dawn's wedding, with no help from her.

It's just another of Oscar's unending tasks, until he meets Lauren, a magazine writer who searches out oddball weddings for a monthly column. She's an expert on weddings and becomes Oscar's advisor. They fall for each other, but matters are complicated because she thinks he's planning his own wedding, and he can't tell her he's not because Dawn wants her ceremony kept secret.

Much good humor ensues.

-- Betty Shimabukuro, bshimabukuro@starbulletin.com





Click for online
calendars and events.
E-mail to Features Editor
---
---
© 2001 Honolulu Star-Bulletin
http://archives.starbulletin.com