CLICK TO SUPPORT OUR SPONSORS

---

---
Island Images



Wednesday, June 20, 2001
---
OFF TO THE ZOO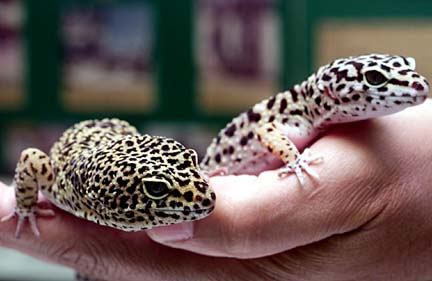 GEORGE F. LEE / GLEE@STARBULLETIN.COM
Two more illegal leopard geckos were turned in Saturday
to the Honolulu Zoo. The geckos appeared to be a breeding
pair, a 9-inch male and an 8-inch female carrying eggs,
with the male on the left and the female on the right. An
unidentified male dropped off the geckos in a brown paper
bag. Up to 11 leopard geckos have been turned in since
March 31. Under the state's amnesty program, owners
of illegal animals are granted immunity from prosecution
if their animals are surrendered voluntarily. Leopard
geckos are known to be kept as pets on the mainland
but are illegal in Hawaii. The geckos turned in
Saturday are being held at the state Agriculture
Department's Plant Quarantine Station but later
will be returned to the Honolulu Zoo until
arrangements are made to ship them
to the mainland.
---
E-mail to City Desk
---
---
© 2001 Honolulu Star-Bulletin
http://archives.starbulletin.com