CLICK TO SUPPORT OUR SPONSORS

---

---
Monday, June 18, 2001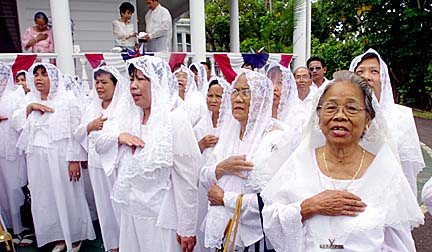 FL MORRIS / FMORRIS@STARBULLETIN.COM
Ladies of the Banal Na Angkan organization were on hand
yesterday during ceremonies commemorating the birthday of
Philippine national hero Dr. Jose P. Rizal at the Philippine
Consulate on Pali Highway. They later entertained with song.
---
Philippine kidnappings
concern Hawaii
Filipinos


The actions of Muslim rebels
especially worry those from
Mindanao, the scene
of the fighting

---

By B.J. Reyes
breyes@starbulletin.com

Although he is thousands of miles away, Makiki resident Ben Sanchez Jr. cannot help but be dismayed as he follows news reports of the latest kidnapping situation in his native Philippines.

"In my thoughts it's a very sensitive issue because we Filipino in Hawaii are getting along, regardless if we're from Mindanao or somewhere else," said Sanchez, a property manager and organizer of yesterday's flag-raising ceremony at the Philippine Consulate commemorating the birth of Philippine national hero Jose Rizal.

"Here we get along. In the Philippines they cannot get along," he added, comparing the situation to the fighting between Israelis and Palestinians in Jerusalem.

Sanchez, 54, is among those in Hawaii's sizable Filipino community who say Muslim insurgencies in Mindanao are a source of concern to the local population.

"Filipinos here are anxious and depressed over the situation there," said Chona Montesines-Sonido, managing editor of the Hawaii Filipino Chronicle, a bimonthly newspaper. "They're feeling this inside, especially the Filipinos in Hawaii, because they are very close."

Mindanao is a poor, resource-rich group of islands in the south where fighting has killed more than 120,000 people since the 1970s.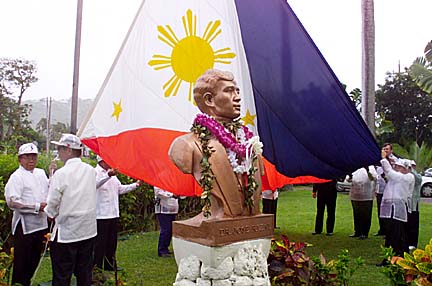 FL MORRIS / FMORRIS@STARBULLETIN.COM
Members of FilAm Veterans, Hawaii Chapter, raised the Philippine
flag behind a statue of Philippine hero Dr. Jose P. Rizal yesterday
during ceremonies celebrating his birthday.
---
Over time, Muslim rebels have split into several different groups, ranging from the radical Abu Sayyaf, who say they are battling for a separate homeland, to larger Muslim guerrilla groups that have made peace with the government or are in the process of doing so.

On May 27, Abu Sayyaf kidnapped 20 people, including three Americans, from a beach resort in the southwestern Philippines. The guerrillas eluded a military air and sea search, crossing the Sulu Sea in a speedboat to their jungle strongholds in the southern Basilan island group.

In the following weeks, the hostages were marched through the jungle, where troops found two resort workers hacked to death. The rebels invaded a hospital for a day and escaped with four new hostages, despite a military assault with helicopter gunships.

Leaders said they beheaded one American hostage last Tuesday as a gift to the country on Independence Day. Although authorities have been unable to find the remains of Californian Guillermo Sobero, a top Philippine military spokesman said officials believe he is dead.

On Thursday, Abu Sayyaf freed three Filipino captives in what it called a sign of good will to the government. But the government, which considers the rebels mere bandits, promised to continue efforts to destroy the insurgents.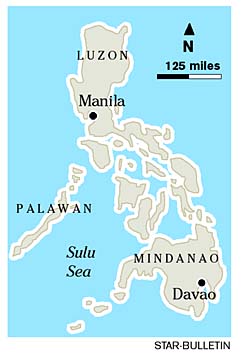 Serafin Colmenares, an Aiea resident from Davao, on the eastern side of Mindanao, agrees with the government's assessment of Abu Sayyaf.

"If they really are trying to fight for an Islamic state, their actions do not really reflect Islamic religion," said Colmenares, who taught at Mindanao State University from 1973 to 1987. "Islam teaches peace and good will to men and being brothers to other groups of people. What they're doing is un-Islamic."

Colmenares, 51, said the topic of Muslim insurgency is often discussed among Filipinos in Hawaii, especially those from Mindanao.

"People who are near the localities where things are going on, they follow it because they are concerned about what could be happening to their families," he said, adding that the majority of the insurgent uprisings occur in the heavily Muslim regions of western Mindanao.

Both Colmenares and Montesines-Sonido added that the actions of the rebels also affect the country's economy, scaring off tourists and investors.

But events such as the kidnapping also have another affect on the local Filipino community.

"It gives a bad image of the Philippines," Colmenares said.
E-mail to City Desk
---
---
© 2001 Honolulu Star-Bulletin
http://archives.starbulletin.com