CLICK TO SUPPORT OUR SPONSORS

---

---
Wednesday, June 13, 2001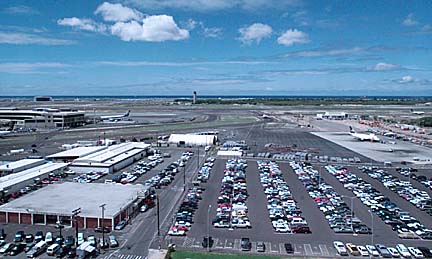 KEN SAKAMOTO / STAR-BULLETIN
Above, this view from one of the cells was looking toward
the airport and the ocean in the distance.
---
New jailhouse ready
for first inmates


A federal detention center near
the airport will trim the
roll at overcrowded OCCC

---

By Nelson Daranciang
Star-Bulletin

The first 25 inmates to occupy the new federal detention center near Honolulu Airport are expected to arrive from federal prisons on the mainland July 31.

The first five groups -- 25 in each -- will be made up of inmates who are from Hawaii serving the last two years of their federal court sentences.

Then the first state pretrial inmates are expected to move in about a month later.

"We got an appropriation to house a hundred for the coming year beginning September and a hundred for all of next year," said Ted Sakai, director of the state Department of Public Safety.

That should ease overcrowding at the Oahu Community Correctional Center, where Sakai said about 1,150 pretrial inmates are being housed in the facility that is designed to hold 1,000.

The opening of the detention center, at 351 Elliott St., will free 50 beds at OCCC, meaning that prison's population will finally be closer to capacity and not be overcrowded.

"So it's pretty significant," Sakai said.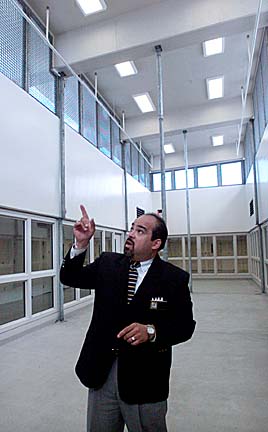 KEN SAKAMOTO / STAR-BULLETIN
Associate Warden David Huerta, pointed out features
in the outdoor recreation room.
---
The state will pay the Federal Bureau of Prisons $90 per inmate per day under an agreement awaiting approval in Washington.

"This will be the first lease to house pre-sentence inmates for states," said David Huerta, assistant warden.

He said federal detention centers on the mainland already house state convicts serving their sentences.

Huerta said as many as 200 beds can be set aside for state pretrial inmates.

The federal detention center is high-tech. One worker can monitor a wing of 64 beds.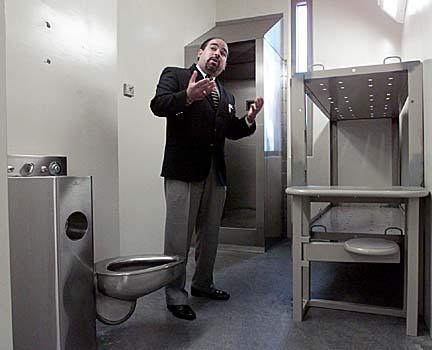 KEN SAKAMOTO / STAR-BULLETIN
Huerta showed one of the cells in the segregated housing
unit.The new facilities will receive the first of five inmate
groups on July 31. Inmates will earn between 12 and 38
cents an hour for jobs they will perform around the facility.
---
"We're extremely pleased. We've made some changes, but we've made them not because it was a flaw but because we want to increase security, like the cameras," Huerta said.

There are 128 security cameras throughout the facility. Huerta said the warden is adding 82 more at a cost of about $2.2 million.

Huerta said the prison is the first federal detention center to use a "quick freeze" method of preparing and packing individual meals up to 48 hours in advance, refrigerating and then reheating them later for serving.

The facility has a capacity of 670 beds on five levels of the seven floors. Most of the beds can be converted to double bunks to increase capacity, but total capacity was not immediately available.

There are 136 employees now on staff, 53 of whom were hired locally. When the facility is fully staffed, there will be 252 employees.

Huerta said about 60 percent will have been hired locally.

He said the 25 percent cost of living allowance puts correctional officers' salaries roughly $12,000 to $14,000 higher than what the state pays its adult corrections officers.

The Hawaii inmates will do various jobs in the facility, earning between 12 and 38 cents anhour.
E-mail to City Desk
---
---
© 2001 Honolulu Star-Bulletin
http://archives.starbulletin.com