CLICK TO SUPPORT OUR SPONSORS

---

---
Sunday, June 10, 2001
[ SUNDAY TRAVEL ]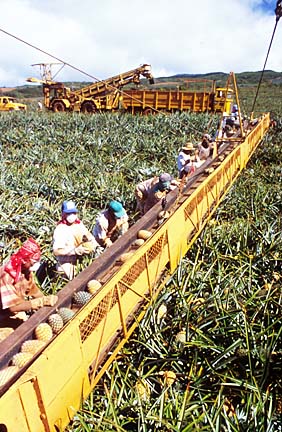 maui pineapple company
Maui Pineapple is Hawaii's largest producer of the sweet fruit and
has the only pineapple cannery in the United States.

---
Maui Pineapple
tour includes
lessons on
Hawaii history


Hawaii has less than 15 percent
of the world market, but the fruit
is still an island symbol

---

By Cheryl Chee Tsutsumi
Special to the Star-Bulletin

I'm standing on a dirt road, looking out over a sea of pineapple. Sporting spiky green "crowns," the plants blanket the landscape in every direction, as far as my eyes can see.

Out here on the flatlands of West Maui, there's no escaping the relentless sun. When the wind blows, it stirs up clouds of red dust. Workers supposedly can plant an average of 9,000 crowns per day per person. That's a lot of pineapple!

It's painstaking, backbreaking labor. I can't imagine being out in the field for eight hours, five days a week, using a spade knife to insert the spiky crowns -- the pineapple "seeds" -- into the ground.

From 1940 to 1960, Hawaii was the world's largest grower of pineapple, cornering a dominant 80 percent of the market. Today, unable to compete with cheaper production costs in countries like Mexico, Thailand and the Philippines, the state produces less than 15 percent of the world crop. Still, the "king of fruit" remains as much a symbol of the islands as Diamond Head, lei and hula. And Maui Pineapple Co. aims to keep it that way.

Says Wes Nohara, plantation manager of the company's Honolua Division: "Maui Pineapple is Hawaii's largest producer of pineapple and one of just three in the state (the other two are Dole and Del Monte on Oahu). We have the only pineapple cannery in the U.S. Maui Pineapple prides itself on producing 100 percent Hawaiian U.S.A. pineapple; that differentiates us from all other companies, which have plantations abroad."

Three years ago, Maui Pineapple launched a van tour that takes participants into the heart of its 4,500-acre plantation in Honolua (the company cultivates another 4,500 acres of pineapple in Hali'imaile in Central Maui). Because the fields are rotated, planting and harvesting go on year round, so visitors are likely to see some action no matter when they take the tour. The summer season is the busiest because of the longer daylight hours.

Notes Nohara: "The Maui Pineapple Plantation Tour is the only tour of its kind in the entire nation. We cover more than growing pineapple; we share plantation history, history of the company, general Hawaiian history and information on the environmental movement in farming, conservation and watershed management."

Even kama'aina who cut their teeth on pineapple will be enlightened during the 2 1/2-hour excursion. Participants usually are surprised to learn that three generations of fruit grow from one plant before the field is allowed to turn fallow, that it takes two years for the first of these generations to mature and that hundreds of varieties of pineapple have been developed worldwide, most grown for eating, others purely ornamental.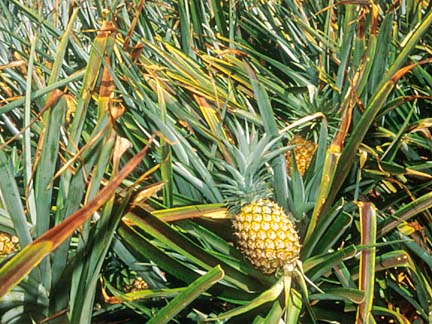 maui pineapple company
Maui Pineapple is Hawaii's largest producer of the sweet fruit and
has the only pineapple cannery in the United States.

---
A few stops are made, during which participants leave the van to get close-up looks at the pineapple, planted in neat rows exactly 11 inches apart. This has proven to be the optimum spacing; it enables Maui Pineapple to get the most yield from its land (about 27,000 pineapples per acre) while providing the fruit with enough room to grow to its preferred weight: 4 pounds if it's to be sold fresh.

"The future of the pineapple industry is ever-changing, and to keep competitive, growers must be aware of market trends and be willing to change as well," observes Nohara. To that end, Maui Pineapple offers spin-off products such as tropical fruit salad and pineapple salsa in addition to its canned products and whole Jet Fresh fruit, which is picked, packed and flown within a day to the mainland. The company also has introduced a hybrid variety and an organic variety of pineapple.

"The hybrid (Hawaiian Gold) and organic pineapple add diversity to the product base as they produce a low-acid, sweeter-tasting fruit suitable for marketing as fresh whole fruit," Nohara says. "They cost a bit more than conventionally produced fruit because of manual weed control and the additional handling that's required during production."




Maui Pineapple Plantation Tour

Place: Check in at the Kapalua Villas Reception Center across from
the Honolua Store 30 minutes before the tour begins. Advance reservations
are recommended; walk-ins are accepted on a space-available basis.
Time: Tours are offered at 9:30 a.m. and 1 p.m. Mondays through Fridays, except holidays.
Minimum age: 10 years old.
Dress requirements: Wear comfortable, covered shoes (no slippers or
sandals). Do not wear light-colored clothing. Sunscreen and a hat are
recommended.
Cost: $26 per person, including tax
Phone: (808) 669-8088
Web site: www.kapaluamaui.com





Maui Pineapple's roots stretch back to the turn of the century when entrepreneur Henry Perrine Baldwin acquired most of Honolua Ranch through a series of land grants and purchases. In 1911, Baldwin hired David Thomas Fleming to oversee ranch operations. Although the ranch was primarily involved with cattle-raising at the time, these entrepreneurs felt Honolua would be an excellent location for a pineapple plantation, and the following year, Fleming planted the first 20 acres of fruit there.

In 1914 the ranch built a cannery a few miles north of the plantation to pack its first crop. Six years later, it constructed a new cannery in Lahaina to make the most of the peak summer harvests. From the Honolua fields, trucks transported the golden fruit to trains, which carried it to the Lahaina cannery, 10 miles away. After the pineapple was processed, it was taken to the Kaanapali Landing, where it was shipped to Honolulu and the mainland.

Although Honolua Ranch continued its cattle operation until 1946, it gradually began replacing grazing land with pineapple plantings over the decades (by 1929, pineapple covered 2,500 acres of land while only 300 were devoted to livestock). In 1924, reflecting its new focus on pineapple cultivation, H.P. Baldwin's heirs renamed the company Baldwin Packers Ltd., which it remained until 1962, when it merged with Maui Pineapple Co. As a result of the merger, the Lahaina cannery was closed and operations were consolidated in Kahului.

Today, Maui Pineapple annually produces 170,000 tons of 50 different varieties of pineapple. Ninety percent of the fruit is processed as slices, chunks and juice; the remainder is sold fresh. The highlight of the plantation tour comes at the end, when we literally enjoy the fruits of Maui Pineapple's labor and walk into the fields to cut our very own pineapple to take home.

---


Cheryl Chee Tsutsumi is a Honolulu-based free-lance writer.
E-mail to City Desk
---
---
© 2001 Honolulu Star-Bulletin
http://archives.starbulletin.com