CLICK TO SUPPORT OUR SPONSORS

---

---

Local Color



Sunday, June 10, 2001
BY SUZANNE TSWEI
---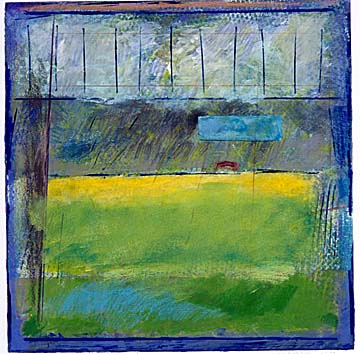 George Woollard's "Mustard Fields in June."
---
Finding peace in
the arts of cloth, wood
and abstraction

MARGO MORGAN did not jump on the bandwagon when Hawaiian quilt making became fashionable again. The craft has been a tradition for the 80-year-old quilt maker in between raising five children.

"Hawaiian quilts are certainly a lot more hip than they used to be," Morgan said, who is showing 21 quilts in the 23rd annual Hawaiian Quilt Exhibition at the Mission Houses Museum.

"The quilts had some kind of renaissance somewhere along the line after I got started. But I really wasn't part of that; I just kept chugging along on my own," Morgan said.

She took up Hawaiian quilting in the 1940s when a friend suggested it as hobby. Morgan borrowed a red ginger pattern from a friend, bought some red and white fabric, and began her first quilt, which took seven years to complete.

"It was really not very difficult. It was just basic stitching, and you didn't really need a teacher."

Back then, quilting was a cumbersome activity, requiring a saw horse as part of a stretch bar setup, Morgan said. Later when hoops came in, quilting became portable and easier. On average, it takes about two years for her to finish a quilt.

Although the length of time seems daunting, she never envisions them as being big projects, simply enjoying the process. She never works with a timetable in mind.

Quilting was something that kept her hands busy, particularly after the family acquired a television set for the 1972 Olympics games. The hobby was a way for her to relax without feeling idle.

The quilt exhibit is open 9 a.m. to 4 p.m. Tuesday to Saturday through July 4. Cost is $4. Call 531-0481.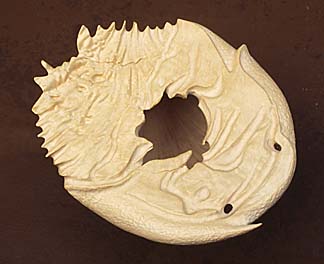 Michael Lee's "Crab" is carved out of bleached maple.
---
MICHAEL LEE realizes his career change decision may not be financially sound but he hasn't looked back since he gave up a full-time job as a computer operator six years ago to become a wood artist.

"I have absolutely no regrets. I walked away from a job that gave me a steady paycheck. What I have now is what I call 'Lifestyle of the Broke and Brainless,' but I wouldn't trade it for the world," he said.

Lee isn't entirely broke. He makes enough money to pay the bills, he said, and is content working with wood full time (and catch an occasional wave when the surf is up.)

Lee's latest works, on exhibit at the Gallery at Ward Centre, are fine examples of his wood sculptures, which get him attention on the mainland, and the more traditional wood vessels that find a ready audience in Hawaii.

Also on exhibit at the gallery are abstract paintings by George Woollard, who created small watercolors and large textured oil-and-acrylic paintings.

"For years and years, I've done realistic work based on nature. I got a little bored with representing things," said Woollard, whose latest work is all about color.

For his realistic landscapes and still-life, Woollard preferred to paint directly from nature and that practice gave him many inspirations for abstraction.

Works by Lee and Woollard are on exhibit 10 a.m. to 9 p.m. Mondays to Saturdays, 10 a.m. to 5 p.m. Sundays, through June 22. Call 597-8034.

HUMANS TAKE animal form in "Zoo," an exhibit of paintings, drawings and mixed media by Masako Nitz and Cade Roster at Queen Emma Gallery through July 1. The hours are 8 a.m. to 4 p.m. Monday through Friday, 8 a.m. to noon Saturday and Sunday. Call 537-7167.





---

Suzanne Tswei's art column runs Sundays in Today.
You can write her at the Star-Bulletin,
500 Ala Moana, Suite 7-210, Honolulu, HI, 96813
or email stswei@starbulletin.com
E-mail to Features Editor
---
---
© 2001 Honolulu Star-Bulletin
http://archives.starbulletin.com