CLICK TO SUPPORT OUR SPONSORS

---

---
Sunday, June 10, 2001
[ MAUKA MAKAI ]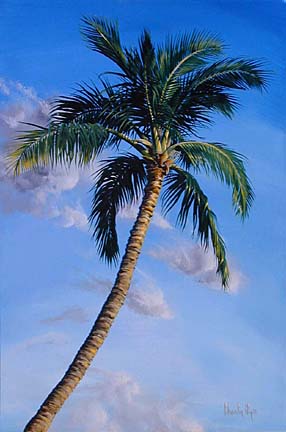 From Charles Lyon's "Sunset Palm I."
---
Perspectives on palms

GALLERY

ON VIEW IN THE ISLANDS

---


By Suzanne Tswei
Star-Bulletin

Charles Lyon, the Maui-based artist whose "Surf Clowns" book caused a minor sensation a year ago, has turned his attention upward -- into the the swaying palm trees of Hawaii.

The "My Palm" collection is featured in the Banyan Tree Gallery on Maui until July 4th. Also featured is the natural fiber basketry of Susan Kilmer, whose pieces include coconut fibers.

Unlike the cartoons of Surf Clown, "My Palm" features ultra-realistic acrylic painting of palm, at different times of day, in different lighting -- and in different wind conditions.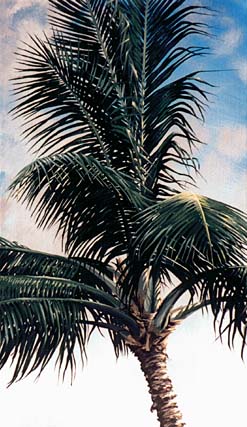 From Charles Lyon's palm-tree study: "Moody Palm."
---
Lyon said he's trying to "capture the glance up, the individual's private moment with the spirit of the tree, the wind, the clouds. The isolation of the tree from its surroundings focuses on the palm's kinetic response to the invisible energy in which it exists. They express the ever-changing moods of island life."

Formerly from Santa Cruz, Lyon has been a Lahaina resident for 10 years, and an ocean enthusiast who created the coffee table book "Jaws Maui," as well as the illustrated novel "Surf Clowns." Call (808)-661-1895 or email badcat@maui.net

---

Read about "Surf Clowns" at http://archives.starbulletin.com/2000/06/26/features/story1.html





Click for online
calendars and events.
E-mail to Features Editor
---
---
© 2001 Honolulu Star-Bulletin
http://archives.starbulletin.com