CLICK TO SUPPORT OUR SPONSORS

---

---
Sunday, June 10, 2001
[ MAUKA MAKAI ]

Flavors of Latin cuisine
come to Hawaii

CHEW ON THIS

Restaurant Report

---

By Betty Shimabukuro
Star-Bulletin

Patricia Wilson believes in looking toward the future while respecting the culinary heritage of the past.

As a teacher, chef and host of a radio cooking show, Wilson promotes Latino cuisines, particularly those of her native Puerto Rico.

She spreads her message in Hawaii this week, preparing two four-course dinners -- Saturday at Diamond Head Grill and June 22 on the Big Island at the Orchid at Mauna Lani.

The menu: conch and green banana "escabeche," roast lechon (seasoned fresh pork) with tamarind rum glaze, Arroz con Gandules and rice with pigeon peas, and Sopa Borracha (caramel flan on rum-soaked cake). Cost is $55 at Diamond Head Grill, 922-3734, and $75 at the Orchid, (808) 885-2000.

Wilson is also teaching a five-day advanced culinary course this week at Kapiolani Community College for industry professionals and educators.

Wilson, an instructor with the College of Culinary Arts at Johnson & Wales University in North Miami, also hosts a radio show, "What's Cooking with Patricia," aired in Puerto Rico. As a chef she has working in restaurants in New York City and Puerto Rico.

She draws on her classical training to create dishes that elevate Puerto Rican home cooking to haute cuisine. But she cautions that through culinary fusion we run the risk of leaving original foods behind.

"I'm afraid all the traditions will be lost as we fuse them all together," Wilson says.

Wilson says she advises students to master classical techniques, but once those lessons are learned, they should draw on their culinary heritage. "I always tell my students, 'Learn everything you can, and then look back and see what you are. Then your food will always turn out honest and wonderful.'"

A NEW HOME FOR HELENA'S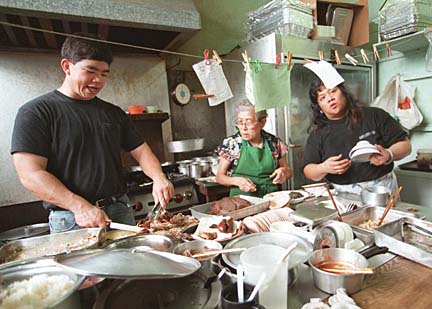 STAR-BULLETIN / 1996
Helen Chock, center, reopens her beloved Helena's Hawaiian Foods
at a new location, 1240 N. School St., across from Mitsu-ken
okazuya. Grandson Craig Katsuyoshi, left, will run the restaurant,
but Chock says the name and menu will stay the same.
She hopes to open by the July 4 weekend.
---
Special events

Taste of Italy: Mediterranean specialties, Italian entertainment and a fresh-vegetable market make up a weeklong festival, tomorrow through Saturday, at the Kahala Mandarin Oriental's Plumeria Beach Cafe. Menu choices will vary daily. Among choices: soups in sourdough bread bowls, antipasti and pasta salads, osso bucco, veal marsala and gelato desserts in handmade cones. Cost is $38.75 ($19.50 children). Call 739-8760.

Crabfest 2001: Dixie Grill's crab festival runs through Wednesday at the Aiea location, then moves to the Ward Avenue restaurant Thursday through June 30. Chef David Saccomanno is featuring crab specials -- from "crabatizers" such as N'awlins BBQ Crab to entrées such as soft shell crab etouffé. Call 485-CRAB.

An Evening with the Chef: Chef Ron Gallaher of La Bourgogne Restaurant on the Big Island joins Sheraton Moana Surfrider chef Ralf Bauer to present a four-course meal celebrating the 100th anniversary of the hotel, 6:30 p.m. Saturday, Ship's Tavern restaurant. The dinner is one in a series of dining events planned for the 100th year, all of which allow guests to speak with the chefs during dinner. Cost is $100. Call 922-3111.

The Cheese Culture: Artisan cheeses from throughout the world will be paired with wines, 6 p.m. Wednesday, Mariposa, Neiman Marcus at Ala Moana Center. Cost is $15. This is the first in a series of cheese tastings, to be held the second Wednesday of each month. Call 951-3420.

Father's Day specials

All events are June 17:

Dole Cannery Ballrooms: Island Rhythm 98.5 personality Lanai and Kapena entertain at a buffet brunch, 10:15 a.m. to noon. Cost is $34.99 ($17.50 children). Call 531-3127.

Hokus: Buffet features pistachio-crusted rack of lamb, duck broth with foie gras won ton, orange-laced canoli with white chocolate and Grand Marnier parfait. Served 10:30 a.m. to 2 p.m. for brunch and 5-10 p.m. for dinner. Cost is $45 ($21.50 children) for brunch and $65 for dinner. Call 739-8780.

Parc Cafe: Buffet features poke bar, carving stations and more. Brunch served 10:30 a.m. to 2 p.m.; dinner, 5 to 9:30 p.m. Cost is $29.95 for brunch, $32.95 for dinner (kids' rate is $1 for each year of age). Call 931-6643.

Plumeria Beach Cafe: Buffet features steamed opakapaka, tandoori chicken, carving stations with prime rib and roast pig, and desserts. Served 11 a.m. to 9:30 p.m. Cost is $38.75 ($19.95 children). Call 739-8760.

Sansei Seafood Restaurant and Sushi Bar: Dinner buffet includes sashimi bar, made-to-order sushi bars, fried seafood and carving stations, sautéed shrimp, scallops, clams, mahimahi, Salmon Wellington and desserts. Cost is $35 ($17.50 children). Call 536-6286.

Sunset Grill: Through June, dads can order a 12-ounce New York steak dinner for $12.95. Also, many beers are $2 from 4 to 6 p.m. this month. Call 521-4409.

3660 on the Rise: Buffet includes ahi katsu, sautéed veal, seafood marinara, shichimi-seared chicken, nori-wrapped salmon and prime rib. Served 5 to 9 p.m.; $32 ($15 children). Call 737-1177.





Click for online
calendars and events.
E-mail to Features Editor
---
---
© 2001 Honolulu Star-Bulletin
http://archives.starbulletin.com