CLICK TO SUPPORT OUR SPONSORS

---

---
Sunday, June 10, 2001
[ MAUKA MAKAI ]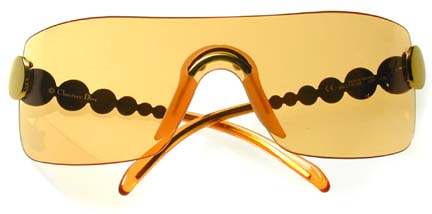 CRAIG T. KOJIMA / STAR-BULLETIN
Christian Dior Millenium $210, Sunglass Hut International
---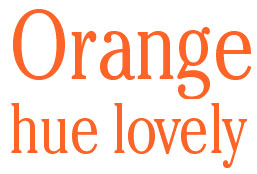 FASHION
By Ruby Mata-Viti
Star-Bulletin
THE SHIFT IN WHAT'S HOT in sunglass frames from last summer to this seems subtle, with Jackie O-type specs still on the scene. But the small, rimless, lightly tinted lens that had the spotlight then have returned this year in a big way.

For the fashion forward, they're called "The Shield," defined by lenses that are usually one piece, oversized, colorful and definitely glamorous, bordering on gaudy. Variations of the style for more conservative souls are square, teardrop-shaped or wraparound, but the emphasis is on supersized lenses with a rimless or thin, delicate frame.

They're also known as Runway glasses, not as in airport, but some do look like the windshield of an airplane, says Diane Myslicki of The Eyeglass Shoppe on Atkinson Drive.


CRAIG T. KOJIMA / STAR-BULLETIN
Missoni, $265, The Eyeglass Shoppe
---
"Models use them on the fashion runway. They make a statement," Myslicki says. Yet, if they weren't so colorful, they might be mistaken for the kind folks use after optical surgery.

"The Shield may have a short life, you can't put a prescription on them -- they're too big; but they're 'in' now and people are buying them," Myslicki added.

"Charlie's Angels" and J. Lo helped set the tone for this trend, said Hazel Manuel of Shades of California at Ala Moana Center. Women walk into the boutique asking "for the kind Jennifer Lopez wore in her video 'Love Don't Cost A Thing,' " said Manuel, and after "Charlie's" girls sported Chloé sunglasses with rhinestones in the shape of a heart, women started clamoring for those. Real Chloés run about $200, but you can get imposters now starting at $7.99. The real thing feels lighter on the face.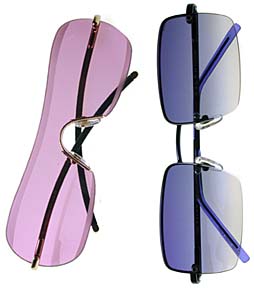 CRAIG T. KOJIMA / STAR-BULLETIN
Giorgio Armani beveled shield, left, $169.99, and
Ralph Lauren, $79.99, Sunglass Hut International
---
"Pearl Harbor's" also doing its share of fashion pacing, said Evan Paikai of the Sunglass Hut. Even if the movie wasn't exactly a hit with critics, the film has renewed the popularity of Aviators. "Rayban's updating the look with a modified tear shape and close-to-clear colored or gradient lenses." The store offers these with presciptions.

"People are buying (Shields) to match outfits," says Myslicki. "They come in orange hues, some yellow, but orange is the 'in' color," she added.

Forget about matching face shape with these frames. Although they do look best on people with wide faces, Myslicki said oversized pairs are used for impact and effect. Put them on and peer into the mirror. If you see "Fearless Fly" staring back, that means you've got the look.

Shields haven't sold much here, says Elaine Ma, also of Shades of California, but we do have them. "It's an L.A. look. Hawaii is more casual, and more into sports" so there's still the basic Oakley and Maui Jim brands with new hooks -- such as lucite frames, gradient or scratch-resistent lenses -- to lure those who already have three pairs.

But for instant glam, get behind the Shield and charge into summer.


CRAIG T. KOJIMA / STAR-BULLETIN
From left, Chloé Lunettes, a la "Charlie's Angels," $199.99,
and copycat, $7.99, both from Shades of California; Ray-Ban
aviators, $89.99, Sunglass Hut International; Takumi specs with
removable aviator lens, $375, and Gucci, $245, The Eyeglass
Shoppe; Guess' Twinkle, $64.99 and Diesel's Kusini, $125,
Sunglass Hut International.
---




Click for online
calendars and events.
E-mail to Features Editor
---
---
© 2001 Honolulu Star-Bulletin
http://archives.starbulletin.com