CLICK TO SUPPORT OUR SPONSORS

---

---
Sunday, June 10, 2001
[ MAUKA MAKAI ]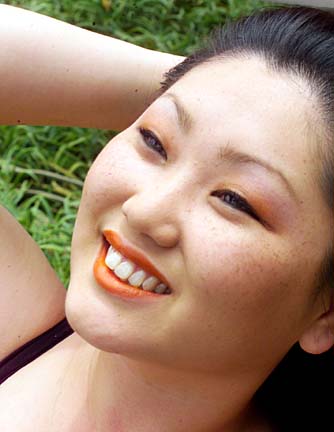 FL MORRIS / STAR-BULLETIN
AFTER: Michelle Okamura traded her office pinks, mauves
and grays for summer's sunny colors. Pretty Pretty's Jeleo face
salve colors her eyelids and cheeks. The lip color is Concetta.
---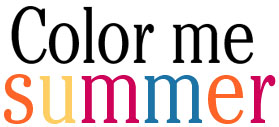 FASHION
---
Nadine Kam
Star-Bulletin
TAWNY, fresh-faced teens need not worry about putting their best summer faces forward. It's those who hide out in air-conditioned offices who long most to trade their weekday pallor for a healthy-looking summer glow.

First step, sack the heavy foundations and pigments. The trick is to look like you're glowing from within rather than dealing with surface paints. And if lack of sleep, a bad diet and too much exposure to fluorescent lighting has zapped your natural radiance, honey, you can always buy it.

Trouble is, that glow is likely to come from an intimidating palette of day-glo oranges and yellows. Is it even possible to wear those garish colors without looking like Raggedy Ann or a traffic cone?

BEFORE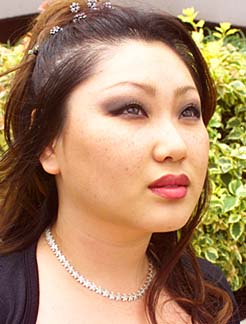 FL MORRIS / STAR-BULLETIN
Michelle Okamura in office pinks, mauves and grays.
---
The scariest colors of the season belong to Pretty Pretty, one of the newest lines to hit Hawaii, created by former M.A.C makeup artists Nick Gavrelis and James Vincent.

Gavrelis recently demonstrated the line at Liberty House-Ala Moana, where his mantra, as he worked on Michelle Okamura, was "Orange is your friend."

Okamura, a secretary who favors earth tones and mauves, had never tried oranges and yellows before and had signed up for a makeover that took her out of her comfort zone.

Gavrelis's words were comforting. "It looks so scary, but it isn't. We emphasize an emollient glow which is not greasy. It looks healthy, like you've just come from a jog or been on holiday. It looks sun-kissed."

Indeed, rather than looking bedraggled after a day at the office, Okamura looked as if she had come from the beach.

"Orange is your friend," Gavrelis repeated, and Okamura nodded. "Orange is my friend."

Gavrelis's favorite summer adjective for lips is "fleshy."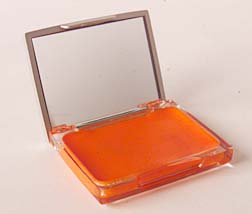 FL MORRIS / STAR-BULLETIN
SKIN The vivid color of Pretty Pretty's Jeleo face
salve is tamer on skin. The compact is shown in actual size.
---
Think full, pale and pouty a la "Tomb Raider's" Angelina Jolie. Gavrelis creates that fleshy look for mere mortals with an outline of Babette lip pencil, $15, and coating of golden bronze lipgloss dubbed Zuma, $17.

About those names, when Gavrelis and Vincent met at M.A.C, they found they shared the same sense of humor and infatuation with pop culture. "Even though James is 10 years younger, we were both influenced by the same movies, music and television shows. The name of our company comes from 'Barbarella.' " Specifically, the scene where Jane Fonda is taunted "pretty, pretty," she answers back, "My name isn't Pretty Pretty, it's Barbarella."

Said Gavrelis, "It's an example of a woman asserting herself, that she's so much more than a pretty face."

The two makeup artists believed they knew what women wanted out of cosmetics.

"We wanted to streamline, edit our offerings so women wouldn't need 100 things to create a look. And we added skin-care benefits, vitamins A, C and E, avocado oil and echinacea."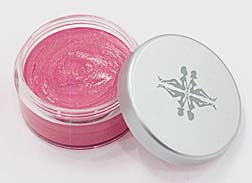 FL MORRIS / STAR-BULLETIN
LIPS Pretty Pretty's Desiree lip salve is a
transparent gold-spun red.
---
All those ingredients are in Pretty Pretty Face Salves, $18, that look heavy, but go on sheer and are blendable. These can be dabbed onto eyelids, lips and cheeks with the fingertips for a hint of color, although Gavrelis uses a brush.

Cases are compact and lightweight, traveling easily in a purse or beach bag.

Elsewhere, almost every line carries bronzers that can add a golden gleam to cheeks, shoulders and décolletage. Erno Laszlo bronzer compacts are $37.

Physicians Formula Jungle Fever bronzing collection features palettes designed to look like animal prints. The Leopard compact ($11.99 face, $5.99 eyes) features browns and bronzes for a tanned look. The Tiger compact features a background of sheer gold and light bronze stripes for lighter skin. Makeup pros warn that choosing a bronzer too dark for your coloring will just make your skin look dirty.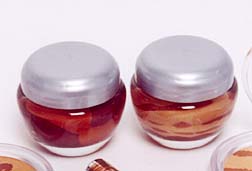 FL MORRIS / STAR-BULLETIN
FACE & BODY Physicians Formula Jungle
Fever bronzing cream sells for $6.99 at Longs Drugs.
---
Over at Liberty House's Philosophy makeup counter, the new summer lip glosses come in gold, ruby and white, at $15 apiece. These taste like an appetite-suppressing combination of chocolate and mint.

Also great for summer is Philosophy's cheek and lip tint, a $20 combination designed to give cheeks a child's rosy glow, or make lips look as if you've been crushing berries between them. The color stays on even if you're bobbing around in the ocean. The second part of the equation is a sticky gloss that puts a glycerin shine on lips.

Philosophy counter manager Kathryn Donatz said the duo is a favorite of entertainers who like their makeup dramatic. It's also great for women who complain about lipsticks that don't last. She says to stain lips first, then apply a favorite lipstick over it. When the lipstick's gone, at least the stain remains.

Liberty House-Ala Moana will be offering Philosophy summer makeovers June 22 and 23. Call 945-8710 for an appointment.





Click for online
calendars and events.
E-mail to Features Editor
---
---
© 2001 Honolulu Star-Bulletin
http://archives.starbulletin.com