CLICK TO SUPPORT OUR SPONSORS

---

---
Sunday, June 10, 2001
[ MAUKA MAKAI ]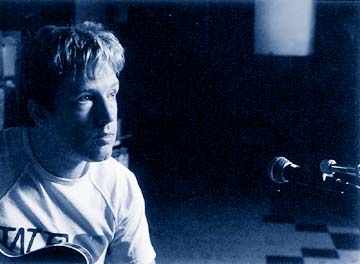 EPIC/INDEPENDENTE
Francis Healy, singer and guitarist of Travis, wrote
"Flowers in the Window" for his wife.
---
Beguiling melodies
fill Brit breakout CD

LISTEN UP

NEW RELEASES AND TOP SELLERS

"The Invisible Band"
Travis (Epic/Independente)

---

Review By Gary C.W. Chun
Star-Bulletin

This group may be the United Kingdom's best bet as a breakout band in America, but you certainly can't judge it by Travis' CD covers.

The Scottish band's previous album, "The Man Who," the No. 1 fave with both public and critics in the U.K. back in '99, depicted the four (Francis Healy, Douglas Payne, Andy Dunlop and Neil Primrose) as part of some desolate, windswept beach setting. The cover of Travis' latest album is of a picturesque northern California forest. You can barely see the band members along the bottom of the wide-framed photo -- a play, I guess, on the album's title.

It could also pass as a comment on the relative anonymity of the band's collective low-key personality. And wouldn't it be ironic if Travis becomes more of a success story in the U.S. than others that have preceded them, namely Blur (too British), Oasis (too full-of-themselves) and Radiohead (too oblique). For that, you can thank a beguiling sense of melody and song structure, which makes this one of my favorite albums of the year.

"The Invisible Band" was recorded in Los Angeles with the help of producer-of-the-moment Nigel Godrich, and boasts a fuller sound than the comparatively twee ambiance of "The Man Who." With the exception of the unsettling, minor-key musings of "Dear Diary" and the dark emotions of "Last Train," this album is so unaffected and good natured that it's any wonder it doesn't all collapse into a sappy morass.

The album's leadoff single, "Sing," and "Flowers In The Window" were written by Healy for his wife, filled with optimism and a giddy kind of love. The first of two love-lost songs, "The Cage" (for Cinjun, who ever that may be) is a delicately expressed number about a love stolen away before it has had the chance to grow. The other, and the album's last listed track, "The Humpty Dumpty Love Song" (for Ringan) starts as a simple heartbreak song and blossoms into a more universal statement about loss in general, a grand sound that luxuriates in blissful surrender.

"Afterglow" is just as evanescent as its subject, a somber but lovely song moved along with gently plucked guitar notes. The song's title, "Indefinitely," becomes a mantra for spiritual willpower.

Through it all, Healy is totally unpretentious as a singer -- whether he's in a ruminative mood on "Side," trying to make sense out of our "Pipe Dreams" (just "Follow The Light") or feeling "Safe" in a mature, comforting way, Healy and the band offer a musical balm for the troubled soul.

The album's mood is broken (in a good way) with two hidden tracks; "Ring Out the Bell," a good-spirited contribution by Payne, and Dunlop's jaunty little kiss-off, "You Don't Know What I'm Like."

As this talented quartet tours the United States this summer with Dido, invisibility should be the least of their problems.

---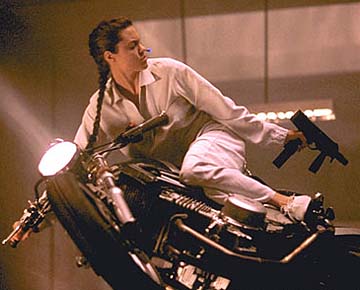 PARAMOUNT
Anjelica Jolie as Lara Croft struts her stuff to
music from the likes of U2 and Nelly Furtado.
---
Moving tunes from the
movie with the 'tude

LISTEN UP

NEW RELEASES AND TOP SELLERS

"Music from the Motion Picture: Tomb Raider"
Various artists (Elektra)

---

Review by Burl Burlingame
Star-Bulletin

Lara Croft, the busty Indiana Jones with the 'tude, isn't the first cyber-character to inspire a movie and an all-star soundtrack -- remember the Mario Brothers? -- but Lara is way-narrowly marketed, right? Directly at teen-age boys whose idea of entertainment is watching her bounce up and down while slaughtering monsters. OK, face it, every man alive. Even Elton John.

This disk is cannily assembled from ominous dance-club grooves, overlaid with all-star-power vocals and raps. Wading through the production notes shows a real smorgasbord of producers and mixers; amazingly, it all hangs together cohesively. The sound is industrial and soulful at the same time (something the Eurythmics figured out 15 years ago; too bad they're not represented here).

It's what's on top of the sexy, booty-thrusting bop that makes it fly. Artists such as U2, Missy Elliott, Nelly Furtado, Fatboy Slim and Bootsy Collins loosen up and bring in rap, soul, rock, Eastern, Gregorian-chant and Islamic grooves. No culture is safe from being sampled.

Even those dour pills in Nine Inch Nails appear to be having a good ol' sexy time.

The tone is so ominously European and industrial that, on occasion, and if this were an antique vinyl record, you'd swear the needle was stuck in a click-track.

Like last year's "Matrix," records like this give assembled soundtracks a good name. All it takes is top talent (even if they're not on the production company's in-house label), a dedication to shaking the listener's groove thang and a clear vision of the end result. OK, the end result might be watching Lara Croft do jumping jacks, but she won't miscount with the solid beat here.

Cool record. Parents will hate it. Likely to become a summer fixture at dance clubs.

---

'Lechuza' gets your
heart pumping

LISTEN UP

NEW RELEASES AND TOP SELLERS

"Lechuza"
Fenix*TX (MCA)

---

Review by Burl Burlingame
Star-Bulletin

Teen-age angst at full volume isn't particularly interesting -- even for teen-agers -- unless it's doled out in fierce, unexpected nuggets, like that hidden reservoir of chile sauce in the bi bim bap. Fenix*TX doesn't let up for the length of "Lechuza" until at the very end, with "El Borrachio," when a groaning bass viola lurches into a hair-band anthem, complete with contra-picking and soaring choruses. We're talking Loverboy territory. It sounds totally lame, and makes the rest of the record shine by contrast.

Not letting up and ignoring dynamics are a punch-band article of faith. "Lechuza" is a sweaty marathon. "Lechuza" means "owl" in Spanish. Hey, they know some Spanish words! Some of the tunes would frankly sound more interesting in Spanish, and would make the "parental advisory" label on the jacket superfluous.

What's here your kid shouldn't hear? The line "Hey you wanna **** **** up!" for one. And the lead song, "Phoebe Cates," is an ode to the physical charms of the actress who's now old enough to be their mother. Otherwise, you should be more worried about your kids' eardrums than anything else.

They're champs at song titles. "Pasture of Muppets" and "Beating a Dead Horse" are pretty cool, and the song "Something Bad Is Going to Happen" (which has the **** **** line) even features a lead guitar at one point and a cheerleader-like chorus. It's a real song instead of a riff.

Everything's full-tilt. The sound is crisp and high-register and could use some more bass. It's kind of brittle. For some reason the crash cymbal is out in front on the mix, and along with the chirpy harmonies, this sounds like Def Leppard in search of a melody. Or waiting for the Thorazine to wear off.





Click for online
calendars and events.
E-mail to Features Editor
---
---
© 2001 Honolulu Star-Bulletin
http://archives.starbulletin.com