CLICK TO SUPPORT OUR SPONSORS

---

---
Sunday, June 10, 2001
[ MAUKA MAKAI ]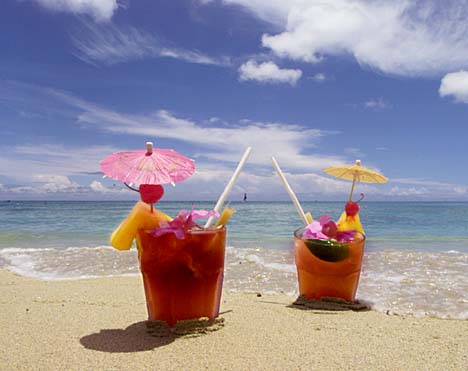 DENNIS ODA / STAR-BULLETIN
A cold mai tai looks right at home on the sand outside
the Beach Bar at the Moana Hotel.
---
Convivial pursuit


The search for the perfect
mai tai becomes a labor
of love and lore

---


By Scott Vogel
Star-Bulletin

EVERYONE REMEMBERS the opening scene of "Citizen Kane," when dying media mogul Charles Foster Kane whispers his final word, "Rosebud," his hand letting go of a glass snow globe, which promptly falls to the floor and bursts into a million pieces. What is the origin of this cryptic utterance, we wonder, as if solving the mystery of Rosebud might explain the life of the brilliant and tortured Kane.

I've often thought about the personal ramifications of this scene, and specifically my mother's presumed final moments, when her own glass shatters on the floor, a perfectly good paper umbrella destroyed in the process, a maraschino cherry rolling away from the scene. Like Kane, her final words may well set off a flurry of debate about what she might or might not have meant, but she won't be talking rosebuds.

"Mai tai," she'll whisper as the curtain falls.

COVER STORY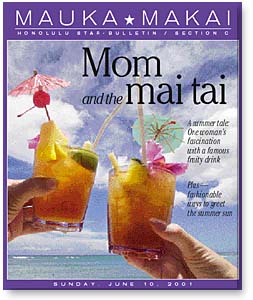 To some extent, Mom's fascination with this sweet and powerful concoction -- a relic of Hawaii's tiki bar/S.S. Lurline/"Bali Ha'i" past -- is a function of life on the mainland, a sunless prison she escapes for a few brief weeks each season. But in no way does this explain her adoration, her single-minded obsession with this rum-soaked brew. Bolting from the plane and sporting louder clothes and harsher opinions than she ever displays back home, Mom sails by the lei stands and racks of macadamia nut effluvia with relentless fury, hellbent on pursuing her own personal ersatz Hawaii.

Within minutes, it seems, we are deposited at a Waikiki hotel bar where, like a kind of unofficial ambassador from Fruity-Drink Land, Mom immediately decides whether standards have been upheld during her absence.

"Too much pineapple," she sniffs after a single sip of the mai tai at the New Otani's Sunset Lanai, her eyes gazing down at the hotel's fabled hau tree. That's the famous shady arbor, I tell her, where Robert Louis Stevenson penned love poems to the Princess Kaiulani, a young woman who ..."

"Well, I hope his poems were better than his mai tais," she interrupts. I patiently inform her that the mai tai was not around in the 1880s and that in any case, a poet as great as Stevenson probably didn't need booze to get the princess's attention. Upon hearing of the mai tai's brief history, Mom appears aghast, as if wondering how else "Treasure Island" might have gotten its name.

In fact, the mai tai was likely invented in 1944 by Victor Bergeron, also known as Trader Vic. Unless it was instead invented by Ernest Raymond Beaumont Gantt, also known as Don the Beachcomber, in 1933. Unless it was invented in 1954 by bandleader Harry Owens, who was apparently called Harry Owens from birth. Everyone, it seems, wants to take credit for the mai tai, especially mainlanders, who frequently describe it in terms usually reserved for a religious experience.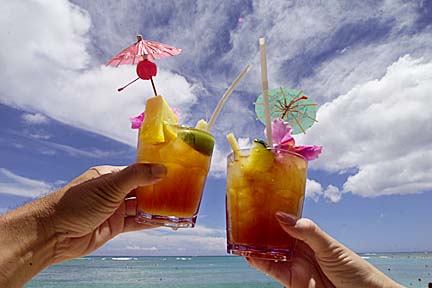 DENNIS ODA / STAR-BULLETIN
Kulia i ka nu'u! (Strive for the summit!)
---
Listen to Andrew Geer, Owens' drinking buddy, as the duo attempt to create the first mai tai at the old Royal Hawaiian Surf Bar, based on a drink Geer has just tasted in Tahiti: "Prepare yourself for a miracle. You're about to witness the re-creation of the gods' favorite nectar, the rare ambrosia from faraway South Pacific atolls." Owens, needless to say, was intrigued, as he dutifully reports in his autobiography, "Sweet Leilani." The bandleader, who in addition to writing that Oscar-winning song would also pen such unforgettable fare as "Princess Poo-Poo-Ly Has Plenty Papaya" and "Song of the Mynah Bird," immediately demanded the assistance of the nearest Hawaiian bartender. ("We need two extra-large Old Fashioned glasses, Kawika, plus four or five varieties of good rum.")

After seven tries the drinking party was apparently joined by author James Michener, who suggested they add some orange curaçao to the combination of rums, sugar syrup, orgeat (almond syrup) and falernum (a ginger-lime juice preparation). A few more rounds and -- eureka! -- the mai tai was born. A crowd of 50, which by now had surrounded the prospectors, erupted into spontaneous applause, and the concoction's recipe was printed in the next day's Royal Hawaiian menu with the following postscript: "When you have trouble singing the first four bars of 'Sweet Leilani,' you've had enough mai tais."

Upon reading these words, we vault out of our stools at the New Otani, making a beeline for the Royal Hawaiian, where we are presently served a mai tai rather too alcoholic for Mom's tastes. Not giving up, she writes Owens' recipe on a pink napkin for Jamie, a very game young waitress at the hotel's Mai Tai bar. Here in this cradle of tropical toxicants, we reason, surely lightning will strike twice. We are already gathering a crowd of 50 for the inevitable applause, when Jamie returns with bad news from the bartender.

"He said he doesn't have faler ... faler ..." No falernum, Mom announces, her voice a mixture of shock and disgust. What has become of Owens' pink palace, she wonders, with its palm-thatched bandstand and elegant women, visions of "loveliness in white" dancing under the stars. Somewhat rudely, we send Jamie away with instructions that the bartender substitute lime juice for falernum, and forward us the results immediately.

Soon she's returned with a bronze-colored cocktail, depositing it in from of Mom. I brace myself for the moment of truth. "Better," she pronounces. "Better." This somewhat qualified assessment produces only a smattering of applause, mostly from our table, but at least progress has been made.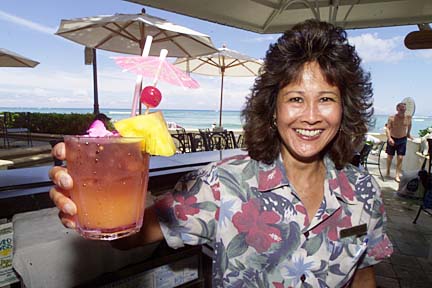 DENNIS ODA / STAR-BULLETIN
Madeline Foley shows off the mai tai she just made out
of Castillo Silver Rum and a special Moana
Beach Bar Mai Tai mix.
---
"ANYONE WHO says I didn't create this drink is a dirty stinker," wrote Victor Bergeron in 1970, reserving mixology's ultimate put-down for Harry Owens, Don the Beachcomber and various other pretenders to the throne. Bergeron was, on the other hand, a sturdy drinker, and one who didn't suffer fools gladly. But it was a column by local writer Eddie Sherman, which cast doubt on Trader Vic's mai tai authorship, that finally persuaded the kitsch king to tell his side of the story.

The mai tai, he explained, "has earned worldwide identification and acceptance. There has been a lot of conversation over the beginning of this drink. Many have claimed credit, including Harry Owens." He goes on to deny the claim that the mai tai was Tahiti-born ("this aggravates my ulcer completely"). Rather, the cocktail had been created by Vic -- in Oakland -- and then served to two friends from Tahiti, one of whom was so impressed she shrieked "mai tai," which either means "out of this world" or simply "good," depending on which bartender is performing the Tahitian translation.

I read Trader Vic's affidavit to Mom at the Halekulani's bar, House Without a Key, the calm setting an unlikely venue for a booze battle. Her mind ever alert to the ruses of mixologists, she sifts through the evidence while picking orchid petals from her drink.

"The one thing he's right about -- no fruit juice," she says, staring into the icy concoction before her. The Halekulani's is certainly a juicy affair, though she's not quite certain which of the lesser juices (orange, pineapple) have been allowed to run rampant through her grog. Still, by the second round, Mom's done a complete about-face, pointing at the drink and exclaiming "This is a good one!" to whoever might be passing by. Later she will jump up and declare this her new favorite mai tai, in the process knocking over a basket of Maui potato chips and piercing the serene atmosphere of this venerable establishment. She demands that we immediately decamp for the Sheraton Moana -- the site of her last favorite mai tai -- for comparison testing. We scrape the chips from our shoes and follow her lead.

On the way, I recount the major events in the life of Don the Beachcomber, the former bootlegger-turned-Hollywood restaurant owner who started the midcentury tiki craze almost single-handedly. Owing to a misstep -- in a drunken haze we went the wrong direction on Kalakaua -- I was able to go into much greater detail than I'd planned, remarking to Mom that Don's authorship of the Zombie, the Vicious Virgin and the Scorpion was not in dispute. In fact, the prolific inventor, a sort of swizzle-stick Edison, created more than 75 original cocktails. But like Edison, Don is known to have taken credit where it might not be due. Then again, Trader Vic did, too, and given the jealousy and competitiveness these tiki tycoons often displayed, the truth may never be known. Hooch historians line up behind both men. Mom, meanwhile, who by this time is in no condition to line up behind anyone, instead sidles up to the Sheraton Beach Bar.

"Why must there always be fightin' and killin'?" she wonders, the sight of her all-time favorite mai tai having put her in a genial, we're-all-God's-children mood. "It doesn't matter who mixed it first. The point is, look what it's become."

We ponder this statement for a moment. In our present state of inebriation, neither of us understands what she's just said. I offer to clarify, observing that nothing can be explained by reference to one event alone, that neither her life, nor Charles Foster Kane's life, nor indeed the career of the mai tai can be divined in a single moment. What was Rosebud but a sled, a red herring, and what is the mai tai to my mother? Not a clever combination of juices and liquors but a pathway to nirvana, a pineapple-wedged universe of relaxed dignity?

"What the hell are you talking about?" Mom demands, as if poised to slap me. "It's just a damn good drink."

---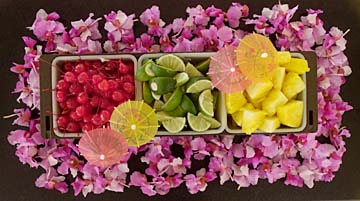 DENNIS ODA / STAR-BULLETIN
Garnishes for a mai tai include cherries, limes,
pineapple chunks, paper umbrellas and orchids.
---
Making a mai tai

Harry Owens' recipe for a mai tai

As quoted in his autobiography, "Sweet Leilani" (Hula House, 1970):

2 ounces dark rum
2 ounces light rum
Dash of sugar syrup
1 ounce orange curacao
Dash of falernum
Dash of orgeat syrup
1 pineapple stick
1 maraschino cherry
Sprig of mint
Stick of raw sugar cane

Combine rums, sugar syrup and liqueurs in a glass. Add pineapple, cherry and mint sprig as garnish. Add sugar cane as a swizzle stick.





Click for online
calendars and events.
E-mail to Features Editor
---
---
© 2001 Honolulu Star-Bulletin
http://archives.starbulletin.com