CLICK TO SUPPORT OUR SPONSORS

---
---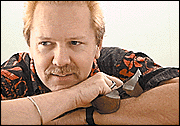 Island Mele



Friday, June 8, 2001
By John Berger
---
"Hawaiian Sound Shot"

Pablo Kulcha & Justice Moon
'Ilio Nui (NR-7702)

Big Island duo Pablo Kulcha and Justice Moon have a great feel for progressive rap and reggae-beat club music. They are also articulate spokesmen on Hawaiian nationalist issues whose work brings to mind Sudden Rush, Big Island Conspiracy and the imaginative 1998 "Native Grooves" album of Kawaikapu Hewett and Freddy Von Paraz. Add the input of producer Rick Asher Keefer and this epic debut is a local music landmark.

There's lighter and more commercial club music here as well as political rap. Several songs have a strong Jawaiian slant but the duo's grasp of transnational club music outweighs insular elements. Dense layering and diverse textures keep their work interesting on repeat play. "Keep It Islan'" is a memorable political anthem. Other tracks are perfect for people who just want an entrancing groove.

Strong local rap doesn't get the airplay here it deserves but since songs about love and sex do, "Sweetness" and "Chitty Bang Bang" could be their entry to statewide radio exposure.

www.booklineshawaii.com

---




"Shaka"

Sean Carillo
Uilani Productions Inc. (UPICD 0012001)

Sean Carillo has gone solo after relative anonymity in local group projects. It's a wise move. His solo debut shows he's a versatile guy.

All but two of the songs are originals. Reggae rhythms permeate several but Carillo's softer songs are in the soft-pop idiom defined by Cecilio & Kapono, Michael Franks and Richard Natto. "Stormy Weather" and "Surfin' Everyday" are notable. "Walkin' on the Sea" blends introspection and romantic yearnings in a memorable finale. There are no "filler songs" here.

The originals prove Carillo's writing skill but "Sweet Okole" is likely his best shot for local radio play since it is a remake and also features dynamic reggae-rappers Papa T and J.D of B.E.T. The trio gives the Beamers' hit a catchy and commercial update. "Lahaina on My Mind" is a straight revision of James Taylor's "Carolina on My Mind" but Carillo interprets it well too.

Uilani Productions Inc.
94-570 Laenui Street
Waipahu HI 96797

---




"Na Pua O Hawai'i"

Makaha Sons & Friends
Poki (SPCD 9066)

The Makaha Sons mark the 25th anniversary of the original Makaha Sons of Ni'ihau with a precedent-setting album. This is the first anthology of any local act's work in the ever-popular guest format -- that is, either appearing on another act's album or hosting a project where others sat in. The Sons are heard in both contexts. Four new songs reaffirm their commitment to traditional Hawaiian music.

The most exuberant entry obviously in "Waiahole E," a new Makaha Sons recording about things than can enhance a visit there. Mull over the lyrics and kaona (hidden meanings) emerge.

The Sons' crisp acoustic arrangements and strong harmonies are the unifying element. The other artists add diversity. Dennis Pavao's smooth falsetto is the bonus on "Ka Loke" while it's seductive Rocky Brown who makes "Love Song of Kalua" charming. A beautiful liner notes book adds the final touches by providing essential background information.

Poki Records
P.O. Box 1494
Honolulu, HI 96806





---




John Berger, who has covered the local
entertainment scene since 1972, writes reviews of recordings
produced by Hawaii artists. See the Star-Bulletin's Today
section on Fridays for the latest reviews.
E-mail to Features Editor
---
---
© 2001 Honolulu Star-Bulletin
http://archives.starbulletin.com