CLICK TO SUPPORT OUR SPONSORS

---

---
Sunday, June 3, 2001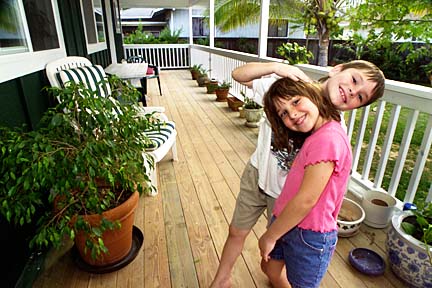 DENNIS ODA / STAR-BULLETIN
Keegan (7) and Olivia (5) Giles play on the renovated lanai of their
Kailua home. Their parents, Kelly and Linda, doubled the size of the
home by adding onto the back and living in the front during
construction. More and more island residents are renovating their
homes, rather than buying.
---

Renovation
Renaissance


New materials and an improved
sense of confidence spur a
surge of residents upgrading
their homes

---

By Lyn Danninger
Star-Bulletin

Kelly and Linda Giles describe the little house they bought three and a half years ago in Kailua as "a real fixer-upper."

Originally a plantation house, the home and two others were trucked from Oahu's north shore more than 40 years ago by their original owners and used as rental property.

Now with the exterior renovation of their cottage just completed by professionals, the couple has a substantially bigger house -- about 2,500 square feet, more than double the original 963 square feet.

"The intent was always to make improvements when the time was right after we bought it," Kelly Giles said.

Having enlarged the family room, added a fourth bedroom, a laundry room and another bathroom as well as two lanai, the couple now plan to tackle the house's interior, tiling, painting and refinishing the floors themselves.

They are part of a growing number of Hawaii residents who are taking on myriad home improvement projects, everything from remodeling kitchens and bathrooms to renovating or even tearing down and rebuilding an entire house. Their project is typical of current housing renovations, especially in Honolulu's older neighborhoods, say those familiar with an apparent renovation and restoration renaissance.

Building industry experts say there are plenty of reasons for the latest craze to take hold in urban Honolulu.

"It's difficult to find something brand new close to town so this is taking existing inventory and doing a face lift," says Paul Kane, chairman of the Hawaii Remodelers Council, the remodeling arm of the Building Industry Association.

"The interest rate environment is excellent," says Jerry Lee, assistant vice president at American Savings Bank in the residential loan project and product development department.

Lee says the bank advertises its "build your dream home loan," a combination of a construction loan and a permanent 30-year loan.

Another factor contributing to the renovation and restoration craze is the baby boom generation now inheriting older homes and property from parents and grandparents.

With elderly parents often still in the home, expansion of living space becomes a priority.

"We're doing a lot of multi-generational living," said Marshall Hickox, vice president and partner in ADI Design Group Inc., the firm that designed and performed the Giles' exterior renovation.

"Kids are taking care of parents but they don't want to live in an older home," Hickox said.

But while inheritance, aging properties, attractive financing packages and improved property values account for some of the reasons why more people are choosing to renovate an older home rather than buy a new home, they are not the only impetuses. A big part of the movement toward home improvement today is greater accessibility to information, helping people feel more comfortable about taking on home improvement projects.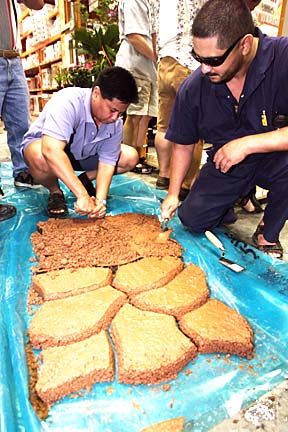 KEN IGE / STAR-BULLETIN
Karen Delos Santos of Waipahu, left, and Paul Ponce of Kapolei
fill in an Odjob Pathmate mold to make a walkway during a class
at The Home Depot store in Iwilei.
---
"Now people go out and bring ideas to the builders, Hickox said. "They'll come in with a stack of magazines with the pages marked. The average person is so much more savvy with trends."

Through the Internet, a proliferation of how-to television programs, magazines and books on every conceivable home improvement topic and the growing number of do-it-yourself seminars, ordinary people are becoming knowledgeable, if not expert, about all manner of home improvement projects.

The Gileses attribute the success of their four-month renovation to a number of those factors. Despite what they had heard about the perils, the whole process was remarkably stress-free, they said.

Moreover, they were even able to stay in their home while the renovation was going on.

"I expected a lot more surprises but there really weren't any," Linda Giles said.

Another secret to a successful renovation is advance planning.

"If you are going to make those kinds of changes, you need to live in the house for a while," Kelly said. "The more time we spent, the more ideas we had."

Both Kelly and Linda were also regulars at home improvement classes.

Stephen Reichard, a building contractor with 25 years of experience, now conducts seminars for people like the Gileses at The Home Depot hardware store in Iwilei. He also hosts a Saturday-morning home improvement radio show on station KGU.

"I'll cover everything from ceramic tiles to rose and orchid care and everything in between," he said.

In explaining the popularity of home improvement projects, Reichard gives a lot of credit not only to savvy consumers, but also to the new range of user-friendly building materials and products now available.

"That's the key. We have miracle products on the market today," he said. "There are new acrylic paints, self leveling floor compounds, adhesives, patching materials and a whole array of laminate wood flooring, really revolutionary products."

Reichard said there are two types of people who attend his seminars: Those who want to do their own projects and those who are about to hire contractors and want to be able to communicate knowledgeably with them.

Except for work that requires professional expertise, such as electrical wiring, Reichard said he can teach most people to successfully complete all kinds of home improvement projects.

"Of all the things you could do in your home, maybe upwards of 65 percent can be handled by people themselves. The rest should be left to contractors such as plumbers and electricians," he said.

Among the classes he teaches, Reichard said his class on installing ceramic tile flooring is currently the most popular. Anywhere between 10 and 30 people attend each class, he says.

The Building Industry Association has also seen the number of attendees increase at its monthly "Remodel it Right" seminars at a variety of locations around Oahu, Kane said.

"We are seeing our numbers go up steadily from last year and the year prior, especially in older neighborhoods. At our first seminar this year, held in May, about 80 people attended," he said.

Kane says the BIA seminars cover everything from financing to information from architects, contractors and other building industry professionals.

The City and County of Honolulu has also taken note of the increase in home rebuilding and remodeling projects -- 1,000 more permits for rebuildng or remodeling single family homes were granted in 2000 than the previous year, said Ralph Asai, supervisor of the city's Building Permit section. Asai said the department is also receiving more calls from people checking to see if their neighbors' renovation projects are properly permitted.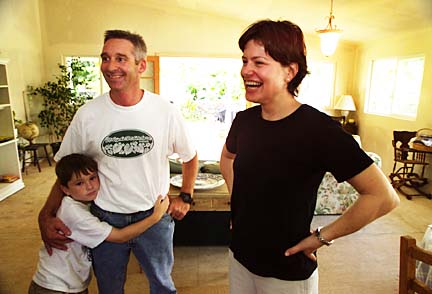 DENNIS ODA / STAR-BULLETIN
Kelly and Linda Giles stand in their renovated family room with
son Keegan. They said their renovation was stress-free.
---
The department produces a brochure to inform people about what kind of projects need building permits. Generally, most home improvement projects require building permits unless the project would involve repair work valued at less than $1,000.

But if in doubt, Asai said, anyone considering a home renovation project should call his department first. It can be expensive and time consuming to go back and obtain a permit after the work is done. Unpermitted renovations could also hold up an eventual resale of the house.

Depending on the value and the complexity of the project, building permits can be granted in as little as a day at a minimum cost of $15, Asai said.

After refinancing their mortgage and taking a second one to cover the cost of the $90,000 renovation, Kelly and Linda Giles say they got exactly the house they wanted and have also substantially increased the value of their property.

Even though friends suggested they tear down the original house and start again, or purchase a new house, they wanted to retain the house's historic character but create extra space and add amenities.

"It's still a cottage," Linda Giles said. "That's what we were aiming for."




Know the law

According to the city building department, neighbors regularly report permit deliquents, so it pays to build by the rules.

Building permits are required for:

1. To erect, construct, alter, remove, or demolish any structure (including fences, retaining walls and swimming pools).

2. For any electrical or plumbing work.

3. To construct or alter any sidewalk, curb or driveway in public rights-of-way.

A sign permit is required to install, construct, alter, relocate, or reconstruct any sign.

A temporary permit is required to erect any tent or similar structure to be used for religious or commercial purposes, such as rallies, festivals or carnivals.

Building permits are not required for:

1. Curbs, planter boxes, retaining walls, and fences which are not more than 30&DEG in hieght.

2. Individual residential television and radio antennas excluding dish-type antennas.

3. Painting, cabinet work and floor covering.

4. Tool and storage sheds not exceeding 120 square feet as accessories to dwellings.

5. Repairs using similar or same materials for the purpose of maintenance and which are not more than $1,000 in valuation in any 12-month period, and do not affect any electrical or plumbing installations.

What's in:

>> Asian-Pacific fusion style
>> Laminate floorings such as Pergo and Presto
>> Bamboo wood flooring
>> Natural wood flooring
>> Vinyl decks
>> Sculpted glass front doors
>> Garden ponds and landscaping
>> Professional looking cookware and appliances
>> Ceramics and granite stone for counter tops
>> Custom concrete form counter tops
>> Microfibre fabrics
>> Color


What's out:

>> Anything that can be eaten by termites
>> Clutter
>> Animal print fabrics
>> Monochromatic interiors
>> Halogen lighting


Back to school

Home improvement seminars take place at a variety of locations all over Oahu. The classes are presented at hardware stores such as City Mill, Home Depot and Lowes.
In addition, professional organizations such as the Building Industry Association of Hawaii present home improvement seminars on a monthly basis.
For more information on association classes, locations and times, call the BIA at 847-4666 or check the web site at www.bia-hawaii.com/remodelor.html
The 24th annual Finance Factors Home and Garden Show takes place at the Neil Blaisdell Center June 13-17. A number of home improvement and design seminars will be take place during the show.
Topics include feng shui, universal design and accessibility, the power of color, color trends and how to plan spaces to create a better environment. For more information about the Home and Garden show's upcoming design seminars, contact Joett Colgan at 528-4428.


---




Star-Bulletin staff






E-mail to Business Editor
---
---
© 2001 Honolulu Star-Bulletin
http://archives.starbulletin.com