CLICK TO SUPPORT OUR SPONSORS

---

---
Sunday, May 27, 2001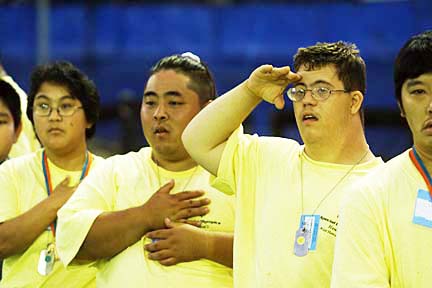 GEORGE F. LEE / STAR-BULLETIN
From left, Special Olympians Chelsea Tamashiro,
Jason Nagatori and Adrian Cleintuar pay respect
to the flag during the opening ceremonies for the
Special Olympics on Friday night at Rainbow Stadium.
The Olympics ends today.
---
Special Olympian
strives for gold
while building
self-confidence


Myran Tateyama is one
of 800 athletes in this
year's Olympics

---

By Lisa Asato
Star-Bulletin

When he was 5 years old, Myran Tateyama had a stroke that paralyzed the left side of his body and caused brain damage. His parents were told he would never walk or cross a street by himself again.

His mom, Naomi, remembers when he couldn't even pedal a Hot Wheels bike. "Every day he practiced, practiced, and he got it," she said. "He couldn't even walk."

Yesterday, Tateyama, 25, was one of about 800 athletes competing in this weekend's Special Olympics Hawaii 33rd annual summer games. Competing with the Terminators from Central Oahu, Tateyama threw for 7th place in the shot put and ran for 4th place in the 100-meter dash.

"I'm trying to win gold," he said.

His father, Ray, said his son's muscles function at about 80 percent on the right side of his body and 20 percent on the left. And although he may not be the most graceful athlete, he compensates and is an exceptional bowler, Ray said.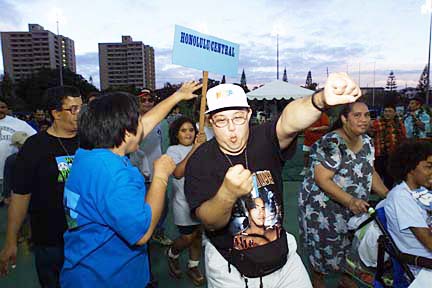 GEORGE F. LEE / STAR-BULLETIN
Special Olympian Eddie Schutte pumps his fist as he and
his delegation arrive on the field at Rainbow Stadium on
Friday night for opening ceremonies.
---
"He (bowled) two 200 games in the winter games," he said. "That's amazing."

Team coach Mike Wagner said Special Olympics doesn't just teach the athletes about sports, but rather "all of life." It has helped build Tateyama's self-confidence, he said, adding that on Friday night, the normally reticent Tateyama shared the stage with Tiny Tadani at Rainbow Stadium, where both emceed the games' opening ceremonies.

As for winning a gold medal this weekend, Tateyama will have another chance at the Kaiser High School track today when he competes in the standing long jump.

But even if the gold eludes him, it seems he has his share of them at home.

"I've been in Special Olympics since high school," he said, "Too many gold medals (to count)."
E-mail to City Desk
---
---
© 2001 Honolulu Star-Bulletin
http://archives.starbulletin.com