CLICK TO SUPPORT OUR SPONSORS

---

---
Friday, May 25, 2001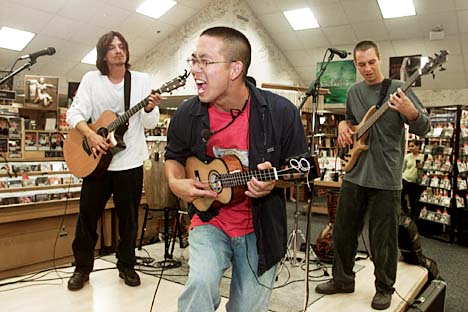 DENNIS ODA / STAR-BULLETIN
From left, Colón's Guy Cruz, Jake Shimabukuro and
Andrew McCellan jam at Border's. Lopaka Colón is at the
drums, hidden behind Jake.
---
Local musicians
shy from spotlight

---

By Gary C.W. Chun
Star-Bulletin

When you're as popular as Colón and Robi Kahakalau are, there are times when the local music business is part of their "busyness."

Like right now. They'll both be featured performers at not only this year's Makaha Bash on Sunday and the Hoku Awards ceremony next Tuesday, but will be spotlighted at the popular Na Mele O Hawai'i series at the Academy Theatre tomorrow night.

The twice-nominated Colón and Kahakalau, with her four Hoku nominations, while never left waiting for long between gigs, both she and Colón's Guy Cruz hope to take it down a bit and enjoy playing the music they like best, apart from their much-in-demand hits.




Colón and Robi Kahakalau

Where: Honolulu Academy of Arts Theatre
When: 7:30 p.m. tomorrow
Admission: $15
Call: 532-8768
Also: Performances at the Makaha Bash Y2K1 Sunday at the Waikiki Shell, starting at 5 p.m., tickets $13 and $20, call 526-4400; and the Na Hoku Hanohano Awards ceremony next Tuesday at the Hawai'i Ballroom of the Sheraton Waikiki hotel, starting at 6 p.m. Tickets are $95 (includes dinner). Call 235-9424.




"How many people I play with depends on the size of the concert," said Kahakalau in a brief sit-down interview last week. "I can go small, medium and large! For the Academy concert, I'm going to go with a trio (with Kimo Bell and Jeff Rasmussen) -- no seven-piece band! -- and keep it in an 'unplugged' feel."

Cruz said: "We'll do something different. We can do a lot of songs on the spot -- it's like if I get a wild hair in me while playing and turn to the other guys and give the 'follow me' signal! We've done that at other shows."

Both Cruz and Kahakalau have worked with each other before. "She came in to do background vocals on my solo album 'Judgment Time,'" Cruz said. "She's a beautiful person and singer."

While Colón and Kahakalau have had their fill of hits, they've learned that it's no use writing songs for the public before themselves.

"The best advice I ever heard," Kahakalau said, "was when I was still taking classes at UH, and someone asked 'Moon' Kauakahi (of the Makaha Sons) if he ever wrote anything with the intention of winning a Hoku. He replied that he doesn't ever write with that in mind. If the award comes along later, it should be thought of as a gift and a credit to your songwriting. If you write with the intention of getting an award, something will go wrong along the way and the result won't even be a good song.

"It's great to get a Hoku," she said, "but should you discover that's all you want out of music, you should give up. Because all you really need to believe is your ability to play your music -- life goes on and awards come and go."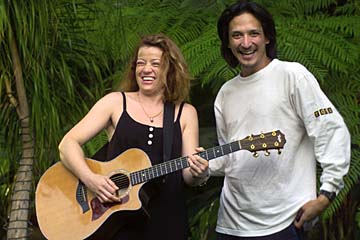 DENNIS ODA / STAR-BULLETIN
Robi Kahakalau and Guy Cruz got together to talk
about their gigs, the latter with Colón.
---
Both Kahakalau and Cruz find it trying at times to deal with the other distractions that come with being professional musicians, especially in-demand ones like they are. "For me, I play because I love to play," Cruz quietly stated. "The whole business side, it can be so uncaring, but I'm fortunate to do what I'm doing now. And that took me a long time to realize."

This coming from the youngest of the talented Cruz brothers, preceded by brothers Ernie (Ka'au Crater Boys) and John. After the breakup of Pure Heart, Lopaka Colón and Jake Shimabukuro brought Cruz and bassist Andrew McClellan in to form Colón, which released the best-selling "The Groove Machine" on CD.

And even with the appreciative reception of Kahakalau's Hoku-nominated album "All I Want," she said that "at times, with all the changes in format on local radio, sometimes I feel that the kind of Hawaiian music I play isn't being exposed enough, let alone to listeners of my age. I feel I shouldn't be in competition with other local artists on the radio."

But Kahakalau is content to keep playing her music. Her audiences include California, Las Vegas, even Tahiti. She also helps her sister Ku with her charter school in Waimea, Kanu O Ka'ana, comprising about 150 students from kindergarten to 12th grade.

Tomorrow, Cruz and the boys plan to play several songs from Colón's new album and hits from the Pure Heart days. And "whenever possible," Cruz said he's working on another solo project, already laying down tracks for nine songs. "It's going to be different -- straight-ahead rock 'n roll!"





Click for online
calendars and events.
E-mail to Features Editor
---
---
© 2001 Honolulu Star-Bulletin
http://archives.starbulletin.com