CLICK TO SUPPORT OUR SPONSORS

---

---
Friday, May 25, 2001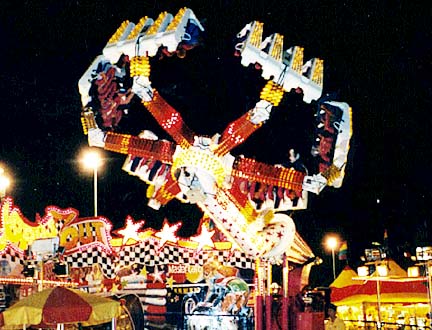 Bored by the usual rides? Maybe the Spin Out!
will be more your speed.
---
Take a Spin!
at State Fair


This 50th year features
ice glides, high dives and
wild rides

---

Star-Bulletin staff




50th State Fair

Where: Aloha Stadium
When: Opens today; hours will be 6 p.m. to midnight weekdays and noon to midnight on weekends and holidays through June 17
Admission: $3 for adults; $2 for children 4 to 11; free for ages 3 and under
Call: 682-5767
Discounts: Pepsi Days are June 3, 10 & 17 when admission from noon to 6 p.m. is 50 cents with an empty Pepsi can. Most rides will be two coupons each. Wristband days are noon to 6 p.m. or 6:30 p.m. to midnight May 28, June 2, 9, 11, 16. Wristbands are $15 flat rate for unlimited rides.




Today is opening day at the State Fair, once again taking place at Aloha Stadium.

There will be rides, games and food booths as usual. As for what's new at the event that lures 200,000 annually, here are some of the highlights:

>> "Celebration on Ice" Show: About 6,000 pounds of ice will be needed when world-class athletes hit the rink for displays of dance and athleticism. Four-time gold medallist Craig Heath and former "Disney on Ice" skater Larissa Zamotina will be the principal skaters in the show. Best of all, anyone can see the show with paid admission to the State Fair. That sure beats a $20 to $30 ticket when other ice shows come to town.

Show times are at 7:30 and 10 p.m. Fridays and 2:30, 4:30, 7:30 and 10 p.m. Saturdays, Sundays and holidays.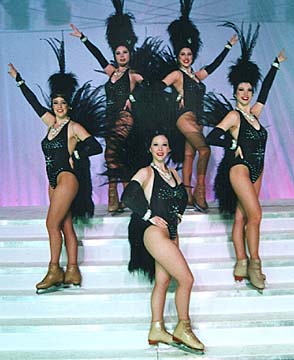 Dancers and athletes will stage a show on 6,000 pounds of ice.
---
>> Acapulco High Dive Thrill Show: The amazing Human Torch Fire Diver will somersault and tumble in the air while providing a little comedy to musical accompaniment. Show times are 6:30, 9:30 and 11 p.m. Fridays and 1:30, 3:30, 6:30 and 9:30 p.m. Saturdays, Sundays and holidays.

>> Spin Out!: Hawaii's newest fair ride is one thrill-seekers shouldn't miss. E.K. Fernandez, they who rule the fair world, promise a stomach-turning, adrenaline-rushing experience with four "cyclical actions" as the base and sweeps rotate and the arm lifts and rotates. Getting dizzy?





Click for online
calendars and events.
E-mail to Features Editor
---
---
© 2001 Honolulu Star-Bulletin
http://archives.starbulletin.com