CLICK TO SUPPORT OUR SPONSORS

---

---
Friday, May 25, 2001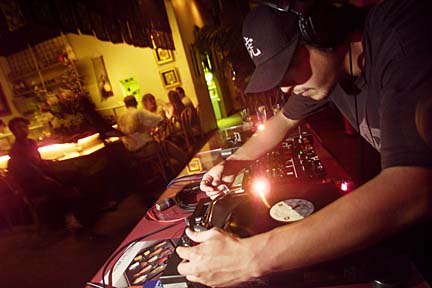 KEN IGE / STAR-BULLETIN
DJ Mr. Brown, or Chris Asuncion, puts his own spin on the
evening at Sushi Lounge at Sansei.
---
Thursdays on
a roll at Sansei


A sophisticated crowd is drawn
by a menu of innovative sounds
and creative sushi

---


By Shawn 'Speedy' Lopes
Star-Bulletin

It took Komo Low a month to realize Honolulu was where he was meant to make his mark. After a brief stay in Los Angeles three years ago as an aspiring nightclub promoter, he knew his entrepreneurial talents would be best served here at home. "I needed to go and see if I could live there, and I couldn't," he conceded during one of his weekly shindigs last Thursday at Sansei Seafood Restaurant & Sushi Bar in Restaurant Row. "I'm a local boy at heart. In L.A. people are just ... different."

He did learn much about people, opportunity and initiative during his time there, and as the promoter and conceptualist behind Sansei's most popular draw, he has seen his patronage grow exponentially over five months.




SUSHI LOUNGE

Where: Sansei Restaurant & Sushi Bar, Restaurant Row, 500 Ala Moana
When: 10 p.m. to 2 a.m. Thursdays
Cover: $5
Call: 754-6964




"To get people interested, a lot of promoters try to make (their events) like L.A. or San Francisco, but Hawaii people are already hip in their own way," he says, "in some ways even more so than people from those places, because Hawaii is the ultimate melting pot." He motions to the sushi bar and dining area where many young, cosmopolitan and, judging by the knack with which they order sushi, undoubtedly local 20-somethings have settled.

"Have you eaten here?" he asks. "Check it out. The food is amazing."

Sansei's menu has particular appeal with those like myself, whose knowledge of the exalted rice roll ends with maki and cone sushi from the neighborhood okazuya. I'd never had anything funkier than a California roll, and the Sansei Special Roll "with spicy crab, cilantro, fresh cucumber and avocado dusted with furikake accompanied with sweet Thai chili sauce" sounded promising. Of course, at $7.95 it ought to. "But it's half off sushi after 10 most nights," Low reminds me.

Kevin Sanada, one of the evening's six deejays, joins the conversation. "You know what else is good?" he asks. "The Rock Shrimp Dynamite!" The dish is made with a creamy masago aioli, and although I may never know my masago from my aioli, I will concur it is quite tasty.

Of course, the food -- served until closing time at 2 a.m. -- is only one of several attractions here. In an adjoining room almost large enough to be its own nightclub, the energy is elevated by the relentless thumping of hip hop, house and rare grooves by deejays Tim Borsch, Gary O and Denovo. Just down the hall, pressed up against a window overlooking Ala Moana, Sanada, Mr. Brown and Andreas serve up a quieter mix of down-tempo, abstract platters.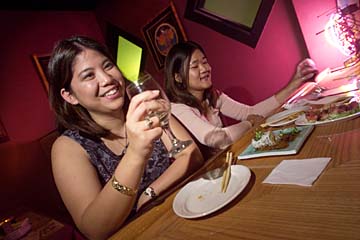 KEN IGE / STAR-BULLETIN
Leslie Noguchi, left, and Dawna Cheng enjoy wine,
sushi and downtempo grooves.
---
Sanada has had to juggle school, a job and a full slate of deejay gigs, a sure sign his name is getting around. "I'm not good enough to have a deejay name," he says modestly when asked about his full handle being printed on the newest batch of Sansei fliers. Judging by his flawless mixing, however, I would have to disagree. The reluctant deejay has obviously been ready for a while.

Although he admits he has not bought new vinyl in years, Sanada's selections are so wonderfully obscure and fresh-sounding, no one ever seems to notice.

"What is that you're playing?" asks a young woman. "It's a Rae and Christian mix of Natalie Imbruglia," he answers, catching a look of disbelief. "No," she whispers, baffled that a passe pop song- stress could sound so cool. After all, Natalie Imbruglia's so ... 1998.

As the evening rolls along, groups of friends who came mainly for the late-night eats filter out, while those in search of a loungey alternative to the Ocean Club's ultra-jiggy College Night trickle in. By 1 a.m., Sansei has achieved that crucial balance between an enthusiastic crowd and premium breathing space. "You can always shoot for more people," Low explains, "but I didn't want to change this place into a nightclub. It was always important to me to keep the ambience of this place and just add good down-tempo grooves to what's already here."

In doing so, Low has secured a clientele other Honolulu nightspots would die to have: a hip, friendly bunch, approaching sophisticated but far from showy (I spotted only one cellular phone all night), well behaved and willing to part with a few bills. "You can already tell it's going to be a good summer," Sanada adds. "You start to see a lot of couples now, plus groups of friends who come to eat and drink, and more girls than I've seen before. That means the guys will start to follow soon. This summer's gonna go off."





Click for online
calendars and events.
E-mail to Features Editor
---
---
© 2001 Honolulu Star-Bulletin
http://archives.starbulletin.com