CLICK TO SUPPORT OUR SPONSORS

---
---




Newswatch
Police, Fire, Courts
By Star-Bulletin Staff
Wednesday, May 23, 2001
---
Kilauea eruption may be on hold

HILO >> The lava is still flowing, but the vent isn't glowing.

Those and other factors have Hawaiian Volcano Observatory scientists suspecting that Kilauea Volcano's east rift eruption is in a pause. The eruption had shown only minor variations for weeks when on Sunday instruments detected a "pulse" of magma rising from deep in the Earth and heading toward the east rift, said chief scientist Don Swanson.

But when the pulse got to the area of Puu Oo vent, instead of a bigger eruption, the eruption seemed to shut off.

No glow was seen inside the vent. No glow was seen on the flow field below the vent.

Lava continued to trickle into the ocean from an underground tube, but such drainage is normal when the lava supply is cut off.

Instruments showed modest amounts of magma still moving to the Puu Oo area. "It could be stored in (underground) pockets near the rift zone," Swanson said.

It looked like a pause, but nobody was sure. "The issue is still in doubt," Swanson said.

Maui boy finishes second in geography bee

An eighth grader from Maui finished second in the 2001 National Geographic Bee yesterday and received a $15,000 scholarship.

Nick Jachowski, 14, from Samuel Enoka Kalama Intermediate School on Maui finished behind winner Kyle Haddad-Fonda, a 14-year-old from Washington state.

The answer that gave Haddad-Fonda the victory: knowing what an ablation zone is. That's the lower level of a glacier where the ice is melting. Haddad-Fonda received a $25,000 scholarship check.

Fifty-five 10-to-15-year-olds competed.

Cayetanos to visit Ehime Maru hometown

To honor the victims of the sunken fishing vessel Ehime Maru, Gov. Ben Cayetano, first lady Vicky Cayetano and other Hawaii leaders will stop at the ship's hometown of Uwajima, Japan, next month.

Cayetano will lead a contingent of Hawaii leaders to Japan June 3-12 and will visit Uwajima on June 7, according to a spokeswoman for Cayetano.

The boat sank Feb. 9, nine miles off Diamond Head, after it was struck by the Navy submarine USS Greeneville. The governor's trip to Japan is part of an annual trip sponsored by the Hawaii Visitors and Convention Bureau.




Corrections and clarifications

The Honolulu Star-Bulletin strives to make its news report fair and accurate. If you have a question or comment about news coverage, call Publisher and Editor in Chief John Flanagan at 529-4748 or email him at jflanagan@starbulletin.com.








---




Police, Fire, Courts



By Star-Bulletin staff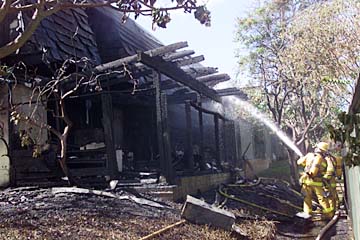 GEORGE F. LEE / STAR-BULLETIN Firefighters fought a blaze in Aiea yesterday afternoon.
---
Fire department returns to burned Aiea townhouse

Eight fire engine companies returned to an Aiea townhouse where a fire rekindled this morning.

The fire at 98-309 Ualo St. yesterday gutted Unit 7 in Building D and also damaged adjoining units 5 and 6. Damage was estimated at $160,000 to Unit 7, $25,000 to Unit 6 and $6,000 to two townhouses in a separate complex about 10 feet away.

Firefighters returned at 4:12 this morning to douse some smoldering in the roof area of the two-story, wooden structure.

A 55-year-old resident in Unit 7 was the only person home at the time the fire was reported yesterday at around 2:30 p.m. The man lives there with his wife and three adult daughters, who were not at home.

Firefighters brought the fire under control by 2:54 p.m. There were no injuries. Fire investigators said the fire started in the living room of Unit 7. They they have not determined the cause.

Keoni Hylton, 22, wanted in 2 bank robberies

Honolulu police are looking for a man who robbed a bank and a credit union on two different days. Police said Keoni Hylton robbed the Hawaii State Federal Credit Union on Kaonohi Street in Aiea on May 15 and then robbed the Waipahu Town Center branch of American Savings Bank on Monday.

Hylton, 22, is described as 5 feet 7 inches tall, 170 pounds, with a medium build, light brown hair, brown eyes and a last known address in Salt Lake. Anyone with information on this case is asked to call CrimeStoppers at 955-8300 or *Crime on a cellular phone.

Burglary suspect also suspected in sex assaults

WAILUKU >> A 31-year-old Wailuku man was charged in three sexual assaults and burglaries over the last two weeks.

Rodney S. Lanoza was arrested yesterday near Kamehamea Schools in Pukalani on suspicion of auto theft, police Lt. Glenn Cuomo said.

Cuomo said a woman in her 70s reported a rape at 8:20 a.m. at her home on Lepoko Street in Wailuku and personal items stolen from her. The woman was treated and released from Maui Memorial Medical Center.

Cuomo said that during a night burglary of a home in Spreckelsville on Friday and another in Kahului the previous week, a man fondled the women through their clothes.

He said the women were in their 40s and 50s. Cuomo said in all three incidents, the man was described as in his 20s and short to medium in height.

Officials investigating hemp farm theft

Honolulu police and state Narcotics Enforcement officers are investigating the theft of some plants and seeds from a lot where the University of Hawaii is conducting research on industrial hemp.

Investigators believe the fenced lot in Wahiawa was broken into over the weekend. Twenty kilograms of seeds and an undetermined number of plants were stolen.

Industrial hemp is the same plant species as marijuana but has a much lower drug content.

Debit card thief caught on bank's videotape

Do you recognize this man? This is the question being asked by Honolulu police in regards to an alleged debit card thief caught on film by bank surveillance cameras.

Police said that on Thursday, Feb. 22, a woman reported her wallet stolen while at 1314 S. King St. Police yesterday released photographs of a man they say attempted to get cash using the victim's stolen debit card.

The suspect is described as a male in his late 20s or early 30s, of medium height and build with long sideburns, neck-length hair and hairy forearms.

Those with information can call CrimeStoppers or Honolulu police.







E-mail to City Desk
---
---
© 2001 Honolulu Star-Bulletin
http://archives.starbulletin.com