---
Monday, April 30, 2001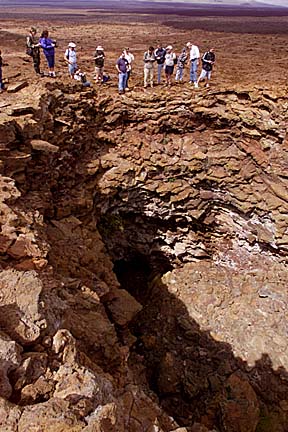 KEN IGE / STAR-BULLETIN
Visitors look at a collapsed lava tube at Puu Koli
at the base of Mauna Loa.
---



Remote Pohakuloa reveals
scientific treasures on
a barren landscape

By Gregg K. Kakesako
Star-Bulletin

POHAKULOA, Hawaii >> A tiny shrub thought for nearly half a century to be extinct has taken root in the rugged, isolated and near-alpine conditions of the area nestled in the saddle of two Big Island volcanoes -- Mauna Loa and Mauna Kea.

And the Army, which owns the 108,890-acre Pohakuloa Training Area, has been able to cultivate one vine of the Hawaiian schiedea in its greenhouse.

"Our hope is to out-plant it eventually," said Army botanist Steve Evans, "and increase the number in the wild."

Of the 31 birds, two mammals, 282 plants and 41 snails on the U.S. Endangered Species List that reside in Hawaii, the Army's Pohakuloa Training Area is the home of 11 species of endangered plants, eight birds, a mammal and a snail.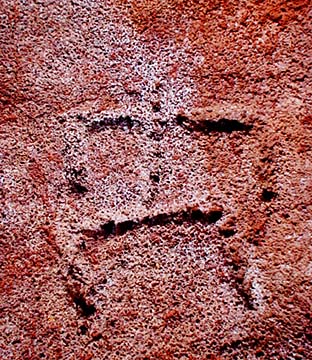 KEN IGE / STAR-BULLETIN
A petroglyph left near Puu Koli at the base of Mauna Loa.
---
The schiedea, which is in the same family as carnations, is considered endemic to Hawaii, said Lena Schnell, Pohakuloa natural resource specialist, meaning that it exists nowhere else in the world.

Until 1996, botanists thought the last known specimen had been destroyed during a fire in Germany during World War II. It had been taken there sometime before the war from Hawaii and was part of a collection in a German herbarium.

However, in 1996, during field work in the western section of the Army's training range, which the Army does not use, a specimen was discovered. Initially it was misidentified.

Later, seeds were sent to Arizona botanist Steve Weller, who was able to grow the plant and correctly identified it.

Deborah Scott, Pohakuloa natural resources assistant, said these rare Hawaii plants have a better chance of surviving here because "they are on a military reservation and have better protection."

During a recent tour of its greenhouse at the installation's base camp, visitors were shown several other endangered plants the Army has been cultivating.

Scott pointed to the Hawaiian prickle leaf, which is believed to be only one of 75 that exist in the islands. "This plant hasn't been seen in 80 years and was rediscovered in 1985."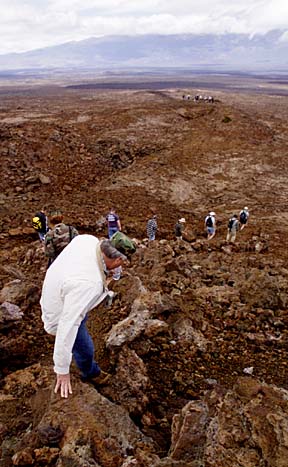 KEN IGE / STAR-BULLETIN
Visitors, at top, work their way down the edge of
Puu Koli at the base of Mauna Loa.
---
The Hawaiian prickle leaf bears small white flowers and tiny orange vegetables that look like tiny tomatoes. It leaves have tiny thorns.

"Our hope is to try to propagate them here in the greenhouse," Scott said, "and if they exist here, then try to return them to the outside."

The biggest threats to these plants, Scott said, are pigs, goats and other alien species.

Of the 100 civilians that support the Army's training base at Pohakuloa, eight are committed to the Army's resource management program. Owen said the eight scientists are contracted through the Research Corporation of the University of Hawaii.

Lt. Col. Dennis Owen, Pohakuloa commander, said he spends an average of $2 million to $3 million annually in the Army's program to maintain the area's natural, cultural and historical resources.

He notes that Pohakuloa has "the highest concentration of endangered species of any Army installation in the world."

There also are 150 archaeological sites.

Owen said the Army is "committed to a plan of balancing the training needs of PTA customers with the protection of rare plants and animals at PTA."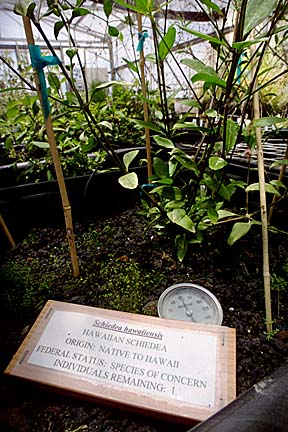 KEN IGE / STAR-BULLETIN
Nature makes a way in the harsh sub-alpine conditions,
above, as a fern peeks out of a puka in the crusty lava.
---
By customers, Owen was referring to 15,000 soldiers, Marines, airmen and women and National Guard and Army reservists that train at Pohakuloa annually.

The management of the area's rare and endangered plant species occurs on the west side, where very little training takes place.

Although the Army does permit hunters into the training range to help control the wild goat and sheep population, most of its vast training ranges are off limits to civilians.

But periodically, it does conduct walking tours of the puu, or cinder cones, that dot the training area.

Last week, Scott Henderson, field resources manager, took 30 people on a nearly three-hour walking tour of Puu Koli as part of an Earth Day celebration.

From the 7,362-foot summit, both Mauna Loa and Mauna Kea are readily visible, and even Haleakala on Maui can be seen through the clouds in the distance.

The puu lies on a minor rift zone of Mauna Loa and is believed to have erupted 5,000 to 10,000 years ago.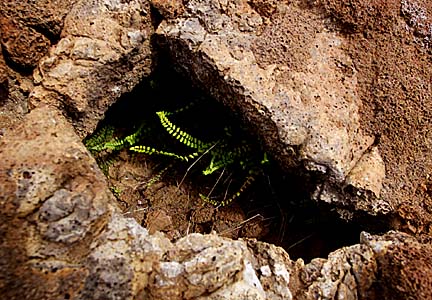 KEN IGE / STAR-BULLETIN
A one-of-a-kind Hawaiian schiedea at
the Pohakuloa Training Area.
---
Henderson said more than one-third of Pohakuloa's training ranges have been accurately mapped and historical, cultural and plant life marked using the global positioning system.

"More than 1,000 miscellaneous cultural sites have been found," Henderson. "The bulk of them are excavation pits."

Henderson said that it has been theorized that the rugged Pohakuloa plains were used by the ancient Hawaiians as their base camps where they rested between harvests of adz -- an almost glasslike high-grade rock that would be shaped into tools -- near the summit of the two volcanoes.

"There was both water and food here," Henderson said.

Henderson said Pohakuloa used to be the nesting place of flightless seabirds that grew to the size of geese. "These birds were good sources of protein," Henderson said.

Lava tubes and caves served as shelter from the cold and the bitter wind. There the Hawaiians would gather water and condensation that dripped off the walls and would cook the birds. Gourds used to gather dripping water have been found in these caves.

"The stones would be heated and then put into the stomach cavities of the birds. These caves are full of bird bones which have been cut."

The excavation pits were dug to catch water, plant things like sweet potatoes or even to lure birds.

These pits have been discovered on older pahoehoe lava flows and appear to have been created when ancient Hawaiians broke open the tops and the sides of lava blisters to create depressions, Henderson said.

The pits enhanced the habitats for ground-nesting birds and helped in the capture of the birds and their eggs.

Although Pohakuloa only averages 15 inches of rain a year, ferns can be found growing in these caves, surviving in areas where water continually drips.

After the leisure hike, Marni Herkes, who works for the Kona-Kohala Chamber of Commerce, said, "It's wonderful what the Army is doing by putting environmental people on the land to protect it."

Big Island Councilman Gary Safarik said government officials could learn from the Army.

"In my district in Puna, there are many burial and historical sites," Safarik said. "What the Army has done is a model of what we need to do on the state and local level."




Pohakuloa Training Area

Elevation: Ranges from 4,030 to 8,650 feet
Temperature: 60 to 50 degrees
Annual rainfall: 4 to 16 inches
Established: 1956
Size: 108,975 acres
Work force: 26 military, 100 civilians
Economic impact: $14 million annually



E-mail to City Desk
---
---
© 2001 Honolulu Star-Bulletin
http://archives.starbulletin.com