---
Wednesday, April 25, 2001
[ TEACHER STRIKE ]

---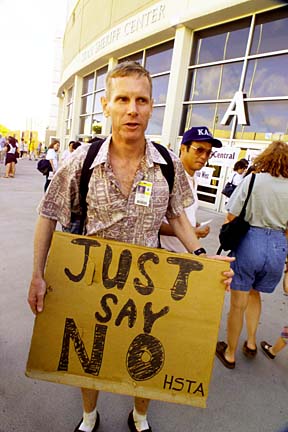 BY DENNIS ODA, STAR-BULLETIN
As teachers cast ballots at the Stan Sheriff Center yesterday,
Waipahu High School teacher Dennis Hansen held a sign
expressing his unhappiness with the retroactive pay scales.
---
Parents, students
eager for school
bells to ring


But the shorter year will
cancel some activities
and events

---

By Treena Shapiro
Star-Bulletin

ANNE HIGGINS will be relieved when her children return to school tomorrow.

The stay-at-home mom's oldest child is in private school. Her youngest is in day care. But the three in the middle have been at home with her since the public school teachers went on strike April 5.

"Hallelujah," she crowed yesterday, hours after the Hawaii State Teachers Association and the state announced that the 19-day strike had ended.

Her only worry is that students might have lost valuable class time, but her children have been continuing their learning at home, partially due to assignments sent home by their Koko Head Elementary School teachers.

Although their friends got to go to the beach, Higgins explained to her kids that "learning doesn't stop just because school stopped."

John Friedman, president of the Hawaii State Parent Teacher Association, said parents will probably have to take a more active role in their children's education during the final weeks of the school year.

"I know that parents and teachers alike will need to work diligently in order to make up as much of the lost material as possible," he said. "Whether or not all of the material can be covered or not is certainly in question."

The state Department of Education has opted to compress 44 school days into 30 instead of extending the school year. As a result, many extracurricular activities will be canceled, including most field trips, athletic competitions that result in missed classes and perhaps even assemblies, according to Greg Knudsen, Department of Education spokesman.

This will not make up for all the class time missed, however, so teachers will use the first five days back in the classroom to re-examine their curricula and pare them down to the essentials. "It will take some choices and a focus on those things that are the most critical," Knudsen said.

Among the activities lost due to the strike are the annual standards-based tests given to students in grades 3, 5, 8 and 10. In addition to the traditional Stanford Achievement Test used to rank Hawaii schools nationally, this year students were to have taken a new battery of tests to see how well they have received instruction based on the Hawaii content and performance standards.

This first year of tests was to have served as a baseline in the statewide standards-based reform, but after the strike extended past the second week, the tests' integrity was compromised, Knudsen said. "That was definitely a casualty of the strike."

But while the tests play a central role in the standards-based reform, the Department of Education will not be set back a year. "We'll have to work around it," Knudsen said, possibly by using year-old data.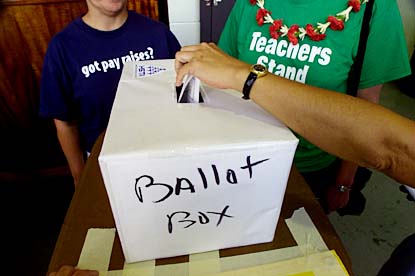 BY DENNIS ODA, STAR-BULLETIN
Teachers cast their ballots yesterday at Stan Sheriff
Center on the UH-Manoa campus.
---
Winston Sakurai, a Board of Education member who took part in the contract negotiations, said one of the gains in the new contract was accountability for teachers, who previously got incremental wage increases by collective bargaining, rather than assessment.

Under the new contract, teachers will have to receive a satisfactory rating on evaluations by their school principals to move up a step on the wage ladder. Marginal and probationary teachers will receive peer mentoring if they receive unsatisfactory ratings, giving them an opportunity to raise their teaching "to a level or standard that is satisfactory to us."

Another school board member, Denise Matsumoto, is already looking ahead to the next round of bargaining, which will begin in a few months. "This is a good beginning and I look forward to the next round where we continue the progress that we made," she said.

For now, "I'm sure the kids are excited about getting back into the classroom," she said.

Care givers will be happy to see the schools reopened as well.

Irene Nagata has been caring for her grandson Casey Arakaki, 8, a second-grader at Waimalu Elementary, and her granddaughters Maya Nagata, 8, and Kayla, 5, who are in the second grade and kindergarten at Holomua Elementary in Ewa Beach.

Nagata said that three times a week during the strike, she took her grandchildren to her physical therapy sessions. "It's rough. But it's something we gotta do, so we do it."

Michael Choe, 8, who has spent much of his time away from Wilson Elementary School in music and technology classes or at the library, said he is looking forward to resuming art and computer classes at school.

Freshman Jason Kaawa, 14, is not as sure he is happy to be returning to McKinley High School. "It's bad because I had fun over the break, but it's good so we can learn," he said yesterday while playing pool at Sheridan Community Park.

Kaawa said he had been spending time at the beach, shopping and hanging out with his friends, but he has also kept up with his school work and is not worried about catching up when he returns to school.

As for losing field trips and other extracurricular activities, he said it does not matter. "We don't have much field trips in our school," he said. "We don't go nowhere."

---

Star-Bulletin reporter Nelson Daranciang contributed to this report.

---



E-mail to City Desk
---
---
© 2001 Honolulu Star-Bulletin
http://archives.starbulletin.com