---
Sunday, April 22, 2001




[ LIKE TRY? ]

---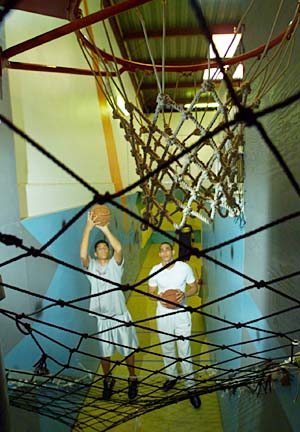 FL MORRIS / STAR-BULLETIN
Clifton Jones, right, and Ikaika Alama-Francis shot on a
Spin-Rim basket at The Hoopzone in Kaneohe last week.
---
Refining the art
of shooting

---

By Brandon Lee
Star-Bulletin

EVERYONE THAT PLAYS basketball, myself included, wants to be like Mike. Problem is, nearly all of us fall drastically short of imitating Michael Jordan, even once in a while.

How many of you have been alone at an outdoor court or gym, back to the basket, tongue hanging out a la his Airness, pretending to back your invisible opponent toward the hoop?

But then, when suddenly you give a shoulder fake, fade away and try to shoot his patented turn-around jumper, the ball doesn't even hit the rim and you go chasing after it glad no one else was around to see.

Maybe I have, once or twice.

Now, however, through the simple genius of local inventor Kawika Crowley, us Jordan wannabes can work on improving the turn-around or any other shot without the embarrassment and fatigue of having to shag our misses.




GETTING STARTED

THE HOOPZONE

Where: 46-026 Alaloa St., Bay I, in Kaneohe.
Cost: Lane rental is $5 per half hour with discounts for team players and family units.
Phone: 235-2500. Calling first for reservations is recommended.




Crowley's patent-pending invention is called the Spin-Rim and it can be found at the facility he co-owns, The Hoopzone (formerly the Shootout) in Kaneohe.

Everyone from serious players to beginners can benefit from the Spin-Rim technology. It basically involves a narrow shooting lane approximately the width of a bowling lane, with three walls surrounding a regulation-height basket. Tightly strung netting rests under the basket to spring the ball quickly back to the shooter after every shot. The basket is attached to a pole with a large swivel at the base, allowing the shooter to change the angle of the rim and shoot a different shot from the same standing position.

"I like to compare it to a baseball batting cage," Crowley said. "This will revolutionize the sport, but it will take a while to catch on."

The Spin-Rim is simple in concept, yes, but not in effect, according to Crowley. The rotating rim allows an individual to practice all the different shots in a small, enclosed space. And because the netting allows for rapid-fire shooting without having to chase down the ball or have someone else feed it to you, one can improve his or her shot quicker than in a traditional setting and still get a great workout at the same time.

"This is a health and fitness center starring basketball," said Crowley, whose clientele ranges from under 10 years old to over 60.

Trust him and me. I play pick-up ball about three times a week in my effort to be more like Mike, and I had a good sweat going after only fifteen minutes. The key is to be ready to shoot as soon as you get the ball back.

You can trust serious basketball players like professional hoopster Clifton Jones and Kalaheo High School's 2001 boys state championship team member Ikaika Alama-Francis. Both are regular visitors to Hoopzone.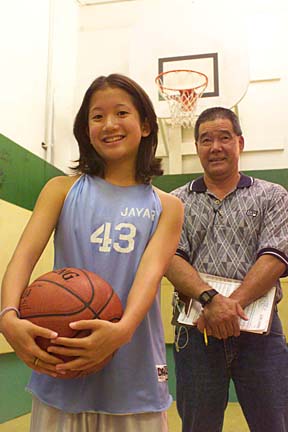 FL MORRIS / STAR-BULLETIN
Megan Akamine and her dad, Roy, are regular visitors
to The Hoopzone in Kaneohe.
---
Or you can believe the not-so serious -- at least yet -- like father and daughter Roy and Megan Akamine or mother and son Aileen Ogimachi and E.J. Arquero. They frequent the facility whenever possible.

Even Castle High's girls' junior varsity coaches John Laimana and Miles Yasuda support it by bringing their team in regularly (before the teachers' strike).

"It's a good opportunity to work on your own individual game," said Jones, the former Kahuku High standout who now plays professionally in Finland. Jones has been using the Spin-Rim at The Hoopzone since he finished his season and returned home late last month.

"You can just keep on shooting, as many shots as you want to get up and the ball keeps coming right back to you -- that's the advantage," he said. "And since the rim rotates, you can practice any shot you want."

Arquero is a fifth grader at Puohala Elementary in the middle of a once-a-week, four-week shooting course that Crowley teaches, though his mother says he's at the Hoopzone almost every day.

Megan Akamine is a seventh grader at Punahou who is hopeful of playing for the Buffanblu intermediate girls team next year. She, her father and sometimes her mother make the long trip from town together at least once a week.

"Before (coming to Hoopzone), I couldn't reach the basket on 3-point shots, but at least now I can make a few in a row," Megan said.

While not all local coaches have embraced the Spin-Rim technology, Laimana and Yasuda, as well as Kalaheo High coach Chico Furtado, encourage their players to visit the facility.

"When you go to the park, especially if you're learning, it can be frustrating because you're going to be missing most of your shots," Laimana said. "When you come here, you figure (shooting) out real fast because you're only doing the technique of shooting and you don't have to chase that ball. Usually, chasing the ball distracts you and you get tired. All of a sudden you're shooting different."

A stationary rim with a small space is also available for 1-on-1, 2-on-2 or 3-on-3 games.

As a courtesy to parents and students affected by the public school teachers' strike, the facility is open free of charge to students from 9 a.m.-9 p.m. for the duration of the strike.
E-mail to Sports Editor
---
---
© 2001 Honolulu Star-Bulletin
http://archives.starbulletin.com