---
Sunday, April 22, 2001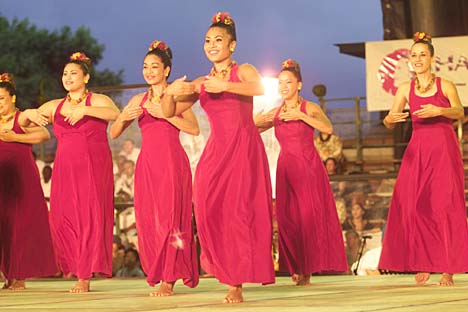 DENNIS ODA / STAR-BULLETIN
The ladies of Halau I Ka Wekiu, under kumu hula Karl
Veto Baker and Michael Casupang of Honolulu, perform
during the 'auana, or modern dance, portion of the Merrie
Monarch competition last night in Hilo.
---
Dancers share
love of Hawaii
in sold-out nights
of hula competition


Excitement and wonder
overcome nerves for halau
during fest's final night

---

By Tim Ryan
Star-Bulletin

HILO >> The second sold-out crowd began arriving early under cloudy skies but no rain at the Edith Kanakaole Tennis Stadium some 90 minutes before the first dancers would take the stage for the final night of the Merrie Monarch Festival.

A festival crew member with a cordless screwdriver spent 30 minutes checking more than a thousand screws in the plywood flooring to make sure the barefoot dancers wouldn't cut their feet.

Halau began rehearsing at the stadium soon after 5 a.m. for the hula 'auana, or modern hula, competition last night. Dancers in hula attire were chilled by a stiff breeze and occasional heavy rain in the predawn rehearsal.

As competition time approached, dancers in the various meeting rooms surrounding the rustic stadium completed costume preparations, ironed dresses, straightened out ti-leaf skirts, touched up makeup, or prayed with their halau.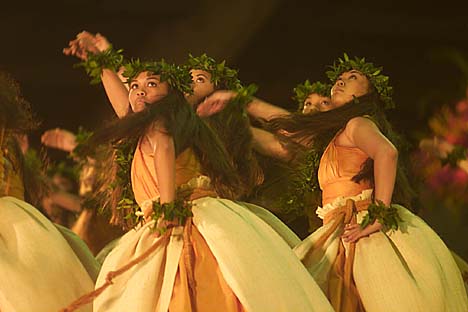 DENNIS ODA / STAR-BULLETIN
The women of Halau Hula O Hokulani, coached by
Hokulani De Rego of Central Oahu, perform during
Friday night's kahiko hula competition.
---
Hannah Shimasaki, a member of the General Assembly Church of the First Born and a friend of Johnny Lum Ho's halau, told the members to "focus on Jesus, not the judges or the audience."

"You folks have power ... make it work again tonight," she said.

Unanimously, the dancers and kumu agreed that the festival -- despite the presence of seven judges and the prizes given -- is not about competition but sharing.

Lani Fernandez, 37, a Honolulu mortgage industry worker, has been in Halau I Ka Wekiu for the three years the group has been in existence. This is the halau's first Merrie Monarch.

"Last night (Friday) it was nervousness, tonight it's all excitement," she said, waiting in line with halau members to have her makeup touched up. "We are more relaxed and comfortable with the stage and surroundings and the feeling here."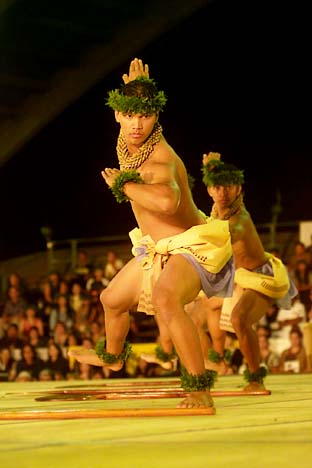 DENNIS ODA / STAR-BULLETIN
Men from Halau Hula O Kawailiula, instructed by
Chinky Mahoe of Kailua, intensely concentrate
during Friday night's kahiko portion of the
Merrie Monarch competition.
---
Fernandez said the halau has always been close-knit, but coming to the festival has brought "me so much closer to my sisters. We feel so united."

"I know it sounds corny, but this is such a wonderful bonding experience," Fernandez said. "We're smiling all night, no matter what happens."

Sister halau member Bianca Leitel, 23, said just being invited with the other 28 hula groups is a "great accomplishment and compliment."

"We want to make our kumus proud," said Leitell, who joined the halau in October. "The support from the Hilo community has been incredible.

"I was so overcome with emotion when we finished on stage last night, that we were here, that we were a part of something so wonderful, I had to hold myself back from crying.

"Merrie Monarch is about sharing with each other, other halau, the audience, judges and people watching us on television. It is about Hawaii and what it means to be Hawaiian, to embrace your culture and share that with others."

In Friday night's kahiko or ancient hula competition, Oahu halau finished in the top three spots in men's dancing.

Hula 'O Kawailiula, under the direction of kumu hula Chinky Mahoe, won the kane or male kahiko with 571 points, edging out Halau O Na Pua Kukui and kumu Ed Collier with 567 points. Third place went to Ka Pa Hula O Kamehameha and kumu Holoua Stender.

Stender's halau also took third in the wahine kahiko competition, which was won by Hula Halau O Kamuela and kumu Paleka Leina'ala Mattos and Kunewa Mook of Oahu, followed by Na Hula 'O Kaohikukapulani and kumu Kapu Kinimaka-Alquiz from Kauai.
E-mail to City Desk
---
---
© 2001 Honolulu Star-Bulletin
http://archives.starbulletin.com