---
Saturday, April 21, 2001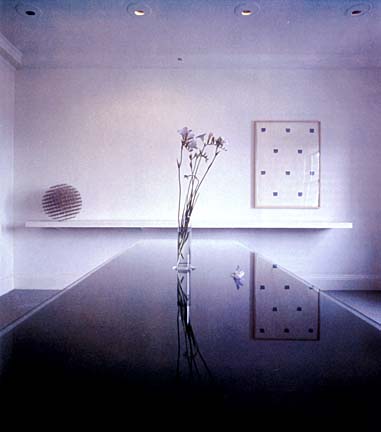 MICHAEL COLGAN
A balance of light (white wall) and dark (black polished table top) make
for a Zen-like dining room. This room has more ying than yang.
---
Designing harmony


Feng shui uses simple ideas to
design homes with balance

---

By Suzanne Tswei
Star-Bulletin

THE DRUNKEN DRIVER who almost plowed through Michael Colgan's living room the night before Thanksgiving in 1993 may have been his wake-up call.

The Honolulu interior designer has since turned his attention to feng shui, the Chinese practice of designing one's environment for balance and harmony, and thereby good fortune. Now that he understands the principles of feng shui, Colgan believes the catastrophic accident more than seven years ago was inevitable.

"I lived in a house that was not inauspicious, on a site that was not inauspicious. So things were good, but the trouble was, I was living in a cul-de-sac," Colgan said.

Cul-de-sacs are as inauspicious, or unlucky, as can be. "Chi," or life energy, can pick up speed in a dead-end configuration and become a negative force, shooting forward like a poison arrow.

"In retrospect, I should have seen it coming," Colgan said. There was no place for an out-of-control car to go except straight toward his home at the end of the cul-de-sac.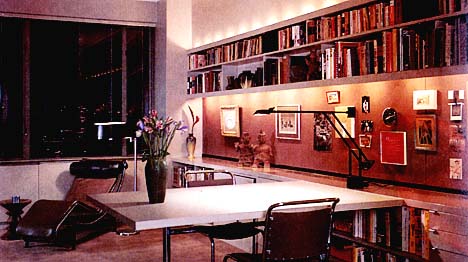 MICHAEL COLGAN
A warm and inviting sitting room that doubles as an eating and working
area. The books are considered soft elements in feng shui and balance
the metal chairs, which are hard elements. The interplay of lighting
and warm brown color of the wood paneling creates good feng shui
---
"The only thing that saved us was a small rock wall in front," he said. "Otherwise, the car could have gone through the garage and then the living room and taken out the whole family," Colgan said. (The driver wasn't seriously hurt, but his car was destroyed.)

It's a classic example of feng shui at work -- an inauspicious situation, which is a home in a cul-de-sac -- resolved with a simple solution, a small rock wall to break the poison arrow.

"That's the good thing about feng shui: There's a remedy for everything," said Colgan, who is assistant professor at the Hawaii College of Design.

But he isn't interested in the remedy aspects, which involve using mirrors, crystal balls, wind chimes and other devices. Nor is he a practitioner of feng shui. He's interested in the intellectual dissecting of the ancient Chinese practice, discovering the scientific basis for the practice.

"You have to remember feng shui, which has several different schools of thought, is 5,000 years old. That means it's based on 5,000 years of observations, and what is science anyway? Science is based on observations," Colgan said.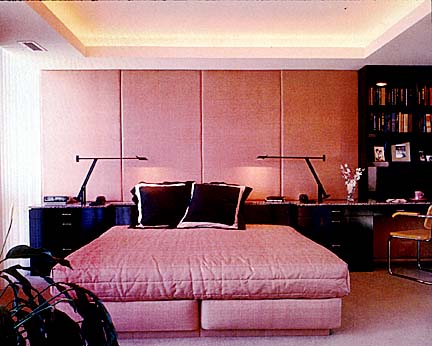 MICHAEL COLGAN
A comfortable and elegant bedroom. Black is not a desirable color
in feng shui but the rich rose color used for the upholstered
wall and pillows off set the black.
---
Colgan is studying feng shui with the help of a former student who went on a recent study tour in China in an effort to become a better designer. He plans to offer "Introduction to Feng Shui" talks to the public to promote understanding of good design and to raise money for the American Association of Interior Designers, but no dates are set yet. Call 595-8071 for information.

FENG SHUI has become a trendy practice, Colgan said, because of the mystical associations and easy-to-understand solutions to life's problems, which also give the practice a superstitious and less respectable reputation.

"But if you look at the principles behind feng shui, you'll see that it is based on common sense -- common sense that comes from thousands of years of observations, common sense that works," Colgan said.

For example, in the Land School of Feng Shui, four allegorical animals are used to explain the selection of an ideal home site: a black turtle or tortoise in the north, a red phoenix in the south, a green dragon in the east and a white tiger in the west.

The black turtle symbolizes a rounded hill, which is good for protecting the home from the cold north winds. The round shape of the hill signifies that it is settled and solid, not prone to landslides, Colgan said.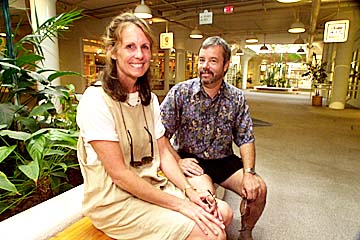 DENNIS ODA / STAR-BULLETIN
Becca Dailey, left, and Michael Colgan sit in the hallway
of the Gentry Pacific Design Center. They use feng shui
as a design influence.
---
The red phoenix symbolizes a low hill, which is equated to a footstool, signifying a life of comfort, ease and wealth. Again, the small hill offers protection and is indicative of stable land.

Colgan hasn't figured out the science behind the green dragon and the white tiger. The Chinese practice says the dragon is good as it breathes chi, bringing positive energy. The white tiger should not be disturbed.

The four animals, as well as other feng shui do's and don'ts, are the tools to help people achieve balance in their lives, Colgan said. Balance means having a healthy mix of the yin and the yang.

"If you have balance in your life, then you will be happy. Feng shui is all about being happy," Colgan said.

Feng shui is also about making compromises, which is a mainstay in the work of an interior designer, Colgan said.

A husband and a wife may have conflicting auspicious directions and ruling elements, which are determined through elaborate mathematical formulas and a south-pointing compass in the Compass School of Feng shui.

For the marriage to be happy, the couple needs some give and take. The wife may have to defer to her husband by giving up an auspicious closet or her choice for the kitchen countertop.

"Now, compromises, that is a Western concept as much as it is a Chinese concept," Colgan said. "It works."





Click for online
calendars and events.
E-mail to Features Editor
---
---
© 2001 Honolulu Star-Bulletin
http://archives.starbulletin.com