---
Sunday, April 15, 2001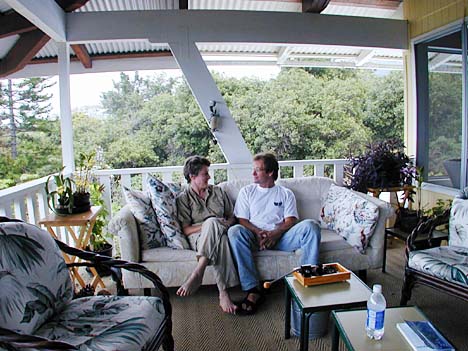 CRAIG T. KOJIMA / STAR-BULLETIN
Roger and Connie Dilts own A Place of Refuge, a couple miles
from Kealakekua Bay in South Kona. Roger offers kayak tours
of the bay to activity-inclined guests.
---



Big Island families are harvesting
tourist dollars to make
ends meet

---


By Lyn Danninger

Star-Bulletin

For families like the Shriners and the Dilts, taking in tourists is an opportunity to meet people from all over the world. But more importantly it's a way to supplement the income from the family farm and maintain a rural lifestyle.

Big Island farmers are turning to bed and breakfast operations as a way to counter a market that prices their crops below the cost to produce them. Whether they grow macadamia nuts, coffee or fruit, both families say it is nearly impossible to make a living on farming alone.

"In 1992 when we moved here, mac nuts were around 75 to 80 cents a pound. Now it's 50 cents, so that's less than the cost of production," said Bill Shriner, owner of Lions' Gate B&B Farm in Honaunau, south of Kona.

The same diminished returns are faced by most farm families throughout the state, said University of Hawaii agricultural economist Kent Fleming.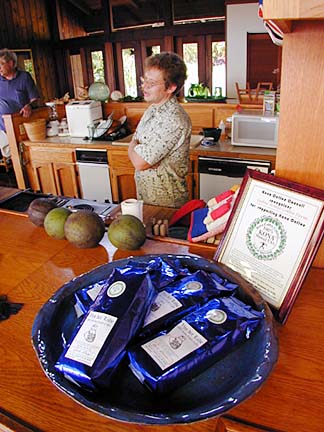 CRAIG T. KOJIMA / STAR-BULLETIN
Nik Von der Luhe owns the Cedar House in South Kona.
The coffee in the foreground is grown on his land.
He sells it to visitors and over the internet.
---
"It's just not sustainable for a lot of these small farms to sell below the cost of production," he said.

Both families raise coffee, macadamia nuts and a variety of different tropical fruits in the South Kona district of the Big Island. Now, thanks in large part to the worldwide reach of the Internet, they have been able to grow successful bed and breakfast operations to supplement the money-losing agricultural activities. In addition, much of what they produce on the farm is sold to guests at higher retail prices, either during their stay or later via the Internet.

The bed and breakfasts get bookings from all over the world. Many are from people already familiar with the bed and breakfast concept who do not want to stay in traditional resorts.

The Cullen family, of Astoria, Wash., wanted their daughters Shelby, 14, and Sarah, 11, to get more out of a Hawaii vacation than just a tan.

"Mom likes an all-around experience and it's more homey," Shelby said.

At the farm, a stay includes a tour of the 10-acre property and often a history lesson from owner Diane Shriner.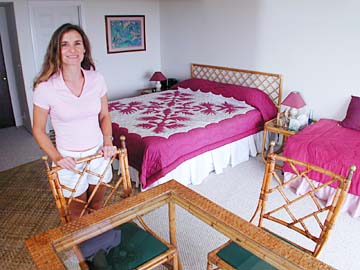 CRAIG T. KOJIMA / STAR-BULLETIN
"You wouldn't stay at a B&B
if you didn't like meeting people."
Diana Von der Luhe,
Owner, Cedar House Bed & Breakfast
---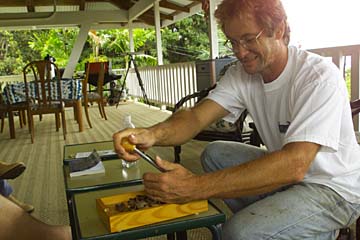 CRAIG T. KOJIMA / STAR-BULLETIN
"You have to really like doing
things with people."
Roger Dilts,
Owner, A Place of Refuge bed and breakfast
---
"AT B&BS YOU GET a lot of local knowledge you don't get at a resort," she said.

At Connie and Roger Dilts' five and a half-acre Place of Refuge a couple miles from Kealakekua Bay, guests at the three-bedroom B&B may get a kayak tour of the bay with Roger, all the macadamia nuts they can shell, plenty of coffee produced from the farm's trees and a taste of jams and jellies made from tropical fruits that grow on the property.

Generally, most guests stay anywhere from one to three nights, Dilts said, but some will stay a week or more.

"These are the guests you get to know so you try to turn it into a home for them," he says.

While many of the reservations come directly over the Internet, referrals also come via the Hawaii Island B&B Association, around 50 B&B owners who also have created their own Web site.

NOT EVERYONE who operates a B&B is a member of the association. In fact, the inventory of B&Bs is so amorphous even county officials have a difficult time coming up with a firm number.

Officially, there are about 100 permitted B&B operations on the Big Island, said Peter Yuen, head of the Hawaii County Planning Department. Yuen would like to see that number increase and is hoping a new county initiative to simplify the application and permitting process will help.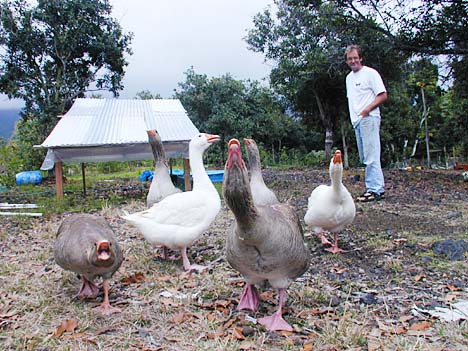 CRAIG T. KOJIMA / STAR-BULLETIN
At A Place of Refuge owner Roger Dilts' pet geese
gang up on a photographer.
---
While the numbers vary, most people familiar with B&Bs believe there are several hundred such operations on the Big Island, ranging from a room or two in a house all the way up to luxurious accommodations.

"We've heard there are at least 100 in the Volcano area alone," said the B&B association president, Collette Hirata, whose Honokaa dairy goat farm has a two-bedroom cottage used as a B&B.

But like Yuen, Hirata is reluctant to hazard a guess as to how many B&Bs there are on the Big Island, much less statewide.

IF GETTING AN ACCURATE fix on the number is difficult, it's even harder to estimate how much extra income the average B&B operation generates.

"So much is seasonal and you can never tell when you're going to be full," Hirata said.

It's also not unusual for people to drop in at the last minute looking for a place to stay, she said.

That's particularly true of European visitors, familiar with B&B operations at home, said Diane Shriner of Lions' Gate.

But during the peak season from November to March and for periods during the summer, most of the association's bed and breakfasts are at full occupancy or near it, Hirata said.

UH's Fleming says if the B&Bs average around 50 percent occupancy throughout the year, with four available rooms at a rate of around $70 per night, established bed and breakfast operations could generate around $4,500 per month.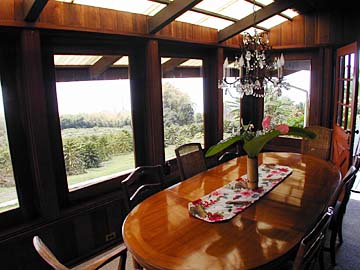 CRAIG T. KOJIMA / STAR-BULLETIN
Coffee plants flower outside the dining room window
at the Cedar House in South Kona.
---
ON TOP OF THAT are additional retail sales on farm produce and other products on the Internet, he said.

While that level of income would not drive many people to quit an office job to open up a bed and breakfast, Fleming said it can make a difference for families continuing to farm, especially as produce wholesale prices fluctuate.

Unlike other counties in the state where a hodge podge of regulations mostly discourage such operations, B&Bs have been permitted on the Big Island since 1997.

But with few operators bothering to go through the process to become legal, the county is hoping its latest initiative and a more simplified permitting process will encourage people to legitimize their operations. Hawaii County is also offering an amnesty to encourage those who run B&Bs without a permit to come forward and register.

"We're signaling it's a legitimate sector of the county's economy, Yuen said.

If that happens, the state and county are also likely to benefit through collection of the 7.25 percent transient accommodations tax and the general excise tax.

With no reliable estimate of how many bed and breakfast operations there are, Yuen said it is hard to guess how much additional revenue would be generated if more B&Bs apply for permits.

Yuen concedes there is a ways to go before everyone comes forward.

"We know there are a lot of unpermitted B&Bs," he said. "We've gradually been eliminating obstacles so the idea is to give them a chance to come in instead of it being a bootleg operation."

Yuen sees B&Bs as a way for people to not only supplement their income but also become a valuable part of the county's tourism efforts.

"It lets people be part of the tourist trade and puts money in their pockets," he said.

---

Farm produce is
a hit with guests

At the Cedar House just above Captain Cook, the B&B started before the farm.

Owner Nik Von der Luhe still maintains a full-time job running a Hong Kong company that makes components for household appliances, but the operation allows his wife, Diana, to stay home with the couple's three children.

Since beginning the B&B five years ago, the couple has added two additional rooms on the first floor of their two-story home and now also rents out a cottage on the property.

The plan is to generate enough income between the farm and the B&B for Nik to gradually cut back on his job and perhaps only do some occasional consulting, said Diana.

Three years ago, Nik planted coffee in an overgrown pasture. There are now 2,500 coffee trees and a number of fruit trees growing on the property.

These days conversations with guests frequently revolve around the coffee and the farm. Much of what is produced is served for breakfast. Guests also enjoy helping out on the farm.

"We've even had some offers from people to come back during picking season," he says. "Guests are thrilled to know what they are eating and drinking comes from here."

---

Star-Bulletin staff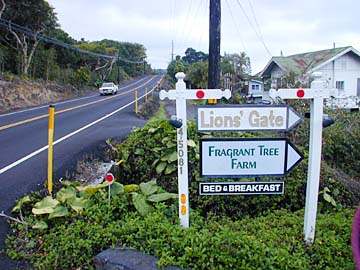 CRAIG T. KOJIMA / STAR-BULLETIN
Diane and Bill Shriner own the Lions' Gate
bed and breakfast in South Kona.
---



Just the facts on B&Bs

Question: How many bed and breakfasts are there?

Answer: There are about 50 members of The Hawaii Island B&B Association, although the Big Island may have several hundred unlicensed B&Bs. Many have their own Internet sites.

Q: What's the difference between a B&B and a hotel?

A: B&Bs are defined as having five or fewer guest rooms and no more than 10 guests at any time.

Accommodations can range from private rooms sharing facilities with the owners to free-standing cottages on the property. Rooms and amenities vary from simple to deluxe.

Q: How much does it cost to stay there?

A: Generally, prices start at around $60 per night but may go up to several hundred dollars a night.

Q: What services do they have?

A: Breakfast -- Served either as a traditional breakfast with your hosts and other guests or a private breakfast in your room.

Linens and towels -- Changed a minimum of every third day on longer stays.

Most B&B hosts don't go into guests rooms to tidy up or clean. Others may offer periodic maid service.

Knowledgeable hosts -- B&B owners can usually give plenty of tips and suggestions on local activities.

Sources: Hawaii Island B&B Association and www.stayhawaii.com







Starting up a B&B

Rules and regulations vary from county to county. The most lenient, the Big Island, permits bed and breakfasts in either residential or agricultural districts. Use permits are required.

A planning commission hearing involving notification of surrounding property owners is also required. The whole process may take two to three months.

Access, the number of rooms, the neighbors, traffic and the surrounding area are all issues considered by the planning commission before a permit is granted. The maximum number of bedrooms permitted in a B&B is five with no more than 10 guests at any time. Only breakfast is allowed to be served.

A general excise tax license and a transient accommodations tax license are also required.

Once the B&B is licensed, periodic inspections by the county planning authorities and the state Health Department may also take place.

Other counties regulate B&Bs differently.

On Oahu permits are no longer granted for B&Bs. Those B&Bs already in existence operate under a special ordinance and must maintain a non-conforming use certificate that costs $100 a year. There are about 63 permitted B&Bs on Oahu, according to the city Department of Permitting and Planning's monitoring compliance branch.

On Maui, B&Bs are allowed in three districts, residential, business and country town business district on a case-by-case basis. B&Bs are not permitted on agricultural lands without special permission and permits.

On Kauai, B&Bs are allowed based on obtaining approval and a permit. Permission is more likely to be granted if the B&B is located in a visitor destination area.

---

Star-Bulletin staff



E-mail to Business Editor
---
---
© 2001 Honolulu Star-Bulletin
http://archives.starbulletin.com